Sac State volunteers help kids trick or treat safely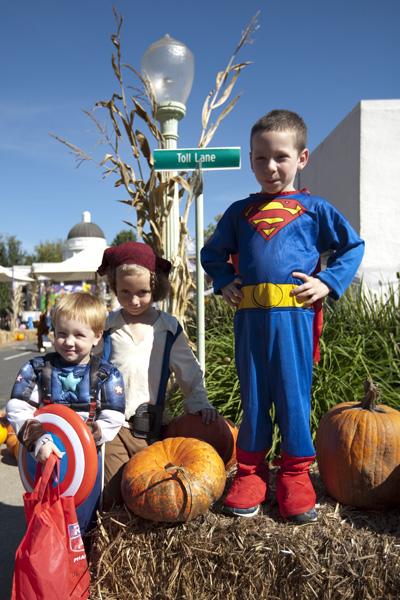 There was a ghoul-filled, pumpkin-packed trip for kids at Sacramento's Safetyville USA on Saturday, with fun and games for families to participate in while learning about public safety in a simulated environment.
Safetyville USA hosted its 18th annual family-friendly Halloween Haunt, attracting families from all over, as well as 29 Sacramento State students, and two alumni, for volunteers. Throughout the day, the volunteers collectively contributed more than 200 hours.
Sac State Serves, a campus volunteer group, reported more than a month ago that the 50-volunteer registration had already filled to capacity. The event itself was a success, with more visitors coming this year than ever before.
Misty Garcia, Sac State Serves volunteer coordinator, worked to help bring volunteers from Sac State to help with fundraising for the event. The volunteers also help to ensure the children's safety.
"What we do is we have this miniature town where the little kids will have a safe place to trick or treat and play different games," Garcia said. "Everyone is here to make sure the kids have a safe, fun time."
Safetyville expected at least 2,500 visitors this year. Because Safetyville is a private, not-for profit children's safety training center, events like the Halloween Haunt help keep the center running.
"The money that they make here supports Safetyville USA's youth safety education programs," Garcia said.
Safetyville is a miniature simulation of a town, complete with sidewalks, streetlights, gas stations and even a McDonald's. It was created in 1984 to help promote street safety for children, and approximately 10,000 children visit the center each year.
"It's all of the games I had made 21 years ago at the California Youth Authority," said Safetyville's Board of Directors member Fred Bell. "This turnout is very nice, perfect weather, great costumes and I think they're in for a really big treat."
On Saturday, the miniature streets were filled with little visitors dressed up in costumes – ready to trick or treat.
Like Emma, 6, who was a butterfly (or a fairy), many of the children showed up in costumes. Disney princesses, Mario from the "Super Mario Bros." video game, Yoda and even a paper mache Earth were seen running around all day.
"This place is pretty awesome. I think I'm going to enjoy it," Emma said.
Children were seen gathering around snow cone booths, miniature golf and an endangered species booth run by Star Eco Station.
Mandy Deemers, employee at the Star Eco Station, was in charge of the booth.
"Basically what we're doing here today is community outreach," Deemers said. "What we do is educate kids and promote safety."
Children could learn about endangered species and interact with the reptiles such as a tortoise, a bearded dragon and a few smaller lizards.
There was plenty to see and do, with face painting available, pumpkins for sale, vendors to pass out cotton candy and other tasty treats, a spooky corn maze and a bounce house. On the main stage there was singing and dancing, and toward the end, a magic show.
Nick Wilson, 13, has been volunteering at Safetyville for a year.
"It's really fun I get to do a lot of different things, and meet all the people," Nick said.
A lot of adults seek the event because they believe it is a much safer alternative than going door-to-door trick or treating on Halloween.
"This is our first time at the event," said Sarah Pecshe, a mother visiting Safetyville. "It definitely feels better than going house to house when you don't know who's behind the door."
Suzan Norris, mother of two, said she enjoys the event because of the family-oriented fun.
"I think this is kinda cool," Norris said. "You can take your kids out and spend family time. They have a lot of nice activities for the kids."
The event was also great for the volunteers, students from Sac State and the surrounding area, who got to dress up in costume and interact with the kids, while teaching them how to safely navigate around on Halloween.
The CHP booth handed out fliers and pamphlets explaining the dangers of Halloween and how to safely avoid them while still having fun.
"I brought them here so they can have fun, I think it's safer than most places," said Steve Toar, father of two.
In the end, the Halloween Haunt allowed volunteers and families to have a good time while learning about safety, and everyone left with at least a pocket full of candy.
Kaitlin Bruce can be reached at news at statehornt.com