CSUS alumnus flourishes with mattress entrepreneurship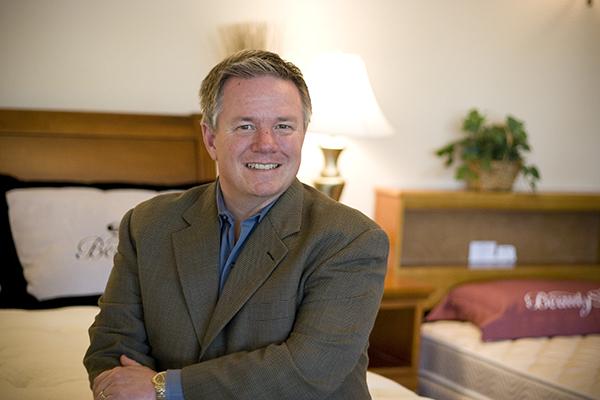 Sacramento State alumnus Dale Carlsen took on the ambitious venture of pursuing entrepreneurship following his graduation &- founding the largest mattress and bedding retailer on the West Coast, Sleep Train Mattress Centers.
Carlsen opened up his first Sleep Train Mattress Center in 1985, the year after his graduation.
What started as a Sac State graduate running a small business has turned into a large company with more than 230 stores stretching across Washington, Oregon and California.
Born in Walnut Creek Dec. 27, 1961, Carlsen attended Sac State and in 1984 earned a degree in real estate finance and insurance. He became president of the Lambda Chi Alpha fraternity during his schooling, in which he organized fundraisers and social events.
Carlsen received offers to attend other colleges and originally planned to spend a single semester at Sac State after high school before transferring to UC Berkeley.
"I ended up staying because I loved the campus so much," Carlsen said. "The education at Sac State is carefully balanced between what you learn in the books and what you learn through real-life socialization. I learned a tremendous amount during my time there."
Carlsen worked part-time as a salesman for the California Mattress Company while attending school, which he referred to this as his "beer-and-gas-money college job." He sold mattresses and other sleep-related products, and occasionally traveled to other stores owned by the company.
After graduating from Sac State, his employers at the California Mattress Company offered him a full-time position as a sales manager. Carlsen said the allure of a company car and a large pay raise influenced his decision to continue working for the mattress retailer.
Carlsen said after working as a sales manager for a year, he began to put serious thought into opening his own mattress retail store. His father warned him of the difficulties in running a business, but the discouragement did little to dissuade him from pursuing his goals.
"My father was really against the idea of me becoming a small business owner," Carlsen said. "Thankfully, he was gone for a while on vacation &- I took that time to buy a truck, purchase a space and open up my business. Needless to say, he wasn"t happy when he got back."
Following the first few years of business, Carlsen expanded through buying out Mattress Discounters in December 2002 &- adding 54 stores and doubling the size of Sleep Train. He further increased Sleep Train's size by purchasing Sleep Country USA from Simmons Bedding in August 2006.
After 25 years in business, Sleep Train has become the No. 1-ranked retailer of sleep-related products on the West Coast, and is ranked fourth nationwide, according to a press release from Sleep Train spokeswoman Jennifer Ritchie.
The professors of Sac State served as a source of motivation for Carlsen, who credits what he learned in school to decisions that have made his company thrive.
"I had a lot of good teachers at Sac State that really inspired me," he said. "My determination primarily comes from having such a quality education. Everything that I took from the classroom has been beneficial to me. I still use what I learned to this day."
Mike Wilson, a former fraternity brother of Carlsen, graduated a year after Carlsen with a degree in business and marketing. Carlsen convinced Wilson, who remained a friend of his throughout the years, to come work for Sleep Train as vice president of marketing.
"Out of our group of friends, he was the first one to become an entrepreneur," Wilson said. "We all thought it was a risky decision at the time, but of course we were extremely supportive. No one back then ever expected that his business would grow to what it is today."
Wilson said Carlsen is a very down-to-earth person who treats his employees well. Wilson also said Carlsen is particularly focused on creating a productive work environment.
"When he gets an idea in his head, it's usually, "Get on board or get out,'" Wilson said. "He does support having his employees think for themselves, but he wants them to take responsibility for their own opinions. He'll challenge ideas that don't seem like the best possible solution. This is because he cares so much about the success of his business."
Carlsen hired members of his fraternity and classmates for important positions at Sleep Train. A large majority of executive team are Sac State graduates, consisting of a variety of majors from business to marketing and even engineering.
"There was one solid piece of advice my father gave me that I never forgot," Carlsen said. "My father said if I were to be successful, I would have to surround myself with great people. My classmates, friends and fraternity brothers from Sac State were motivated people, which is why so many of them work for me today."
Today, the company is known for its superior customer service, team of knowledgeable sales individuals and continued commitment to the community, according a Sleep Train press release.
The business is continuing to expand its locations, with more than 80 stores already in California.
Carlsen said he encourages Sac State students to think about pursuing entrepreneurship themselves, but to take precaution in doing so.
"Know the business that you are getting into," Carlsen said. "And make sure to have a good lawyer."
Brett Johnson can be reached at [email protected]