Sac State alumnus coaches after being cut from pro teams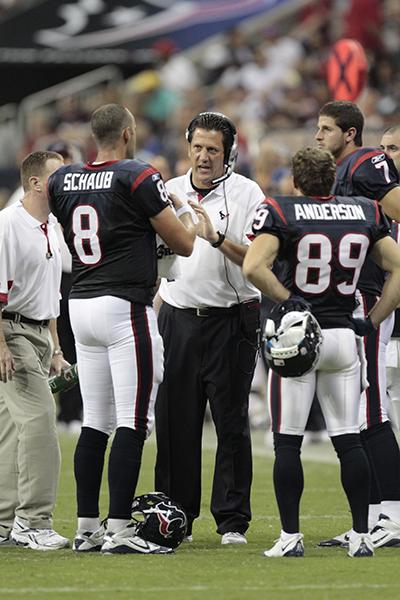 Despite wearing blue and red everyday, Houston Texans quarterback coach Greg Knapp bleeds green and gold.
Knapp was a Hornet student-athlete at Sacramento State for four years before graduating in the spring of 1986 with a degree in communication studies, and still today he fondly looks back on his time at Sac State.
"It was outstanding," Knapp said. "I loved (Sac State). I used to ride my bike along the American River. I used to live in the University Garden Apartments – back in the day I lived in the American River Commons. I would ride my green Schwinn to and from school, obviously I had to have a green bike, and I had my green "69 Buick Skylark. I bleed green and gold."
Knapp was the Hornets' starting quarterback during the 1984-85 seasons, and when his time at Sac State was done Knapp moved on to try out for the Kansas City Chiefs.
Knapp made it to the final cuts in the Chiefs' preseason camps, but was unable to make the Chiefs final roster.
Despite that, he took what he learned in training camp back to Sac State and decided coaching would be his next step in football.
"When I got cut by the Chiefs, I came back and said "Let me give this coaching thing a whirl.' (Sac State's head football coach Bob Mattos) allowed me to become a graduate assistant," he said. "I got cut in the first week in August, I was cut on a Friday and I was coaching at Sac State on Monday. I was in charge of the running backs and I never looked back."
Knapp spent nine years coaching at Sac State before he was named interim head coach of the Hornets at the end of the 1994 season. Not long after getting the nod to run the show at Sac State, Knapp was contacted by the San Francisco 49ers about a coaching job.
"I felt bad for leaving the program, but you just don't get many chances to get into the NFL and the "Niners had just come off their 1994 Superbowl season," Knapp said. "So it was a really great opportunity for me to jump from Sac State to the NFL."
In his time with the 49ers, Knapp was able to closely observe some of the Hall of Fame players and spent three seasons with Mike Shanahan and Steve Young.
"It was great," Knapp said. "It's like any other professional career. I was able to go to a company and get totally absorbed into their philosophy of offense for four to six weeks, depending on which place I went to, and just really ingrain in myself with the ways of doing things. And I was actually able to do that in "92, "93 and "94 with the San Francisco 49ers when Mike Shanahan was the offensive coordinator there. And I got to learn with Steve Young and their offense."
When he reflects back on his career in football thus far, Knapp remembers the influences that most shaped him to be the coach he is today. Knapp coached alongside Shanahan for three seasons with the 49ers and spent two training camps with him when he was the Oakland Raiders' head coach.
As a player, Knapp went to training camps for both the Raiders and Kansas City Chiefs. Knapp never made the final roster for either team, but each year he returned to Sac State a better-prepared coach.
"I was able to go away and totally absorb myself into their philosophy their style their way of doing things and then take what I took back to the offense of Sac State each year," Knapp said. "It was really a great experience for a young guy with a young and impressionable mind, which I was at the time, to coach at the highest level…It really helped jettison my career because I got exposed to a lot of good coaching. Fortunately, I had a good enough arm to get into camp, but not good enough to stay on the team. But it helped my coaching career immensely."
When he thinks back to his strongest influence as a young player, Knapp remembers one of his own experiences as student-athlete when four games into his senior season he was benched.
"It worked out three games later I got my starting job back but that time of sitting down, stepping back, analyzing what's going on and then knowing that if i get my number called again I have to make the best of it," Knapp said. "It's something that I've been able to carry over and help some other guys with in the past including Jeff Garcia."
When Garcia was benched, Knapp said he did not want to let a good player fall into the hole he had avoided years ago.
"When I was coaching for San Francisco, (Garcia) came in and took over for Steve Young when he got hurt in "99. He played for about four games and it just didn't work out as well early on so we had to start Steve Stenstrom instead of him and my job then was to get Jeff to get his confidence back and to believe in himself," Knapp said. "I went a showed him tape of his games of all the positives that he did so that if and when he would come back and get a chance to play he would do well. And sure enough, he came back and played the last four games lights out for us in that "99 season and became our starter and the next three years he was a Pro Bowl player."
Knapp said he still keeps Sacramento in his thoughts. He and his wife plan to one day move back to the Northern California area and retire to the place they love most.
AJ Taylor can be reached at [email protected]