The Mountain Lions step up 41-3 in a must-win game against Omaha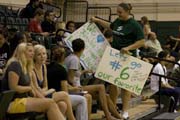 Win or go home. The Sacramento Mountain Lions could have plastered the phrase over each locker and on every inch of Hornet Stadium. Apparently that same "win-or-go-home" mindset got the Mountain Lions through a Saturday night victory against the Omaha Nighthawks 41-3.
A loss on Saturday night would have eliminated the Mountain Lions from contention for the one remaining spot in the United Football League Championship Game, and with a bye next week that meant this would be the Mountain Lions' last regular season game and possibly their last game in 2010.
Even after their victory over the Nighthawks, the Mountain Lions (4-4) remain in limbo. Whether or not their season will continue onto the championship game in Omaha or end with a blow out in Sacramento remains to be seen. Their fate now rests in the hands of their last victims.
"We're optimistic and hopeful that we'll get a chance to keep playing," said head coach Dennis Green. "Right now we're a pretty dangerous team. I think we're playing as good as anyone in the league at this stage of the season."
Just before kickoff in Sacramento, Mountain Lions' quarterback and two-time NFL pro-bowler Daunte Culpepper could be seen staring across his field seeming to meet the glare which Omaha Nighthawks quarterback and four-time NFL pro-bowler Jeff Garcia offered in response.
The Mountain Lions opened the first drive of the game with a flea-flicker pass to Tay Biddle for 59 yards. The completion led to a five-yard rushing touchdown by Cory Ross. Two Mountain Lion field goals followed. Seven minutes into the first quarter, the Mountain Lions led 13-0.
"It was extremely important for us to come out and set the tone offensively," Culpepper said. "When you start fast like that it just makes it that much easier to keep your momentum. Our defense kept giving us the ball they kept giving us some turnovers."
Then in the third quarter Cory Ross, Steve Baylark and the rest of the Mountain Lions stable of running backs tore open the game. Ross split the Nighthawks defense in half with a 75-yard run into the end zone, and Baylark claimed the other touchdown of the quarter for the Mountain Lions on a one-yard run. The Mountain Lions totaled 117 yards rushing in the third quarter alone.
"We had a lot of fun out there," Ross said. "And when you're having fun you just start gelling and guys are just way more relaxed and just like "Lets end this the way we want to end it'."
Whether or not the Mountain Lions will play in the championship game hinges on the outcome of the Nighthawks (3-4) and Tuskers (4-3) game on Friday. A Nighthawk win would clinch the Mountain Lions' spot in the championship game.
"Hopefully the chips fall in the right places and we get a chance to play for the championship," Culpepper said. "Because that's all you really want to do is have a chance to play for the championship."
AJ Taylor can be reached at [email protected]