Late professor remembered for his lasting contributions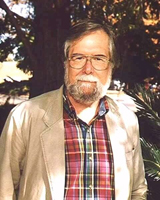 George Rich's colleagues will remember him as the person who worked hard to establish Sacramento State's Anthropology Museum.
"He fought really hard for us to have a proper museum and museum gallery," said anthropology professor and longtime friend and colleague Joyce Bishop. "He always made sure there was space for the ethnographic materials, space for the archaeological material and he always fought for us."
George William Rich died Sept. 4 from a brain tumor. He was 65 years old.
For 37 years, from 1970 to 2007, Rich taught cultural anthropology at Sac State. He was chair of the anthropology department for nine years, from 1981 to 1987 and again from 1993 to 1996.
"I have never met anyone who didn't speak highly of his ability to lead the department, to get people to work together closely, to work very comfortably with the dean and the president," Bishop said. "As one of the older faculty put it recently, he was a real diplomat and that's a very important skill for a department chair. He definitely had it."
In addition to the museum, Rich established a museum credential program at Sac State.
The program, which is usually paired with a master's degree, teaches students proper techniques used to set up museum exhibits, as well as methods in handling materials. Since its inception, the program has graduated several students, including Beth Herthod, who went on to work at the Placerville Historical Museum.
"He had very fine graduate students in our master's program here and worked very closely with them, very successfully with them, sometimes on subject matter that was unusual, and continued to welcome their friendship and they continued to be in touch with him," Bishop said. "I expect two or three of them will be speaking at his memorial. I have to say he was superb with graduate students."
On the website RateMyProfessor.com, where former students can anonymously post comments and criticisms about their professors, Rich received above-average ratings.
"He is an informative teacher and actually makes learning about different primitive cultures interesting," one student wrote.
Another student said Rich was an "enthusiastic" professor who had reasonable expectations from his students.
Rich received his bachelor's and master's degrees in anthropology from Sac State and his doctorate from UC Davis.
He did his doctorate work in Iceland and went on to do a one-year Fulbright scholarship in Pakistan.
Rich had several published articles, including articles in "The Journal of American Folklore."
After stepping down as chair, Rich did field work in the Sacramento area on low-income immigrant individuals and their reactions to medical clinic settings.
"He felt it was very important for us to be engaged with the Sacramento and nearby communities," Bishop said.
She said Rich was "very, very productive" before he was diagnosed with a brain tumor, completely reconstructing his patio, reorganizing his art collection and going through 25 years of his students' field studies.
He was married to his wife, Claudia, for 43 years, and they had four children together.
In spring 2009, after learning of Rich's diagnosis, faculty members in the anthropology department decided to start the George Rich Colloquium in his honor. A colloquium is an academic speech followed by a question-and-answer session.
Cultural anthropology professor Liam Murphy, author of the recently published "Readings for a History of Anthropological Theory," will be the speaker at the second George Rich Colloquium in October.
"We wanted to honor him in a way that was ongoing, not just a plaque on the wall, and in a way that he would appreciate while he was still with us," Bishop said.
Mike can be reached at [email protected]