Freshman goalie shuts out top-ranked teams for Hornets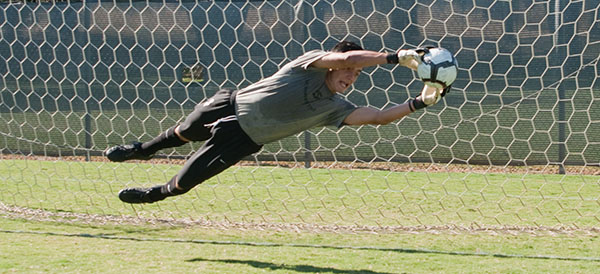 Cesar Castillo is the latest addition to Sacramento State men's soccer roster. The freshman goal keeper has used hard work and determination to reach his athletic aspirations.
Castillo grew up in San Rafael with his father Cruz Castillo and mother Flor Velaquez. As a 2010 graduate of Terra Linda High School, he was a two-time all-Marin County Athletic League selection. As a senior he had 11 shutouts in 14 matches, not to mention he started all four years for head coach Mike Crivello of the men's varsity team at Terra Linda.
"This is a different beast," said assistant coach Matt McDougall. "College soccer is high pace, physical and the shots come harder. He's growing up a little bit every day; he's going to learn a lot over the next four years."
At an early age soccer became a part of Castillo's life. Castillo began to play soccer at the age of 5; he then transitioned into club soccer at the age of 10. Castillo has played for Marin FC, Chivas USA under 18 team and the Cal North state team.
"When I was little I used to train with my dad," Castillo said. "He was a goalie too and when we used to train, he trained me to be a goalie. But I also liked the field; when I turned 10, I had to decide and I chose to be a goalie."
His father, Cruz Castillo, played professional soccer in Mexico. Cesar Castillo inherited his father's passion for soccer, which led Cruz Castillo to train his son as a soccer player.
"My dad has helped me a lot with training and preparing myself for games, he always told me to work hard and do my best," Castillo said.
So far, Castillo has started four games this season and has a 3-1 record.
He currently leads the team with an .815 save percentage and in saves with 22.
Castillo prepares for matches by starting the day before the game. He imagines himself in the game, making routine saves and focusing on blocking everything else out.
Head coach Michael Linenberger and McDougall know a new level of play takes some getting used to, but Castillo has a great attitude.
So far, his best performance was against Stanford on Sept. 12, when the Hornets won 1-0. Castillo made three good saves and no major mistakes in the match against the Cardinal.
"Against Stanford he was solid from start to finish," Linenberger said.
Both Linenberger and McDougall look forward to the athletic attributes Castillo exhibits.
Over the next four years the coaches said they hope to provide a good environment for Castillo where he can improve his abilities and develop into a great player.
"We think he has great potential and can be one of the top goal keepers we've ever had here," Linenberger said. "I know he has ambitions to have a good college career."
Castillo said he knows that you have to work hard and nothing is going to be given to you. The goalie works rigorously every day at doing his best, whether it's on the practice field or in games.
"It's one of my dreams that maybe one day I'll go professional," Castillo said. "My dad has helped me, but also the Sac State team has been welcoming. They support me and everyone's been here to give me advice."
Linenberger has noticed the cohesiveness between the teammates seems to be getting stronger as the season continues.
"They're a good group of guys," Linenberger said. "They seem to get along on-and-off the field."
So far in the four games Castillo has played, he has made 22 saves, 11 of which were against Duke University, seven against No. 10-ranked UC Irvine, one against UC Davis and three against Stanford University.
In the game against UC Irvine, Castillo recorded his second shutout of the season.
The team lost to Duke 1-4, but they won the next two games: against UC Davis 2-1 and Stanford 1-0.
"On the field, everyone has their qualities," said midfielder Fernando Cabadas. "And Cesar, he's a good quality keeper."
Alyssa Huskinson can be reached at ahuskinson@statehornet.com