Students engage in heated debates with self-proclaimed religious preacher
Three day disruption at Sac State's Library Quad
From May 8 to May 10, the Library Quad echoed with the frustrated chants of Sacramento State students as they encountered religious demonstrator Daniel John Lee.

Many students engaged in heated conversations with Lee while he was on campus, debating arguments about religion, homosexuality, abortion and other topics. While some mocked him and found his preaches humorous, the majority of Sac State students in the quad were appalled with what Lee had to say.

"Go home! We don't want you here! Leave!" students yelled at Lee.

Lee claimed he is a "street preacher" and has been a regular presence on college campuses across the country. He has caused similar disturbances at the University of Nevada, Reno, South Dakota State University, the University of Texas, San Antonio and more. 

"I am not spreading hate," Lee shouted at the students. "You're the ones spreading hate!"

Lee could not be removed from campus because Sac State is a public university. According to the Division of Student Affairs, Sac State is a community that protects the freedom of speech, expression, and religion under the U.S. and California's constitution.

Story continues below the gallery.

Lee, who strapped a GoPro to his chest and recorded the heated conversations with students, said he funds his trips through "donations from followers" from his YouTube channel.

Lee has a history of public disruption. In 2011, Lee was arrested for posting threatening messages on Facebook regarding Clackamas County Oregon officials and his ex-wife according to an article from the Chilkat Valley News. 

According to reporting by The Oregonian, Lee was issued a warrant for resisting arrest and violating domestic order in 2011 with his bail set at $1500,000. 

Many students expressed their frustration with the demonstration and previous religious demonstrators on campus. 

Crystal Sasson-Cokely, a double major in women and gender studies and English, expressed how they felt unsafe being on campus. They mentioned how Sac State handled recent sexual assault cases and an incident of antisemitism with the student radio station's advisor, saying the university handled them poorly.

"Sac State University doesn't have a history of protecting us," Sasson-Cokely said. "The fact that [Lee was not] removed [from campus] despite his harassment and hate speech is incredibly alarming."

Story continues below video.

Erick Salgado and Kris Hall

Officers from the Sac State Police Department were present and monitored Lee and the students.  

Vice President of Student Affairs Ed Mills came to the Library Quad Tuesday and Wednesday, where he watched Sac State students chant at and debate with Lee. 

"What can we do?" students asked.

"We cannot engage with him," Mills responded. "I don't agree with what he is doing, but [Lee] is not breaking the law."

Story continues below the image.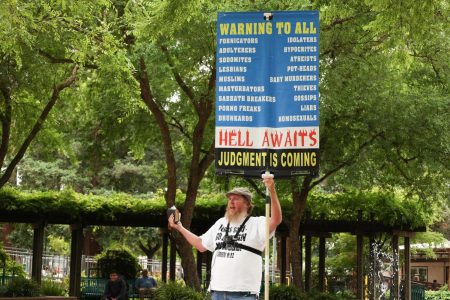 Lee carried a picket sign listing sins that would send people to Hell. 
Lee often made comments such as how "homosexuality is a sin," "abortion is murder" and that "the Quran needs to be burned." He attempted to insult students by calling them "bigots" and "nazis." 
Second-year psychology major Kaityln Fernandes was present for the demonstration Monday and Tuesday. Fernandes, who is bisexual, was one of many students to have a heated conversation with Lee both days. 
"It makes me feel a little distraught that I can't walk around without being judged and told that Hell awaits," Fernandes said. 
Students made many remarks and comments about Lee's sign. Harris said Lee had claimed to have built the board "for his audience."
Business accountancy student Shaun Harris attended the demonstrations Tuesday and Wednesday and had multiple heated conversations with Lee. 
"I had a really hard time seeing [Lee] out here," Harris said.