The Idiot Box: 'The Owl House,' simply enchanting
Trailblazing LGBTQ+ representation for younger audiences
I first started watching the children's cartoon, "The Owl House" on a whim and I loved it. 
I knew next to nothing about what the show was about, but I discovered an unlikely series. 
It takes viewers on a fantastic adventure to a realm ripe with magic and mystery. Dana Terrace's creation is noteworthy because of its compelling narrative, gorgeous animation and the vast array of lively characters she created.
The show chronicles the exploits of a young teenage girl named Luz, played by Sarah-Nicole Robles, and her journey to become a witch in the demon realm. 
Armed with boundless enthusiasm and the determination to remake herself in this strange new land, Luz encounters Eda "The Owl Lady," played by Wendie Malick, the sassy but classy fugitive witch hiding out in —roll title card— "The Owl House." 
Living with Eda is the loveable furry little skull-sporting demon, King, played by Alex Hirsch. 
Story continues below trailer
What sets "The Owl House" apart from the rest of the Disney catalog is its approach to storytelling. The show tackles complex themes like identity, belonging and acceptance while still delivering plenty of humor and excitement.
In the episode "Covention," Luz is challenged to a witch's duel by her then-rival Amity Blight, played by Mae Whitman. Amity is the apprentice of Eda's sister Lillith, played by Cissy Jones.
Luz sets out to prove herself to Amity to show that she is capable of becoming a witch, with the conflict being overshadowed by the childish sibling rivalry between their two mentors. 
Story continues below trailer
This fight scene in "Covention" is what made me a fan of the series. "The Owl House" has fluid animation sequences worthy of the  "Disney" name as the magic battles in the show are grand spectacles that should be shown and shared with the world. 
The show has an eye-popping visual design with vivid colors, intricate settings and flowing animation that brings the horribly amazing Boiling Isles to life. 
The most commendable aspect of "The Owl House" is its positive representation of queer characters. Luz identifies as bi-sexual and it is later revealed that Amity has a crush on her. 
The relationship progresses in a realistic and touching way as they figure out how they feel about each other. It was revealed by Cissy Jones in a 2022 March live stream that her character Lilith was asexual. 
Another notable queer character is Eda's estranged love interest, Raine Whispers, played by Avi Roque. Whispers is a non-binary witch who helps Eda escape the authorities every now and again. 
The characters provide a positive, normalized representation of the LGBTQ+ community to younger audiences. 
Terrace showed passion creating characters like this so that those struggling with their identities are given representation. 
Story continues below image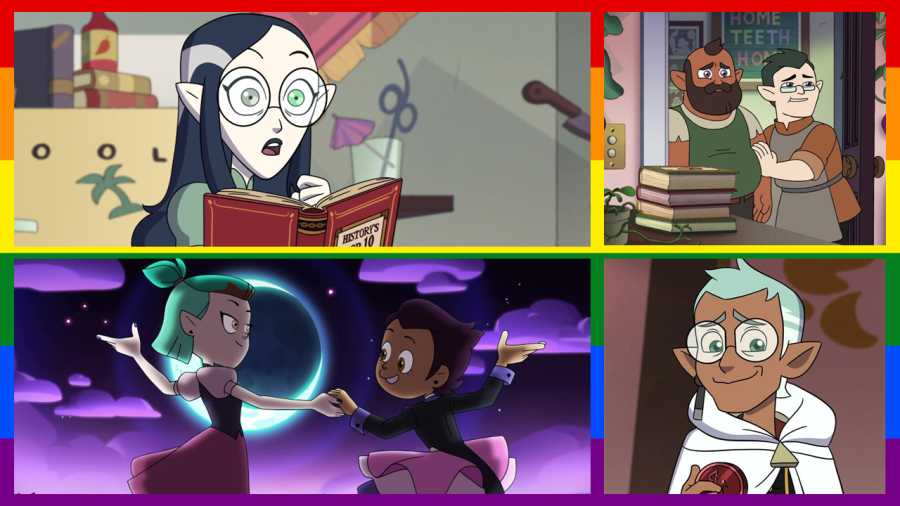 Overall, for those who want something they and young ones they care for to enjoy together, "The Owl House" is the gold standard in exceptional writing, good moral lessons, enchanting art style and it's a trailblazer for being an authentic representation of queer characters. 
One can do no better with this important example of how children's media can promote acceptance and inclusivity.