Series Recap: Sacramento State baseball hits potholes in Dodgertown Classic
Hornets struggle in first road trip of 2023
Thursday: Hornets get 9-4 win over Nevada despite weather trouble 
After weather delays and closed highways caused this game to be rescheduled a number of times, the Sac State baseball picked up a 9-4 win over Nevada at homefield John Smith Field Thursday. 
The Hornets had another successful day at the plate, with junior second-baseman Gunner Gouldsmith making his return to the lineup after missing the first two weeks of the season nursing an injury. Gouldsmith picked up his first hit of the year with a second inning single.
Sac State also hit three home runs in the third inning. Senior catcher Martin Vincelli-Simard and junior center-fielder Josh Rolling had home runs on back to back pitches. Junior right-fielder Garet Crenshaw followed up one at bat later to hit his own. 
These were the first homeruns of the year for all three players and just the third hit of the year for Crenshaw. After a slow start to the season, Rolling has now recorded a hit in every game since this homerun. 
"[it's] just a part of baseball," Rolling said. "Sometimes you hit hard and still end up out." 
The Hornets' pitching had another solid outing despite a rough start from junior right-hander Kevin Haynes, who allowed three hits and two earned runs. 
Junior right-hander Cooper Rons came on to relieve Haynes in the fourth inning and picked up his first win of the year. 
Friday: Hornets suffer narrow 8-7 loss to USC 
Sac State opened up the Dodgertown Classic in Los Angeles with a 7-8 loss to the Trojans at Dedeaux Field, USC's homefield, on Friday. 
Junior right-hander Noah Takacs got his third start of the year. Takacs had the shortest outing of his season, going three innings, striking out three and allowing four earned runs. Sac State head coach Reggie Christensen said Takacs came out of the game feeling "some stiffness" and has said he's day-to-day. 
Takacs was relieved by junior righty Zach Gagnon, who took a line drive to the head on the first batter he faced. Christensen said he is in concussion protocol and will be "out for a while." 
Senior right-hander Trey Goodrich ultimately took the loss, allowing USC to hit a triple and plate the go-ahead run. 
The Hornets were solid at the plate, with Rolling hitting a homerun for the second straight game. Freshman first baseman JP Smith also hit the first homerun of his collegiate career. 
Story continues below photo.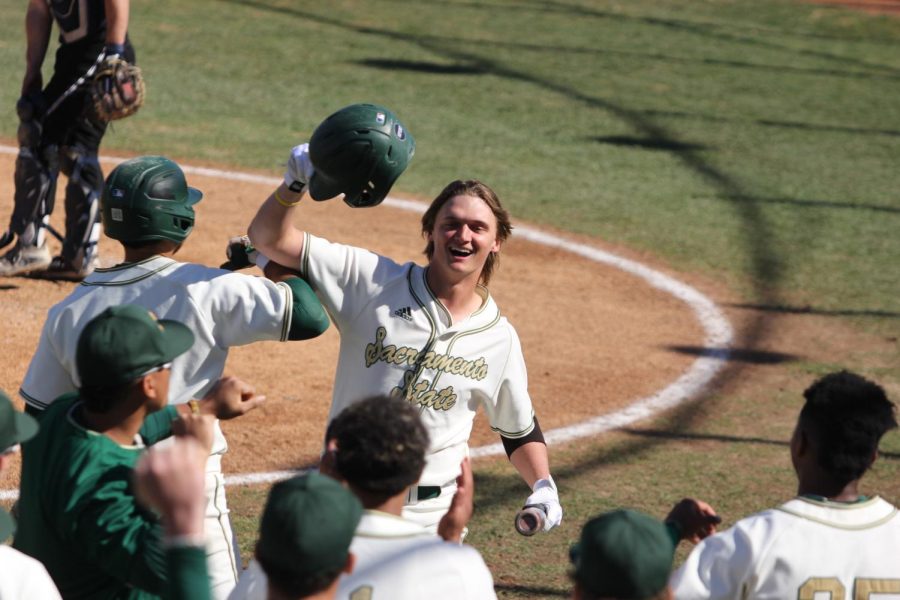 Saturday: Close, but no cigar, Hornets nearly upset #12 UCLA in low scoring affair 
Sac State dropped a second straight game 3-2 versus #12 UCLA at UCLA's home stadium — Jackie Robinson Stadium — on Saturday. 
The Hornets struck first in their initial taste of competition versus a nationally ranked opponent . Sophomore left fielder Jeffery Heard hit his second home run of the year in the fourth inning, also driving in Gouldsmith. 
Heard was the first college baseball player to score a run on UCLA's starting pitcher Alonzo Tredwell this year. This would be the only time the Hornets would score in the contest, but Rolling and freshman shortstop Wehiwa Aloy also provided hits. 
Sophomore left-hander Noah Lucchesi pitched four and two-thirds innings, allowing five hits and striking out one. Lucchesi allowed the only earned run of the day by the Hornets pitching staff. 
"[Lucchesi]'s been great," Christensen said. "He's put together three really good starts in a row, it's certainly a positive for us." 
Despite limiting the scoring for the Bruins, Lucchesi still took the loss, his first of the season and he now stands at 2-1. 
Sunday: Hornets drop third game in a row, lose 14-6 to Tulane 
The Green Wave drowned the Hornets as they fell 14-6 in the final game of the Dodgertown Classic at Jackie Robinson Stadium Saturday in Brentwood, California.
Sac State's middle infield put together an impressive day at the plate. Aloy extended his hit streak to 10 games and Rolling set a personal career record for most hits in a game with three.
On the mound, redshirt junior right-hander Evan Gibbons got his first start of the year. He pitched three innings and allowed four runs with two strikeouts. He was relieved by junior right-hander Cooper Rons in the fourth inning, whoallowed seven runs while only recording only one strike out. 
"It felt like everything we threw today got hit," Christensen said. "At the end of every year you're gonna have a couple days like this." 
This week: 
Sac State will host UC Davis at John Smith field at 4 p.m. Tuesday. Later in the week, the Hornets will host Central Michigan for a four game home series beginning Thursday.