Sac State women's basketball squashes UC Davis 67-45 in Causeway Cup
Hornets capitalize three-game winning streak with rival victory at Golden 1 Center
Last year's women's basketball Causeway Classic is dead and gone. In 2021, the Sacramento State team was blown out 46-75 at Golden 1 Center against UC Davis. 
This time around, the Hornets were unstoppable.
The Hornets played their most complete game of the season in a comfortable 67-45 win over the Aggies, who never held the lead during the match. 
"We lost to them by 40 last year. We beat them by 20 this year — that's a 60 point turnaround," sophomore forward Katie Peneueta said. "We all came into this game ready to fight with a lot of energy, and we weren't going to back down."
The first half was dominated by the Hornets, doubling the Aggie deficit in both the first and second quarter as they took a 36-18 lead to the locker rooms.
The Hornets big three on offense: Peneueta, junior center Isnelle Natabou and senior guard Kahlaijah Dean totaled 25 points in the first half alone, outscoring the Aggies with just the trio. 
Everything was going the way of Sac State in the first half until Dean suffered a leg injury and was helped off the court by Hornet head coach Mark Campbell. Fortunately for the Hornets, Dean was able to return in the second half. 
Story continues below photo.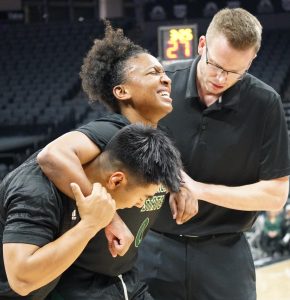 "[Campbell] has this trust in me that most coaches haven't had in me," Dean said. "We knew we're going to take this journey together and see where we go from here."
UC Davis couldn't get any semblance of offense outside of junior guard Evanne Turner in the first half. Outside of Turner, the Aggies could only manage to score four points. 
As a squad, they shot just 24.1% from the field, compared to the Hornets' 58.3%.
"I will fight every game, it doesn't matter if I start or not," redshirt freshman guard Benthe Versteeg said. "The minutes that I play, I have to play my hardest."
It was a sloppier second half for the Hornets. Fouls and turnovers let the Aggies remain in sight, but the Hornets were able to keep Davis at arms-length throughout the game. 
Davis could not muster enough offense outside of Turner. 
Even with 21 Hornet turnovers, the Aggies were unable to take advantage — shooting 27.8% on the game and making only one three pointer in the game. 
Davis was able to get the game as close as 13 points in the third quarter, but never any closer. 
"Sac State is a good team. Going into this game, we knew that," Aggies coach Jennifer Gross said. "We knew they had some weapons that were going to be tough for us, and they played a very good game."
Only three Hornets finished with double-digit scoring, with Versteeg joining Natabou and Dean. 
Natabou and Dean were both able to post double-doubles with 14 and 11 rebounds respectively.
"This group has something special to them, you can kind of feel it," Campbell said. "It's really balanced: Izzy's [Natabou] a load inside as a true center, KD [Dean] is just learning how to be a point guard, KP's [Peneueta] one of the best shooters in college basketball. Benthe's just a monster on-ball defender — we've kind of unleashed."
The Hornets are now riding a three-game win streak heading into the Holiday Beach Classic, where they will take on Cal Poly, San Luis Obispo and University of Texas El Paso starting Friday at noon. The game is available for streaming here.
"It's neat just that the growth that the program had in a year and a half. Last year we came into this game and we weren't at that level," Campbell said. "For this game — tonight — we caught up to those guys."