REVIEW: NIKI serenades a packed Ace of Spades crowd
The Indonesian singer brought her ballads to Sacramento as a part of, "NIKI: The Nicole Tour"
NIKI held the Ace of Spades crowd in the palm of her hand as she sang very personal ballads throughout the night on Tuesday, Sept. 13. The vibe in the room made it clear that the audience had been connected to NIKI's music before this concert.
"I started listening to NIKI back in 10th grade, so around 2018," said health science major Glenn Lopez.
The line wrapped around the block across the street from the venue as concert goers excitedly waited for Ace of Spades' doors to open. There were many dedicated fans lined up. One dedicated fan  had a sizeable neck tattoo of NIKI's record label, 88rising covering half of his neck.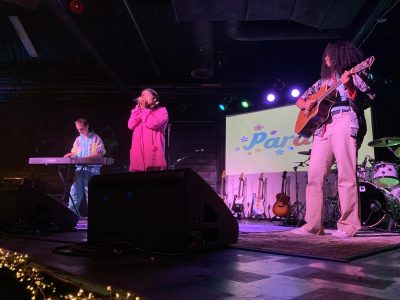 The doors opened at 7 p.m. After an hour of filling up the venue, Indian American pop singer/songwriter, Parovi and her two band members took the stage as the opening act. She shared her struggles growing up with immigrant parents passionately through her raw vocals.
Parovi interacted with the crowd and set the tone for NIKI. As soon as she left the stage, the crowd showed excitement for NIKI, even cheering for the tour manager when he crossed the stage. 
She started the show with three upbeat tracks that the crowd went wild for. Her drummer pounded out the rhythm that NIKI and the entire venue danced to while her backup bass and keyboardist laid down the harmonic foundation for her vocals.
NIKI had a keyboard player, a bassist, an electric guitar player and a drummer who would come in and out depending on the song. NIKI was continuously switching between acoustic guitars and sometimes she would sit at the keys, showcasing her other  musical talents.
Once the first energetic tracks were through, NIKI went into songs from her album of ballads, "Nicole." These songs silenced the crowd until significant moments when they all collectively erupted in cheers.
"If you follow me on social media you know this is the part where I ask you what you want to hear," NIKI said as the crowd burst into inaudible suggestions. Ultimately, she sang, "I Like U."
NIKI played fan favorite, "High School in Jakarta," a pop tune about her life growing up in Jakarta, Indonesia. 
After a few more songs, she exited the stage, then returned for an encore to perform, "Every Summertime." Ending on this song was a representation of the styles that she performs. It starts as an upbeat pop tune and slowly evolves into R&B sections that are reminiscent of Motown ballads.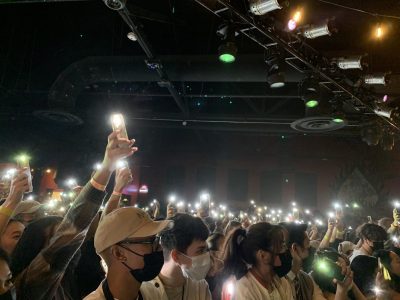 "It was amazing, I've always dreamt of coming to see NIKI," said Karen Chang, a Biochemistry major.