Sac State accidentally accepts 3,500 waitlisted students
The university decided not to rescind admittance
Sacramento State accidentally invited 3,500 waitlisted students to Admitted Students Day this year, according to Vice President of Student Affairs Ed Mills. 
700 of those prematurely accepted are now enrolled, according to an email sent from Sac State's News and Communications Department. 
"We would have likely admitted that many students anyway," said Mills.
Mills confirmed that the school accidentally sent out invites to Admitted Students Day to a group of students on the waitlist prematurely but said that the school didn't consider rescinding those invitations because they were confident there would be enough space to admit them after a record number of students were set to graduate.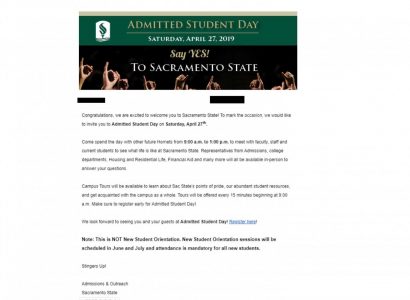 Sac State graduates between 6,500 and 7,000 students annually but in the last year that number rose to nearly 9,000, Mills said. He added that the university has seen an increase in the overall student body of about nine percent in the last decade. 
According to the admissions page on the Sac State website, Sac State is considered an impacted campus, meaning that the school receives more applications from qualified students than can be accommodated, so enrollment has to be limited. 
In addition to Sac State being impacted as a university, there are seven individual programs that are listed as impacted on the Sac State admissions page: business administration, criminal justice, psychology, health sciences, nursing, biological sciences and graphic design. This means that each of those departments are able to impose additional criteria on perspective students for admittance. 
While there may be many students who never have the opportunity to come to Sac State because of impaction, some students who have made it and are in impacted majors say haven't had too hard of a time getting the classes they need.
"I actually was able to get into most of my upper division general education classes and some electives that worked with my upper general education classes as well," said Brandon Blanda, a junior criminal justice major who transferred to Sac State this fall from Solano Community College. 
Other students have had a harder time getting the classes they need to fulfill their major and graduate in a timely manner.  
Senior Helayna Williams, who switched to psychology, an impacted major, during her sophomore year, said the decision caused her to have to take summer school classes, which until recently was not covered by financial aid. 
RELATED: CSU receives $6 million to fund summer financial aid
When talking about all the classes she needed to take, Williams said "it was a bit of a struggle but I got them."
Williams also said that even though psychology was an impacted major, switching was as simple as filling out a form stating what classes she had already taken. 
Steve Perez, the interim provost of academic affairs, said that the university is working to try to get majors unimpacted and that there are no other specific programs at risk of becoming impacted.
"We are doing everything we possibly can to keep anything from going into impaction because when they are impacted, we are not serving our mission of ensuring our students have access to higher education in the ways we want," said Perez. 
Perez said that there are actually some majors that are moving toward no longer being impacted but he cannot divulge them until it is certain. 
"There are a couple that are close but we have to identify some resources and make sure we can get there," he said. 
The total student population has grown by about 3,000 students since 2011. Perez said that they have continued to work to try to provide students with the classes they need. 
"About three or four years ago, we doubled down on our commitment to make sure that the classes our students need are there and I think we added over 1,000 sections and several thousand seats," Perez said. 
For students who feel that they are being affected by the impact of their programs, Mills encouraged them to reach out to the chair of their department to try to work out solutions for classes and requirements that don't fit their schedules, or to contact him personally. 
"We are ready to do whatever we possibly can to make sure students are successful," Perez said. "So have them contact me directly and I can either help or I can put them in contact with someone who might be able to."
This story was updated on Tuesday, Sept. 17 to reflect the accurate amount of students who enrolled, following an email from Sacramento State.