Team USA volleyball coach could be teaching your class
Sac State coach and professor has Olympic history
After leaving Sacramento State in 2004 and going on to both teach as well as coach at levels as high as the Olympics, Andrea Becker didn't think she would ever be a part of the university again.
"I never in my wildest dreams thought I would return to Cal State Sacramento," said Becker.
Becker has been able to travel the world with the US men's national volleyball team as an assistant psychology coach, including a trip to the 2016 Summer Olympics in Rio de Janeiro, Brazil, where the team won the bronze medal.
"It's the most intense sporting event I've ever experienced in my life," said Becker.
After staving off early elimination against the eventual gold medal-winning Brazil national team, the US team made it all the way to the semi-finals, where it narrowly lost. Becker noted how tough it was to psychologically bounce back after failing to accomplish a four-year goal of reaching the gold medal and refocus on winning bronze, another incredible feat.
Even though she was already coaching and teaching at high levels, when the opportunity to return to Sac State as an assistant professor presented itself in the fall of 2017, she made the move.
Today, Becker instructs courses on sports psychology and theories of coaching in the kinesiology department at Sac State. Senior kinesiology major and football player Ja'Narrick James is enrolled in both of her classes this semester and said that she is his favorite professor he's had at Sac State.
James described Becker as interactive, energetic and passionate with her teaching, which makes him look forward to class.
"I can do a three-hour class on a Tuesday night because it doesn't feel like I'm in class," James said. "It feels like I'm part of a group and we're discussing stuff that we're all interested in."
Becker's connection to Sac State goes back to when she first transferred here as an undergraduate student following one year at Humboldt State. She switched schools because of the culture, and the colder climate at Humboldt exacerbated the back pain she lives with.
Two herniated discs in her back and significant disc degeneration plagued her sports career from childhood through college. After transferring, her back had felt well enough to allow her to try out for the Sac State softball team. She played on the team as a walk-on throughout her undergraduate years from 1997 to 2001.
Although she was injured the majority of the time on the team, her positive attitude and early coaching instincts impacted teammates such as Lori Perez, current Sac State softball head coach.
"She just brought an energy to every practice, every game," Perez said. "She could make you better just by the hard work she would put in."
RELATED: Meet the only two female head coaches at Sac State
Perez said she looked up to Becker as a person with an extremely positive outlook and appreciated her selflessness. She also described her coaching-like habits back then, like putting motivational quotes in front of everyone's locker.
"She was definitely like another coach on the field in terms of pulling the team together and getting people centered in the right place," Perez said.
Becker always had a passion for coaching and had a coach's mindset early on. After graduating, she continues into her master's program at Sac State. At that point, she took a sports psychology class with professor Gloria Solomon, who introduced her to the subject that would become her focus.
Solomon also influenced Becker's path to become a professor and mentor to other coaches, which led to a farther reach than coaching one team. Together, the two co-wrote the softball-specific sports psychology book, "Focused for Fastpitch."
Following the completion of her degree, Becker left to attend the University of Tennessee to attain a doctorate in sports studies, with a focus on coaching. While at Tennessee she was introduced to John Speraw, the head coach of the University of California, Irvine men's volleyball team at the time.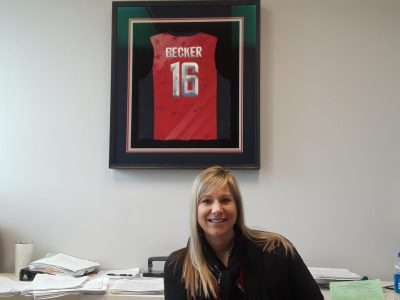 "We talked a lot about coaching and made a California connection and became pretty good friends," Becker said.
After receiving her P.h.d. in sports studies in 2007, Becker quickly landed her first teaching job as an assistant professor at California State University, Fullerton. At the time she still spoke with Speraw about how he could improve his team and implement the mental game.
It was during Becker's fourth year at Fullerton that Speraw called her to ask if she was interested in being an assistant coach to help him with the psychology of the game.
RELATED: Former MVP prepares for life after volleyball with Bleacher Report internship
She initially turned the offer down at first but Speraw's persistence eventually convinced her. The next year, Becker worked as both an assistant professor at Cal State Fullerton and as an assistant coach at UC Irvine which was difficult for her even though she learned a lot about coaching.
Still, she not only had to learn and study a new fast-paced sport, she also had to deal with being a female coach on a men's team as well as with those who did not understand the role of a psychology coach.
"Psychological toughness is being able to focus in the moment in the absence of confidence," said Becker.
Taylor Hewitt, senior kinesiology major, is taking Becker's theories of coaching class this semester. She explained how, as a young woman working to enter the coaching field, she admires her professor, whose experiences and success strike a chord with her.
"It's hard because you don't get respect a lot and because girls 'aren't supposed to play sports,'" said Hewitt. "It's the whole stigma behind women and I think that she pushes the boundaries with that and I think that's something that will carry with me in my future."
After winning the national championship, Speraw was hired as the head coach of the University of California, Los Angeles men's volleyball team. After some time, Becker would end up joining him at UCLA.
Then, once again at the end of the season, Speraw was hired as head coach of US men's national team and again Becker went along with him. Currently, they are working to qualify for the 2020 Olympic games.
"I've never seen a team that loves each other as much as these guys do," Becker said.
She was still working at Fullerton until a position became available at Sac State. She saw a chance to return to where she believes she got her start with experiences she could share and hopefully help other students reach. Along with that, the Martinez native wanted to move back home to Northern California.
"When this position opened where I could do essentially the same job but in a place where I had my loved ones around I decided that was a big pull for me to come home," Becker said.
RELATED: Sac State women's volleyball team voted 2019 'Best Women's Sports Team'