'A Memory, A Monologue, A Rant, and A Prayer' seeks to represent marginalized voices
The inaugural presentation replaces 'The Vagina Monologues'
Sacramento State held its inaugural presentation of "A Memory, A Monologue, A Rant, and A Prayer" (MMRP) on Tuesday evening in the University Union Ballroom.
The production is a collection of monologues by prominent female authors and Sac State students that describe their experiences dealing with racism, misogyny, homophobia and xenophobia.
Close to 1,000 students and faculty attended, nearly filling the ballroom. The room was silent and somber aside from collective applause at the end of each performance.
The event was hosted in collaboration with UNIQUE Programs, Student Health and Counseling Services and the Women's Resource Center. It was directed by Jenna Estenson and Priyanka Chahal and featured over a dozen students as cast members.
RELATED: 'The Vagina Monologues' confront stigmas surrounding sexuality and women's health
Gaby Ruelas and Natali Johnson are both second year students who attended the show together with the Residence Hall Association (RHA), which aims to get those living on campus into the greater campus community, according to their website.
"I came to 'The Vagina Monologues' last year and I loved it," Johnson said. "It was really good, I just love the whole idea of it."
Ruelas said she and Johnson came out to support UNIQUE Program "to celebrate what they're celebrating and really listen to what people have to say about topics that are going to be mentioned."
Ruelas and Johnson also attended to gain ideas for RHA's "Speak Out For Social Justice" event which will be held Thursday in Riverview Hall.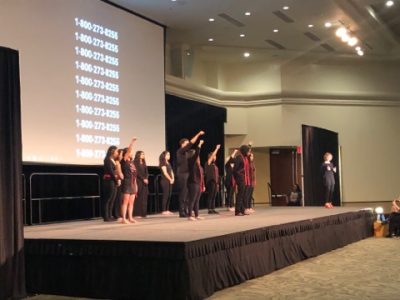 Prior to Tuesday's show, Sac State ran Eve Ensler's "The Vagina Monologues" — a 1994 play about the issues surrounding women's issues including race, gender and body image — from 2002 to 2018.
MMRP also presents stories of violence against women, but includes monologues by queer women and women of color. It is also edited by Ensler along with Molly Doyle.
In the director's statement, Jenna Estenson and Priyanka Chahal wrote that, "we as organizers were critical in asking if the production highlights all womxn. And it didn't, so we changed the name."
"Altogether I liked the message that MMRP had for women everywhere. My one critique is that I wished that it seemed a little more trans-inclusive" said senior student Erykah Lewis. "But overall I really liked the messages that they had for women and that they had for men — that they need to stick up for us, and women we need to stick up for ourselves."
Chanel Tutson, a health educator at Sac State who was on the planning commission for the production, said the idea to migrate to a more inclusive show came about last year.
"We're very vocal about wanting to make sure the cast and production was inclusive of all identities on campus," Tutson said. "(The directors) found that 'The Vagina Monologues' focused primarily on a story from a white woman's lens and didn't necessarily account for other identities."
Last year's production theme "Bringing Marginalized Voices to the Mic," was directed by Karen and Emily, who requested their last names be withheld.
Karen and Emily worked with Sac State's planning commission for The Vagina Monologues along with V-Day, Ensler's organization devoted to ending violence against women, which she started in 1998. V-Day provides the rights to show Ensler's productions and allows student-written pieces that highlight the experiences of marginalized women to be included.
RELATED: 'The Vagina Monologues' empowers women after 15 years of productions
Sac State chose to host MMRP instead of The Vagina Monologues in order to encompass their goal of including marginalized groups.
Ensler allows others to use her production during the month of February, in honor of Valentine's Day. According to the V-Day website, each organization must donate 90 percent of all proceeds to local organizations that work to end violence against women and 10 percent to a "spotlight campaign." This year proceeds go to Women in Prison, Detention Centers, and Formerly Incarcerated Women.
According to the V-Day website, the "V" stands for not only "valentine" but also "victory" and "vagina."
For 16 years, Sac State has donated the proceeds from The Vagina Monologues and now MMRP to My Sister's House, which works to end domestic violence within the Asian and Pacific Islander community.