Summer classes at Sac State can cost more than $1,000 — here's why
High summer course price cause some students to turn to community college
Sacramento State offers a number of courses during the summer from a variety of programs and subjects, but enrolling in one of those courses can cost a student over $1,000.
The current price for a summer class at Sac State is $285 per unit. An additional $337 is added as a sum of fees for different resources on campus — $207 for the University Union and WELL, $83 for health services, $22 for health facilities and $25 for the Associated Students, Inc. to conduct student services on campus.
In total, one three-unit class costs close to $1,200.
Aside from tuition and fees, students face additional optional expenses such as a $116 fee for a summer parking permit and other additional costs for books and supplies.
Costs to run the campus come from student tuition because the school does not receive state funding during the summer, according to Dean of the College of Continuing Education Jenni Murphy.
"The tuition in summer at the CSUs primarily has no funding received from the state Legislature," said Murphy. "Any of the university resources that are used must be reimbursed with the fees."
Those resources include aspects such as faculty salaries, room rental, security, power and student services such as advising or financial aid, said Murphy.
(Story continues below video)
Despite its cost, Executive Director of University Initiatives and Student Success, Jim Dragna, said summer sessions are imperative to student success and graduation rates.
Sac State's graduation rates have been historically low — only a median of 8.8 percent of non-transfer students graduate in four years, and a median of 19.7 percent of transfer students graduate in two years, according to the university.
Summer classes, Dragna said, may be helpful for students "to catch up on courses they weren't able to be as successful as they wanted to be in, but also to plan in a very clear way about how that will help them through their four years as well."
Lower division courses are available at local community colleges for $1,100 less, depending on the amount of units.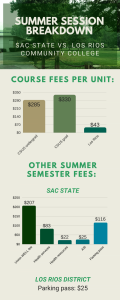 The Los Rios Community College District has four campuses that offer transferable courses at $46 a unit.  
Some Sac State students have taken advantage of this option to get ahead in their courses at a lower cost than their own university.
Karen Gonzalez, a child development major, said she took two classes at Sacramento City College this summer.
"I decided to take my classes here because they're cheaper, and Sac State obviously offers the classes I need but it's a little bit more expensive," Gonzalez said.
By utilizing the Los Rios colleges, Gonzalez said she was able to still take the classes she needed while saving money.
Joshua Sepanski, 22, a public relations major, said that he's taking a Spanish class at Sacramento City College as well.
"It was a decision based off of finances," said Sepanski. "I wanted to take it (at Sac State.) I also wanted to take some Biology classes just to finish out my GE stuff, but it was too much money."
Rudy Obstaculo, Gabriela Orozco, John Nelmar, and Jannah Khalil contributed to this report.