Safety lifts weights, opposing offensive players off the ground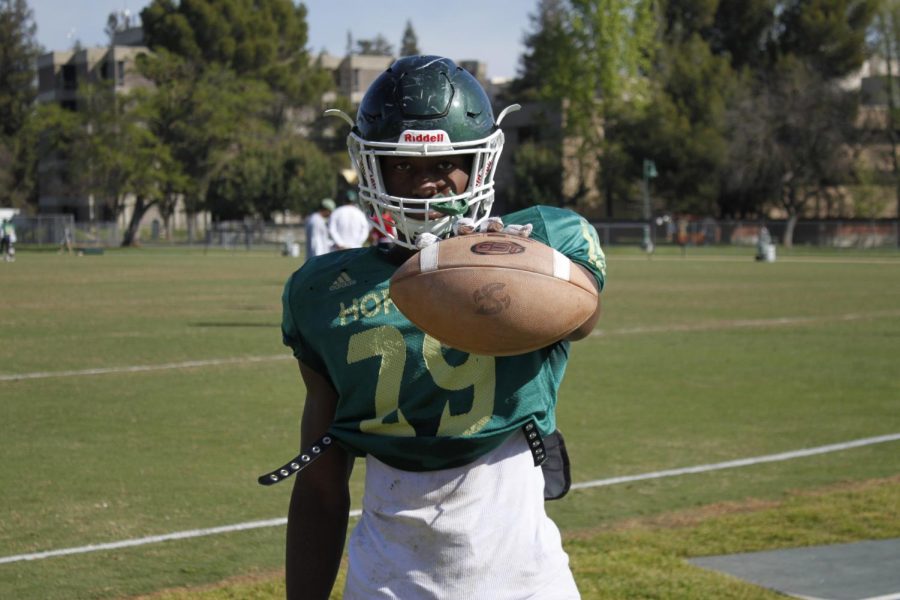 With the spring football season finished and fall approaching, Sacramento State junior safety Immanuel Anderson thinks about the trio of current running backs on the roster who are entering their sophomore seasons.
As freshmen, Bryant Perkinson, Elijah Dotson and Isaiah Gable each had a different specialty and combined for 1,443 yards on the ground and 10 rushing touchdowns.
Anderson has never carried the ball in a Sac State uniform, but when he was asked if he could carry the football, he replied with a slight laugh "yes."
"I definitely tell my coaches all the time, just give me five plays at running back," Anderson said. "I don't even need the ball, just let me block or something. I joke about it, but the thing is I'm kind of serious about it."
The itch to do everything is something that Anderson has had since before he played on both sides of the ball at Elk Grove High School, where running back was a position he starred in and was projected to play in college.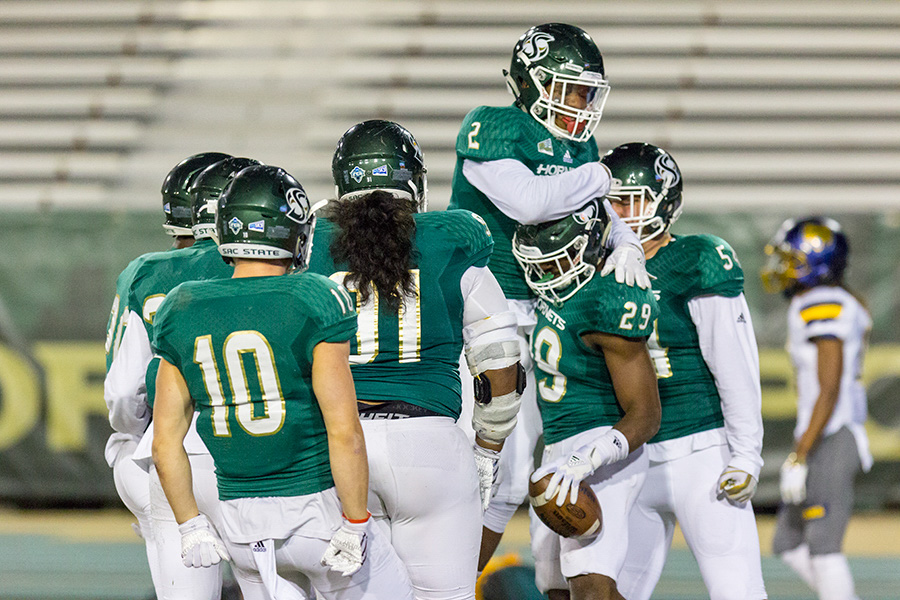 His desire to play on both sides of the ball came about five years before Anderson entered high school, when he began playing as a 9-year-old living in Vallejo.
Anderson said he began his football career because he was too young to play basketball. After going to a football camp, he was selected to be on a youth team. Anderson played tackle football for about five years before entering high school. He moved to Elk Grove when he was 12 years old and went to high school there two years later.
As a high school freshman on junior varsity, Anderson's star power was apparent. He dominated on both sides of the ball and was called up to the varsity squad for the playoffs.
When his sophomore year began, Anderson started the season on varsity before injuring his left knee two games into the season. He had to miss the rest of the year.
He said that being injured was one of the most difficult times of his life.
"Because I wasn't playing as much, I would be a little bit upset," Anderson said. "Looking back at it now, I see myself being selfish."
Anderson said that his father went to his coaches to see what his son could do to get better even though he wasn't playing.
The answer was weightlifting. Anderson had already been working out, but while he was out with the knee injury, he took his lifting to another level.
He said that every day he would ask his mom to drive him to the gym. While he wasn't able to get better on the field, he was able to get better off of it in time for his junior season.
He was immediately one of the strongest lifters on the team and showed his strength on both sides of the ball. Defensively, he had eight sacks and he blew up opposing running backs in the backfield and had 22.5 tackles for a loss.
On offense, Anderson averaged 6.1 yards per carry and scored six total touchdowns. That summer, he started to reach out to coaches at San Diego State and Fresno State.
However, he was a high school senior without a future collegiate home — which changed when he stepped on to the Elk Grove High School football field against Napa's Vintage High School in the playoffs on Nov. 14, 2014.
Anderson said he was getting anxious about his future. He tried not to think about the fact that he had reached the playoffs of his senior season and still received zero scholarship offers. He had some interest from San Diego State and Sac State, but nothing was locked in.
He said he didn't know what else he had to do to get schools' attention. He was a playmaker on both sides of the ball. Entering that night, he averaged 9.1 yards per carry on the ground with 11 trips to the end zone. At safety, he led the team in tackles and sacks.
But that night, Anderson's entire life changed because he made a difference on every part of the stat sheet. He started the game off by blocking a punt and then scored two rushing touchdowns, had two interceptions, each of which he returned to the house. On top of that, he had 1.5 sacks.
He had gotten past a bad injury during his sophomore season and after the playoff game; he no longer needed to worry about if he would receive an offer, however, because Sac State offered him a scholarship right after the game.
"It was definitely a happy moment," Anderson said. "When I first told my mom that day when I got the scholarship, she just burst out crying."
But when Anderson got to college, the Hornets had trouble winning. They won just four combined games in his first two seasons.
In his junior year, the team more than doubled that with seven wins and he had 59 tackles including 10 for a loss.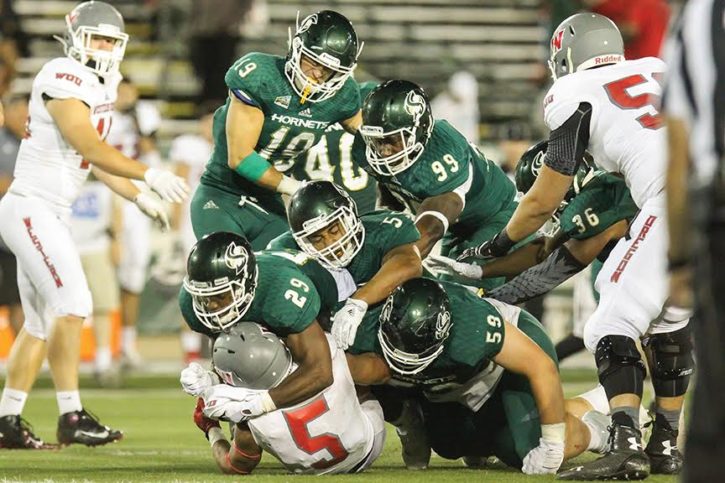 Anderson is also second on the team in terms of weight lifted on the squat rack at 565 pounds despite only weighing 200 pounds. He said that his work ethic he learned from his sophomore year in high school has helped him throughout his collegiate career.
"He has been a very key component to our growth the last three years," said Sac State coach Jody Sears. "He has been through some trials and some hard seasons (and) as a leader, he is very good leading by example. He is probably one of the hardest working guys in our program.
"When you have one of your best leaders being the hardest worker in your program, you've got a chance to be very very good because he makes those those around him, especially the younger guys, just naturally influences them to become better."
Anderson said while he was given the No. 29 jersey, he has found a lot of meaning to the number. He models parts of his game after similar sized players like Earl Thomas of the Seattle Seahawks and Eric Berry of the Kansas City Chiefs who each also wear No. 29.
"It's great playing against him in practice," said Sac State junior quarterback Kevin Thomson. "He flies around, and he makes you better. He is a leader on defense; we like being able to practice against top-level players and he one of those."
Anderson said that winning seven games last season was enjoyable and fun, and that he is excited to see what the senior-heavy team can do in 2018.
"We're not done yet," Anderson said. "We are trying to do something that has never been done at Sac State and that is to go to the college playoffs. We are trying to build this program up and do something special."
Additional reporting by Shaun Holkko