EDITORIAL: Sac State should leave the memes to the masses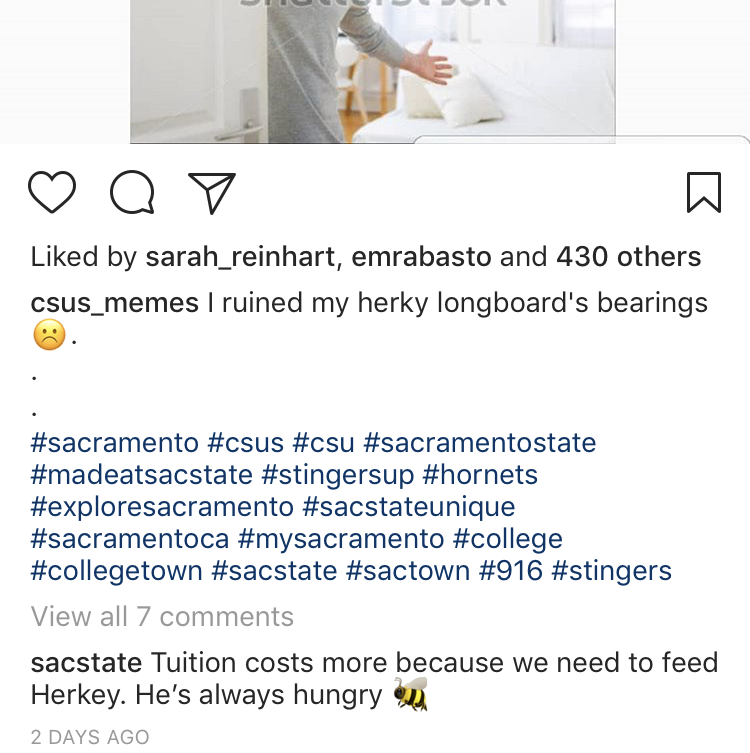 It is an offensive and disturbing pattern of behavior that Sacramento State continues to shove its stinger in its own mouth when serious issues are raised.
The most recent example is almost laughable, in that it was meant to be funny without containing a single ounce of legitimate humor.
When popular Instagram account @csus_memes posted a meme for his 3,000-plus followers about a likely impending tuition increase, Sac State's official account on the app commented "Tuition costs more because we need to feed Herkey. He's always hungry."
The comment, made by a student assistant according to a school official, was up for almost a full day before being deleted when The State Hornet contacted officials asking about why it was made.
It is obvious what that student assistant was trying to do on behalf of the University. More and more recently, Sac State official social media accounts are interacting with students in an attempt increase their profile and appeal to youth where they are most active.
Never mind that these appeals are often not funny at all and come off more like that viral still from "30 Rock" when Steve Buscemi says "How do you do, fellow kids?" while wearing a ballcap backward and holding a skateboard over his shoulder.
And also never mind the silly attempt from Sac State to bring the much-memeified mascot into the conversation without calling him "thicc." @csus_memes and its many fans have built up a rich metafiction surrounding Herky, and he belongs to the students now.
And also, never mind the misspelling of "Herky."
The real problem with this is Sac State shouldn't be joking about serious issues like a potential tuition hike. Many students in the California State University system and at Sac State are facing serious financial hardships, including housing and food insecurity.
The issue of funding and the continued burden being foisted onto the students is a heavy topic, which makes it all the more stupefying that Sac State continues to say the wrong thing.
Last month during an open forum on the possibility of a tuition increase, Sac State President Robert Nelsen was repeatedly questioned about his salary of $324,029 and a raise of 2.5 percent.
"I understand appearance," Nelsen responded. "I also understand you pay for what you get."
Nelsen has repeatedly gaffed with students, also saying in the past that he "hates the 'C' word," as in "commuter" campus.
As we said several weeks ago, "leadership is the real issue here."
What tone are University officials using when talking about the tuition issue that a student would feel appropriate to make light of it from the school's official account?
What processes exist for the public messages that Sac State sends?
Why is our college entering verbal repartee with a meme account, even one as derisive and popular as @csus_memes?
Leave making light of the serious stuff to the masses, Sac State. Stick to trying to fix the issue, rather than justifying it. As @csus_memes said in a later post: "Hopefully we don't see our school making light of serious issues in the future, thats my job."
Donate to The State Hornet
Your donation will support the student journalists of Sacramento State University. Your contribution will allow us to purchase equipment and cover our annual website hosting costs.