CSU conference at Sac State highlights housing, food insecurity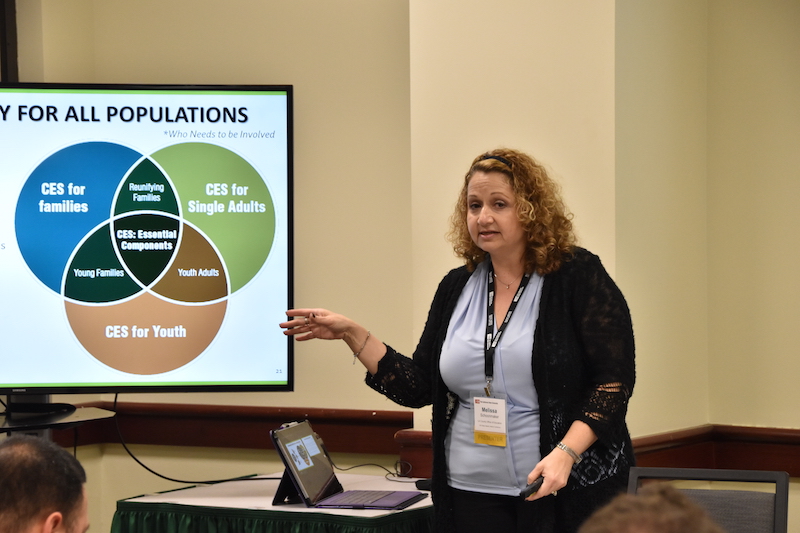 Sacramento State hosted the California State University Basic Needs Initiative Conference on Wednesday and Thursday, bringing faculty, administration and students together from all over the system to discuss the impact of housing and food insecurity on students.
Rashida Crutchfield, a principal investigator for CSU Long Beach, and Jennifer Maguire, a principal investigator for Humboldt State University, released the second phase of a study that examined the levels of homelessness and low food security among CSU students and the effects of these factors on their success.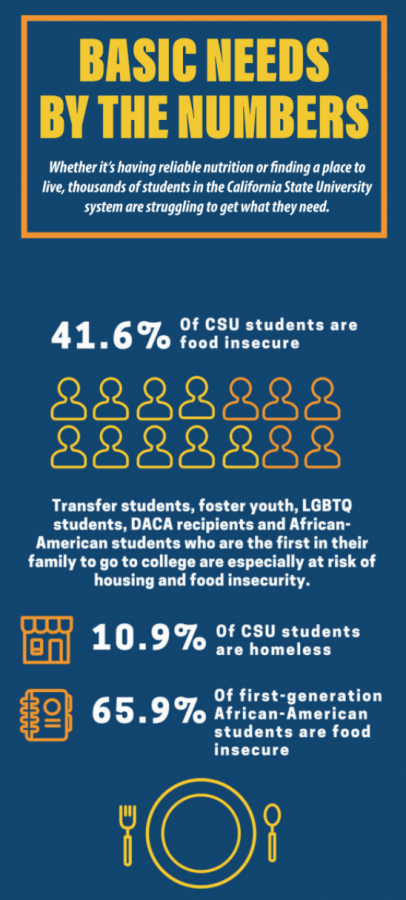 The study's results show that 41.6 percent of CSU students reported food insecurity, and 10.9 percent of students reported experiencing homelessness one or more times in the last 12 months.
Maggie White, president of the California State Student Association, said that the numbers surprised her.
"(Almost) 66 percent of first-generation African-American students are experiencing (food insecurity)," White said. "That's shocking."
Crutchfield and Maguire described their study as "the most comprehensive mixed-methods study of university students' unmet basic needs and the relationship to student success ever completed within a four-year higher education system."
Their study showed that transfer students, foster youth, LGBTQ students, DACA recipients and African-American students who are the first in their family to go to college were especially at risk of housing and food insecurity.
First-generation African American students experienced the highest rates of insecurity, with 18 percent of the population experiencing homelessness, and 65.9 percent experiencing food insecurity, according to the study.
Crutchfield and Maguire's research shows that food insecurity and, to a lesser extent, housing insecurity, correlate with lower overall grade point averages.
Programs such as CalFresh, which supplements low-income individuals and families with benefits used to purchase food, are effective but underused, they said.
Although Sac State has a CalFresh Outreach Program and offers the ASI Food Pantry, Crutchfield and Maguire said that many food insecure students may not be aware of the programs available at their campuses or that some may feel too embarrassed to use them, while others do not qualify for CalFresh due to work requirements.
White said that the program needs improvement, but not all CSUs even have programs like CalFresh, and she suggested that schools that don't have assistance services should be looking to other campuses for inspiration.
"There are some really simple things that can be done in just educating faculty and staff around how to identify when a student might be experiencing food insecurity or homelessness," Maguire said. "Like if they're falling asleep in class or if they're missing class or maybe seem a little irritable because they're hungry."
CSU's Basic Need Inititave Conference will discuss topics and strategies regarding student homelessness, food insecurity, and financial well-being @sacstate @calstate @StateHornet pic.twitter.com/yd2l7OwzAP

— Dayla Cook (@daylapearl) February 7, 2018
Danielle Munoz, the student affairs case manager at Sac State, gave a presentation during the conference on the intersection between basic needs insecurity and financial education.
Munoz said that one of the main reasons students come to her for financial aid is the high cost of housing in the region, and due to no fault of their own they end up running through their money quickly.
"California is going through a housing crisis in general," Munoz said. "Sometimes we have to remind them, 'It's not you, it's our city.' "
Munoz said that students can help their peers by spreading information about programs and services for those in need, such as CalFresh or food banks — but that faculty and staff need to step up as well.
"We need to set up the framework for students to work in those roles, and then those students go spread the knowledge," Munoz said.
Story continues below
Samantha Bielz, a social work major at Sac State, attended the conference and said she would like to see more affordable housing options offered both on and off campus to combat student homelessness.
"If I knew for a fact that me paying more tuition meant that somebody who had housing instability could have lower rent, I personally would be willing to pay a little bit more," Bielz said. "If there's transparency and accountability, I think yes. I'd like to believe that we're a community."
@TheStateHornet Rashida Crutchfield on influence of food insecurity on GPA#csubasicneeds pic.twitter.com/YuIL0yraih

— V. O. Moleski (@VO_Moleski) February 7, 2018
A student panel featuring eight CSU students shared testimonials about being homeless as a student.
First generation Sac State student Regina Montoya said she has struggled with homelessness since she was young and didn't have the resources she needed when she was in college.
"The trouble for me wasn't getting into college, it was staying in college," Montoya said. "I was going hungry passing the Union and not being able to eat because I needed money to stay with a friend for the night."  
Carolyn Tinoco, a student at CSU Dominguez Hills, said that at one point she worked four part-time jobs to pay for community college. When she got to the university level she said her CalFresh was denied because she couldn't get work-study anymore.
"So now I have to decide, 'Do I stay in my classes and get these good grades that I'm used to or do I just settle for Cs?' Because I have to decide whether to pay rent this week or I'm going to study," Tinoco said.
A roundtable discussion invited representatives and senior housing officers from several CSU campuses to exchange ideas, questions and concerns regarding housing resources.
Samuel Jones, the director of housing operations and conference services at Sac State, expressed the importance of partnerships within the CSU system. Jones said having a good connection with ASI Residential Life and Development makes all the difference in being able to help out Student Affairs with urgent situations.
Jones said ASI was able to connect him with alumni who wanted to give to the program. They bought a fridge and agreed to replenish gift baskets for students as needed.
However, Jones said that while more people are reaching out to help, there are still only four beds available for emergency housing at Sac State.
"We use terms that are cute, like 'starving student,'" Crutchfield said. "We have to choose to acknowledge that this is a problem. As students are experiencing food and housing insecurity, we get to reframe and revise our vision, and start talking openly and honestly."
View Comments (1)