'It's Sacramento, not you': Students caught in the crosshairs of statewide housing crisis
A study unveiled earlier this month at the California State University Basic Needs Initiative Conference showed that 10.9 percent of CSU students have experienced homelessness within the past year. As California in general — and the Sacramento area in particular — face skyrocketing rents, The State Hornet is looking at the causes of the state housing crisis, potential solutions and what the University is doing to help students who are struggling to keep a roof over their heads.
February 28, 2018
Five days a week, Sacramento State junior Bailey Bernardi goes to work at 4 a.m. and then makes her way to school. But even though she makes over $14 an hour, she is barely making ends meet paying living expenses.
Bernardi is just one Sacramentan dealing with the ramifications of a statewide housing crisis marked by a precipitous rise in housing and rent prices, as well as homelessness.
A statewide problem
The average cost of a one-bedroom apartment in Sacramento has risen from $876 in January 2014 to $1,262 last month, according to data from rentjungle.com.
Homelessness has grown by 30 percent over 2015 numbers and over 2,000 people are sleeping without shelter in Sacramento on a nightly basis, according to a 2017 report from the homeless advocacy group Sacramento Steps Forward that was prepared by Sac State's Institute for Social Research.
Story continues below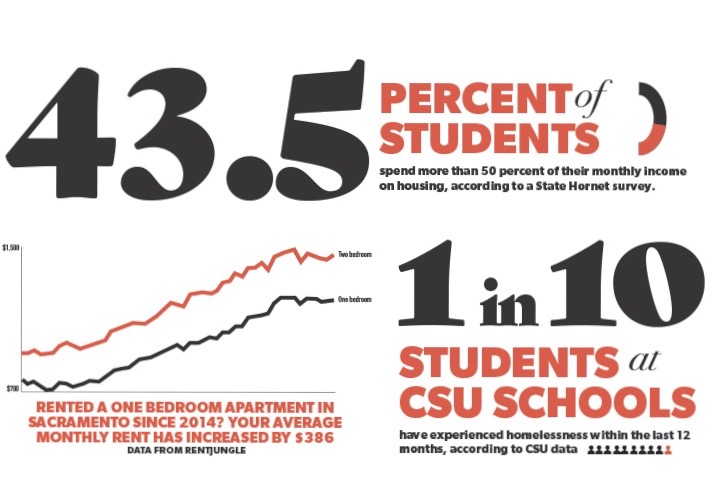 The housing crisis has a particular impact on California State University students. According to a Humboldt State and CSU Long Beach study that came out earlier this month, 10.9 percent of students systemwide reported housing insecurity in the past year.
California rents were stable by-and-large during and in the aftermath of the 2007-2009 recession. When the economy came roaring back, rents started to increase — particularly in metropolitan areas where high-earners displaced original, lower-income residents (sparking a controversial process known as gentrification in many neighborhoods).
Residents who decided to pick up stakes in response to rising housing prices saw Sacramento as a cheaper option and began coming here. Almost 20,000 people are moving from the Bay Area to the greater Sacramento region annually, according to census data compiled by the Greater Sacramento Economic Council.
Apartments surrounding Sac State range in price around $1,000 a month. A one-bedroom apartment at The Element, which is located about a mile from campus off of 65th street, starts at $1,150. According to a report from the CSU system, the average cost for food and off-campus housing for Sac State students is $13,294 annually.
A 2015 Georgetown University research study found that 70 percent of Sac State students hold jobs while enrolled.
Sac State community absorbing the cost
Students facing an emergency situation can receive help from Sac State Case Manager Danielle Munoz.
Munoz said that one reason behind student housing insecurity is that students inexperienced with money may not have the skills necessary to stretch financial aid through the whole semester.
"When you've gotten a big chunk of money that you've never had before, a lot of students bulk spend," Munoz said. "They're out in a month-and-a-half."
However, Munoz reiterated that the Sacramento housing market is the primary reason for the cases she handles — saying she reminds students "it's Sacramento, not you."
Munoz said that apartments advertised as being for students around Sac State can be hard to stay in for many students due to the cost of rent.
"They're having a hard time affording the housing around our campus," Munoz said. "If you're paying over $700 and have no job, (you're) highly likely to come in to see me.
"I've called several times — and they probably hate me — and I say 'Please don't give this 19-year-old an eviction.' I'm on the phone all the time with the local (apartment) complexes."
Sac State has multiple programs to help students dealing with housing insecurity, including an online roommate finder, emergency housing, an emergency grant fund and partnerships with alumni and local churches.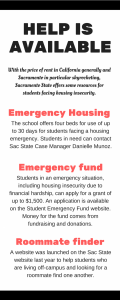 The roommate finder website came about last year through cooperation between Associated Students, Inc. and Information Resources and Technology, according to Beth Lesen, the associate vice president for student affairs.
Emergency housing allows four students at any given time to be housed for up to 30 days.
"Often we have more demand than supply," said Lesen, adding that emergency housing is planning to add two more beds by fall.
Lesen also said that the school has an informal agreement with an "off-campus motel partner" that it has not utilized yet, but which can offer a reduced rate for a room in the event of a crisis.
The emergency grant fund has been in place for three years and has helped "well over 100 people," Lesen said. The fund can give up to $1,500 to a student in an emergency situation.
Funding comes from alumni and the Student Achievement Council, according to the emergency fund's website.
"The $1,500 is not an allowance," Lesen said. "It's to address an emergency that has occurred."
Ralph and Antoinette de Vere White gave a donation to the emergency grant fund last year.
"These students obviously worked very hard to be educated and here they are homeless," Ralph said. "My wife worked with the homeless for 30 years so we thought this was a good way to connect with that."
For her part, Antoinette said that the donation came about after the couple saw an article in The Sacramento Bee about homelessness at Sac State.
"It's very hard to focus on your studies when you're focused on if you're going to sleep and how," she said.
Munoz said that parishioners of local faith-based organizations — specifically the Newman Catholic Center, the Fremont Presbyterian Church and the Sacramento Central Seventh-day Adventist Church — expressed a willingness to help.
"I wanted to see if they had host families. They mentioned they'd already been doing that with students in their congregations," Munoz said. "For the past few years if a student in a dire situation needs a couple weeks, we have families who can help them out."
Renters, landlords and developers debate solutions
Sacramento has no rent control laws, as San Francisco, Oakland and Los Angeles do.
Advocates are intending to collect signatures for a November ballot measure that would enact rent control in Sacramento, something Mayor Darrell Steinberg has said in the past he has "significant concerns" about, according to The Sacramento Bee.
     RELATED: I slept in my car for over a year. No one knew.
If passed, the measure would place limits on evictions and increases in rent. However, the Costa-Hawkins Rental Housing Act, passed in 1995, places limits on the kinds of rent control a city or municipality can impose.
Costa-Hawkins exempts certain kinds of housing — such as newly-built housing — from rent control ordinances. It also prohibits ordinances that would ban raising renting prices between tenants, which are known as vacancy control.
Los Angeles activist Michael Weinstein, the president of the AIDS Healthcare Foundation, is funding efforts to put repeal of Costa-Hawkins on the November ballot after an assembly bill that would have repealed it died in committee last month.
Leslie Dreyer, an anti-eviction organizer with the Housing Rights Committee of San Francisco, said that repeal of Costa-Hawkins is the "main rallying cry across the whole state" for tenants rights organizations.
"It is the one thing standing in the way of cities being able to make their own tenant protection policies," Dreyer said. "(The ban on vacancy control) provides the No. 1 incentive for people to be kicked out of their homes."
Dreyer said that developers would continue building in California even if Costa-Hawkins was repealed, citing development in cities like San Francisco that have some rent control laws already.
Jim Lofgren, a senior vice president at the Sacramento office of the California Apartment Association, disagrees.
"I deal with developers all the time and even the threat of repeal of Costa-Hawkins is causing developers to want to leave California," Lofgren said. "The ramification is that you would halt new construction in California."
Lofgren said that the solution to the housing crisis is building and scrapping regulations that prevent it.
"You need high-density housing," Lofgren said. "The problem is lack of affordable housing and the solution is to build like crazy."
For students like Bernardi, working 30 hours a week alongside a full schedule of classes is a part of what is becoming a norm for college students. Bernardi says housing options around Sacramento could be better, especially for students.
"I live in a cheaper area but I'm still paying $670 a month, which is kind of sad, because I break even every month," Bernardi said. "I'm barely cutting it."
CORRECTION: When this story was first published, Leslie Dreyer's name was printed as Leslie Dexter. We apologize for this error.