Donor provides Sac State with $9 Million to be used for Science II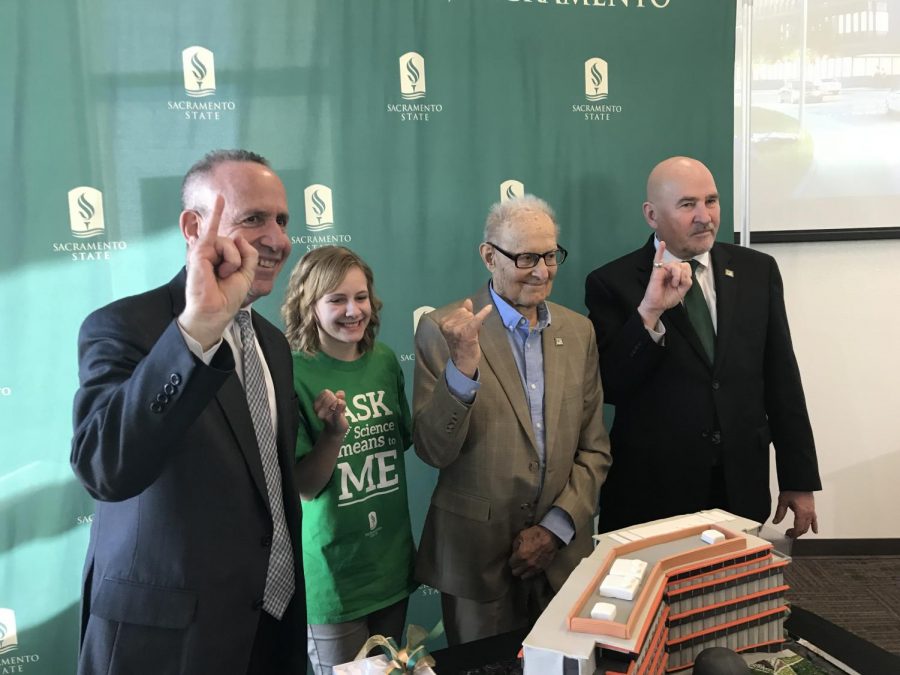 Sacramento State received the largest donation in its history on Friday courtesy of Ernest E. Tschannen, a millionaire who made his money in real estate.
Tschannen came to Riverview Hall on his 93rd birthday for the announcement that he is donating $9 million, which will be used for paying for part of the Science II construction.
In recognition of Tschannen's gift, Sac State will dub Science II the Ernest E. Tschannen Science Complex.
Tschannen sat next to Sac State President Robert Nelsen's wife, Jody, in the front row as he listened to Nelsen and Mayor Darrell Steinberg discuss the impact of his donation.
Steinberg, who presented Tschannen with a key to the City of Sacramento, hopefully discussed the potential impact of Science II on the community.
"The degrees earned in this building will be felt in Sacramento for many years to come," Steinberg said.
Nelsen was visibly emotional as he spoke about Tschannen at the podium. He brought up Tschannen's past as an immigrant from Switzerland, saying that the donation shows the impact immigrants can make when they are allowed to come into the United States.
"Today we are so much closer to seeing that planetarium, seeing that observatory, seeing those labs, seeing our students graduate on time with a premier education," Nelsen said. "It's because of a good friend of mine: Ernest Tschannen."
Tschannen's donation helps catapult Sac State to accomplishing the goal of building both a planetarium and observatory and hoping to make the science complex a regional attraction in the area.
The planetarium is expected to involve 150,000 school kids and members of the general on an annual basis, according to Sac State public relations.
The complex's modern labs will look to study and research that will tackle issues such as autism, pesticide resistance and HIV.
Tschannen, who was also provided with a cake replica of Science II in honor of his birthday, expressed how much it meant to him to give back to the community.
"I think it's an amazing investment, this science building," Tschannen said. "It will help students for generations to come in order to get a better education."