$20 million short for Science II
CSU allocated $71 million for the construction of Science II, leaving Sac State responsible for remaining $20 million
According to Sacramento State officials, the CSU Chancellor's Office has allocated approximately $71 million to fund construction of the new Science II building leaving the University responsible for the remaining $20 million, which will likely come from private donations and, if necessary, the campus's capital reserve.
Al Frisone, the newly appointed vice president of University Advancement, is in charge of fundraising for the Science Complex.
Although he has only been working on this project for about a month, Frisone said he felt confident in the progress already made to secure funding and believes that the new building will be a transformational component for the university.
RELATED: EDITORIAL: Please get a return on the Science II investment
"The most important and valuable asset that you have is a compelling case for support," Frisone said. "I think, in this case, the science complex has an unbelievably compelling case."
Frisone said the University has begun the process of reaching out to alumni for contributions.
"That's our number one priority and number one constituency of focus," Frisone said. "Many of our donors, you know, took those same anatomy and science classes in the existing buildings, and those were outdated and old when they were students, so they certainly have a great appreciation for the need to update and really modernize the facility aspect in the sciences at Sac State."
In addition to alumni donors, corporate support could also be an important source of funding for the complex. According to Frisone, conversations are happening with various companies interested in Sac State graduates that have the strength and experience in science-driven fields.
RELATED: Sac State breaks ground on $90 million science building
While the search for donors progresses, curiosity behind who is donating is imminent. However, Frisone noted that donor confidentiality is essential until a formal gift agreement is established and confirmed.
Private donors will have the opportunity to have their names embellished on different features of the facility. Donations will be contributed toward naming opportunities for things such as the planetarium, which is currently projected to cost $5 million, according to Sac State officials.
According to the CSU philanthropic report, Sac State received approximately $18.2 million in gift commitments for the 2015-16 school year with a total of 39,279 individual donors including parents, alumni, foundations, corporations and other organizations.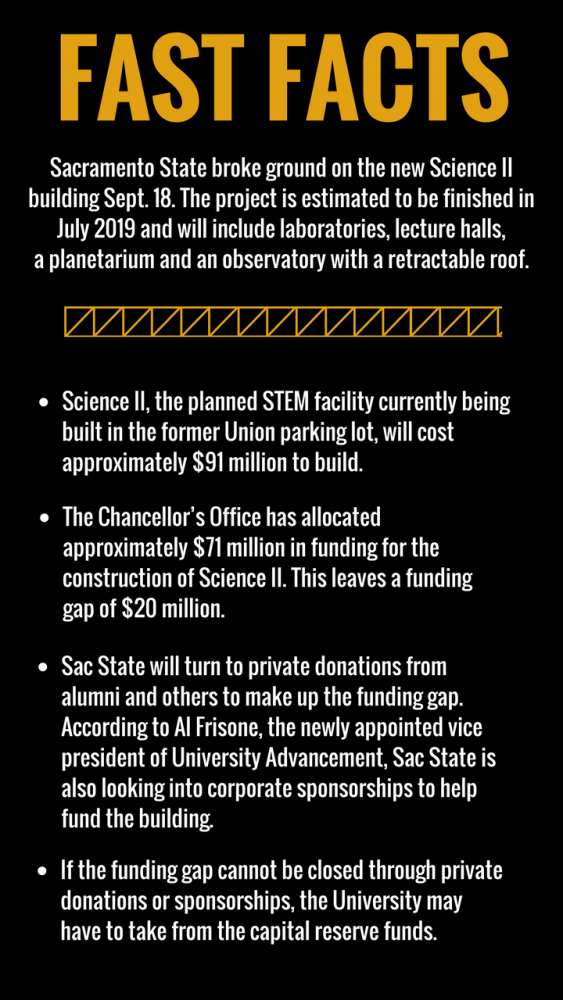 If donor contributions fail to hit the targeted amount, the university may have to dip into its capital reserves.
The "Integrated CSU Administrative Manual" states that capital reserves include funds set aside for major long-term investment projects or other anticipated expenses. According to Sac State's university reserves policies, the campus chief financial officer is responsible for designating specific amounts that are intended to integrate with campus plans and prepare for "economic uncertainty."  
RELATED: #SacStateSays: What do you want to see added to campus?
Tania Nunez, a Facilities Management administrator, said that dipping into the capital reserve may have the potential to take away from other projects despite the university's traction on obtaining private donors.
"I'm hopeful that that won't be an issue," said Nunez. "It's gonna be a challenge if we find ourselves dipping into that too much. We'll just have to wait for it to replenish itself before we can really do any big sort of projects again."
Still, Nunez said that she believes the return on this major investment for the University will be worth it.
"We want this to be a successful building so that the Chancellor's office is willing to give us more funds for more projects," said Nunez. "I think that they like that we thought this project was so important to us, and we're willing to invest in it too, which I think buys us a lot of good will."
Nunez noted that each laboratory within the complex will be designed for a specific science as opposed to a one-size-fits-all infrastructure. In addition to specifically designed classrooms and labs, more seats will be available to students seeking a spot in impacted classes that have been full in past semesters.
Some students aren't phased by the looming costs of the project. Estaban Diamante, a senior mechanical engineering major, said that he believes any funds going toward the Science Complex should be considered an investment.
"Sac State is trying to boost up their reputation as a STEM-based school," Diamante said.
Diamante and a few of his peers agree that the demand for better facilities is pertinent.
"With admissions at an all time high, we are having more and more students major in science, math and engineering. Those majors are high in demand," Diamante said. "Sac State is competing with UC Davis for funding and bragging rights for who has the better school."
Floorplans of the 95,000 square foot building are available online for public viewing, provided by the University. The complex will include several amenities including two large lecture halls, a planetarium and an observatory with a retractable roof.
Classrooms and laboratories will include state of the art technologies and equipment making Sacramento State "a regional resource for science and technology knowledge," according to Sac States' Science Complex website.
The five-story facility will incorporate all departments of the College of Natural Sciences and will be available to students and the public providing learning opportunities for K-12 schools and surrounding communities.
In an agenda provided by CSU's Committee on Campus Planning, Buildings and Grounds, and confirmed by Nunez, the project will also include the demolition of Humboldt Hall and future renovations to Sequoia Hall.