Sac State students, city members repaint houses in Del Paso Heights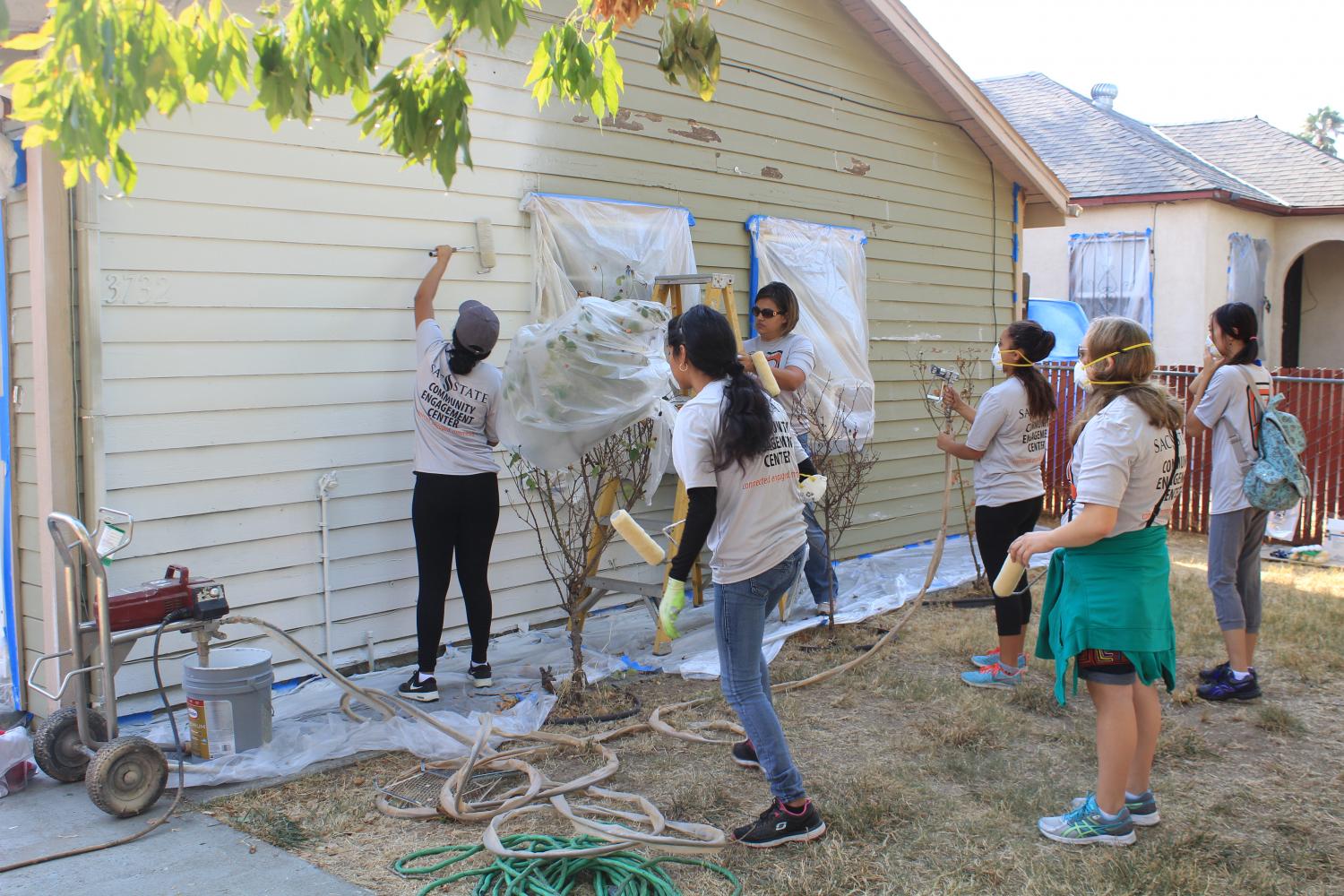 A group of Sacramento State student volunteers participated with NeighborWorks and the Sacramento Police Department at the 27th Annual Paint the Town event in Del Paso Heights Saturday.
NeighborWorks works with residents of different neighborhoods to locate a street in need of a facelift and with the help of volunteers, proceed to give it new life.
Sac State student volunteers paired with volunteers from Wells Fargo, Republic Services, State Farm, Home Depot and other organizations in the city.  These groups helped with the event's funding, painting supplies and portable dumpsters.
"I think (doing this) is good for your education," sophomore Alma Solorio said. "Seeing what other people need, (It) helps you have a second perspective on life."
Sharon Eghigian, the Community Impact Director of NeighborWorks, said that the work done each year during Paint the Town makes a significant impact on the community which is being restored.
"We bring out teams that really care about the community and want to give back to the community," Eghigian said. "Sacramento State has been a great volunteer team for us for many years."
In the 20 years this event has been going on, more than 300 home improvement projects have been carried out in several of Sacramento's neighborhoods.
"We've been in Oak Park doing Paint the Town for most of the last several years that I've been here and this is our first year back up in Del Paso Heights," Eghigian said. "The resident support has been amazing. The residents are passionate about their neighborhood and they're really appreciative."
(Story continues below this video of the 2016 Paint the Town event in Oak Park)
The students were split up into teams and assigned to different projects at a different houses. Leading the students were other students passionate about helping their town, one of which is Community Engagement Center Assistant Javier Gonzales-Leon.
"I benefited from a lot of services growing up and a lot of those services depended on volunteers," Gonzales-Leon said. "I'm who I am because of the help that other people have given me so it makes sense to give back to the community who has given me so much."
Gonzales-Leon said he is a strong supporter of the assistance that Sacramento State is giving through this program, and it shows the community that young people also care about giving back.
He said that the experience benefits students by giving them a chance to develop their social and leadership skills by being leaders of smaller groups.
"If they come in the morning at 8 a.m. and leave at 5 p.m., they'll see what volunteering and hard work can give (them)," Gonzales-Leon said.
Captain of the North Del Paso Heights branch of the Sacramento Police Department Pam Seyffert said Paint the Town is a chance to show students who have little experience in volunteering in the community to learn and grow outside of their comfort zone.
"A lot of kids that are privileged enough to go to a nice college like Sac State have maybe never been exposed to this type of neighborhood," said Pam Seyffert, North Del Paso Heights police captain.
For her first year at the event, NeighborWorks's Community and Beautification Ambassador Sherri Kirk-Quinn said that she is "excited, you just don't know, I'm in tears."
"I want this community beautiful," said Kirk-Quinn. "We're going to do this until it's cleaned up, we're gonna continue this fight until the end. I don't care, I'll do this until I'm dead."