As the sun rose over a quiet Oak Park street, the whirring sound of industrial sprayers blasting beige paint rang out while putty knives started to scrape away at a thick layer of decades-old, chipped house paint.
Perhaps intrigued by the early-morning commotion, neighbors slowly began to trickle outside, watching from their front yards.
"I wish they would do my house," an older female resident said.
"They" are Sacramento State students — from freshmen to graduate students — all sacrificing a precious weekend morning to give facelifts to aging Oak Park bungalows for the 27th annual Paint the Town event.
Paint the Town was organized by NeighborWorks HomeOwnership Center Sacramento Region, a nonprofit that provides assistance to potential and current homeowners through volunteer work, educational programs and affordable lending.
On the Sac State side, the event is coordinated by the Community Engagement Center. Dana Kivel, the director of the CEC and a professor of Recreation, Parks and Tourism at Sac State, said that the program began as an extension of Constitution Week.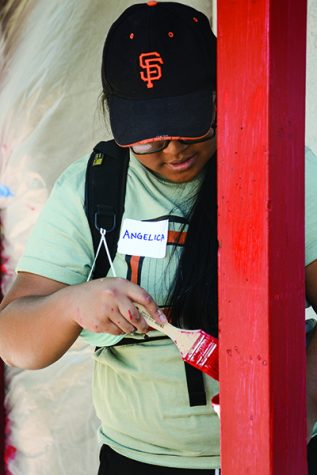 "We decided to expand Constitution Week and include Civic Engagement Day, so we connected up with NeighborWorks," Kivel said. "This is the third year that we've done it."
Kivel said the response has been overwhelmingly positive.
"(The students) feel great. They're like 'Oh my god, I can't believe we did this,' " Kivel said.
The homeowners, she noted, have had a similar response — in the first year that Sac State participated, students worked on a home belonging to a young family with small children.
"(The homeowners) were moved to tears, because they were like 'You're doing this for us — why?' "
Despite the event itself being in its 27th year, the disbelief persists.
"People ask 'Is this a scam?' " Kivel said. "People don't believe that you're going to do something for them for free. This is how cynical we've become."
Each year, NeighborWorks Sacramento begins planning for the event by selecting a street near one of the vacant homes NeighborWorks has recently renovated. NeighborWorks focuses on one neighborhood in particular "in order to maximize our impact," according to its website.
For Saturday's event, NeighborWorks selected a neighborhood in Oak Park near 14th Avenue. From 8 a.m. to 5 p.m., groups of volunteers participated in various community improvement projects at separate locations within the selected area, such as house painting, landscape improvement, trash cleanup and a "decorative board-up project," where a boarded-up foreclosed home is beautified with artistic panels.
Eliot Watson, a Sac State graduate student who works with the CEC, explained that while NeighborWorks provides supplies and locations, much of his work at the CEC this semester involved promoting and recruiting students for the event. Watson said he was encouraged by Saturday's turnout.
"We have a lot more people this year than we've had in the past. We had 92 (Sac State students) sign up for today," Watson said.
Still, Watson said, with 30,000 students enrolled at Sac State, there's room for improvement.
"I'd like Sacramento as a community to say 'Wow, look at all these Sac State students doing all of these amazing things for Sacramento and the area,' since, you know, it is our city, and it is our school."
Sac State sociology graduate and former Associated Students Inc. Executive Vice President Andrea Salas, who is now the real estate projects assistant for NeighborWorks, felt pride as she watched over the Sac State students at work.
"It's so cool to see such a big group from Sac State here, really helping the community," Salas said. "Oak Park — it's impoverished. It's a neighborhood in need…so it's nice to see Sac State doing what they can to help build up Oak Park and make it better than what it is."
Kivel, however, noted that the work done during Paint the Town is only the impetus for the true improvement.
"A few years ago … this one house, you wouldn't believe the amount of trash. We came back a few months later, and it was (still) clean," Kivel said. "Once we help support people and make a contribution to cleaning it up, I think people take that on and say 'yeah, our neighborhood doesn't have to look like a trash heap.'
"We have the ability — and the responsibility — to support our neighbors."