Former Sac State receiver chases NFL dreams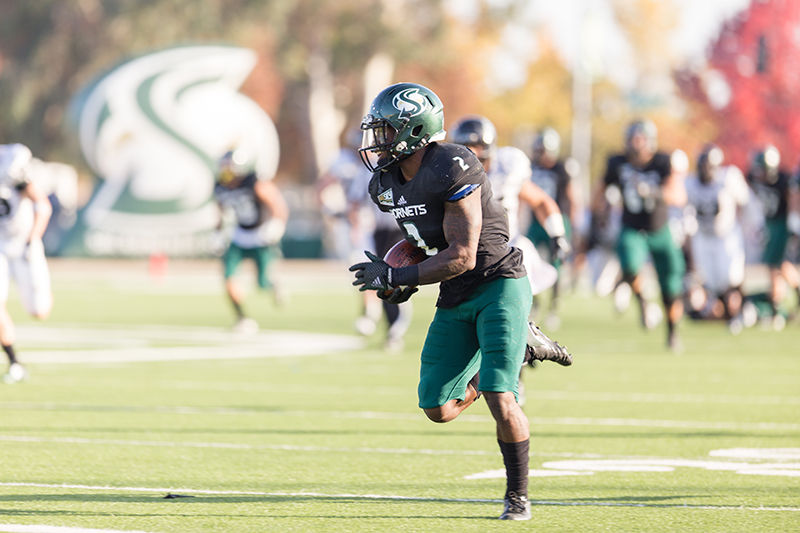 After the preseason, NFL general managers and coaches cut their rosters down from 90 players to 53 — former Sacramento State receiver DeAndre Carter knows this feeling inside and out.
"Humble" is the word Carter chose to describe how it feels to be released from an NFL team.
"I just have to continue to work on my craft and believing in myself that I can be great," Carter said. "God always has a plan, just got to keep working."
God's plan seems to have taken Carter on quite the journey so far. After graduating from Sac State in 2015, he went undrafted and signed with the Baltimore Ravens as a free agent. Carter found himself in a great situation as he played alongside future NFL Hall of Famer, Steve Smith Sr.
"It was great; I grew up looking up to Steve," Carter said. "We're similar players, same height, (he) approached the game with a mentality that he's the best player on the field. I feel like I play the same."
Unfortunately for Carter, he was among Baltimore's final roster cuts going into the 2015 regular season. On Sept. 16, he returned home to the Bay Area for a brief stint with the Oakland Raiders practice squad but was released Dec. 1. Two weeks later, Carter was signed to the New England Patriots practice squad.
Carter got the opportunity to play under five-time Super Bowl champion coach Bill Belichick and alongside players like Tom Brady, Julian Edelman and Rob Gronkowski. Carter spent the rest of the 2015 season on the Patriots practice squad. However, he was released following the 2016 preseason as part of the final cuts.
"It was an eye-opening experience," Carter said, referring to his time with New England. "I felt like I learned what it takes on a day-to-day basis to be great. The attention to detail focusing on each team, every week. It's a great place for a young player to go, a class-A organization."
Carter's former head coach at Sac State, Marshall Sperbeck, said he finds him very comparable to one of his former New England teammates.
"He reminds me a lot of Julian Edelman because of his size, quickness and toughness," Sperbeck said, referring to Carter's 5-foot-8 stature.
One year later, Carter's childhood dream came true when he signed a two-year contract with the San Francisco 49ers on Feb. 24. He grew up in the Bay Area and went to high school in Fremont.
However, Carter was once again a part of final roster cuts going into this season, but the 49ers wanted to keep him around and signed him to their practice squad for this upcoming year.
"It's great," Carter said, referring to his practice-squad life. "You're in the NFL, a part of an organization that wants you. You have an important role getting the first team defense ready."
Carter's most well known physical attribute is his quickness, but his knowledge of the game is his best overall attribute, Carter said.
"(Carter) is probably the hardest working player that I've been around," said Jason Pollak, Carter's former receiver coach at Sac State. "He's a very smart football player who can pick something up just like that. He's a student of the game."
If Carter hopes to make it on the San Francisco 49ers 53-man roster, he'll have to continue his long track record of working hard and studying the game.
"At Sac State I developed my work ethic," Carter said. "The mentality you have to approach the game with every day; someone is always trying to take your job."