Sac State releases drinking water lead contamination results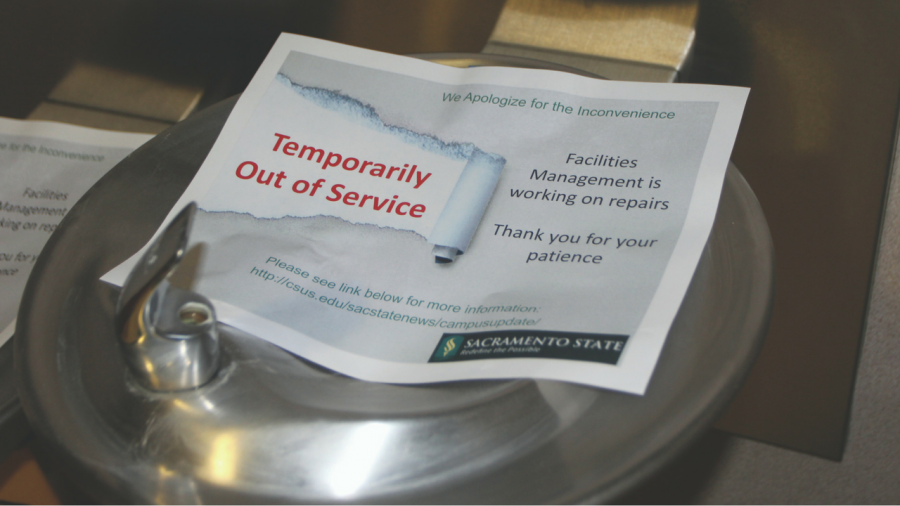 UPDATE: May 9 at 1:44 p.m. — This story has been updated to include new comments from Steve Leland, the university's director of environmental health and safety, and information on an open forum to be held on May 15 about the lead contamination results.
After the results of a comprehensive test of the drinking water sources on the Sacramento State campus showed that 43 total sources tested above the EPA action level for lead contamination, those sources will be remediated or shut down.
The results, released Monday, are separated into two documents: one for properties owned and operated by Sac State (which were tested by Certified Industrial Hygienist Services, or CIH), and one for those owned by University Enterprises Inc. (which were tested by California Laboratory Services), a nonprofit corporation that acts as an auxiliary of the school.
All sources from both lists are marked with a remediation strategy, ranging from being marked as "non-potable" water to total removal of the source, with other strategies in-between like filter installations, replacements of fixtures or entire fountains.
Steve Leland, the director of environmental health and safety, said last week that parts for the remediation strategies are already ordered and will be installed soon, with more tests scheduled afterward to ensure a positive change before any fountains are turned back on.
Some specific cases on each stand out — such as a bubbler drinking fountain in Sutter Hall, a residence building, which was found to have lead contamination of 100 parts per billion, more than six times the EPA action level of 15 ppb.
Also noteworthy, some sinks were more than 10 times the EPA action level, including a kitchen faucet in Mendocino Hall (160 ppb) and several classroom faucets in Eureka Hall (150, 170 and 390 ppb).
Eureka and Solano Halls tied for the most contaminated sources, each with nine. Eureka was built in 1969, and Solano was built in 1992.
"Older parts or pipes might be leaching lead back into the water," Leland said about Eureka. "With the older buildings, it's not that much of a surprise."
Solano's results were not as high as Eureka's on average, but Leland said he is hopeful that remediation will correct all sources' contamination regardless of building age. Remediation of all sources should be completed after two or more weeks, Leland said.
One source, a department sink in Placer Hall, one of the buildings operated by UEI, has been remediated to date. After initially testing at 71 ppb and having a new faucet installed, the updated level was 7.7 ppb.
Sources turned off in January for being found to have lead contamination levels over 5 pbb in a research project will be turned back on if they were found to be under 15 pbb in the most recent test.
The research project was organized by Jeffery Foran, Sac State department chair and dean of environmental studies and the university's foremost expert on toxicology. In both tests, around five percent of water sources tested were above the EPA action level.
Leland said that he does not know how many of the sources currently shut off were shut off after the initial tests, or how many were initially under the EPA action level but are now turned off.
An open forum on the lead contamination study and results will be held on May 15 at 3 p.m. in Mendocino Hall 1003, with guest speaker Dr. Olivia Kasirye, the public health officer of Sacramento County.