Dozens of water sources shut off as lead testing concludes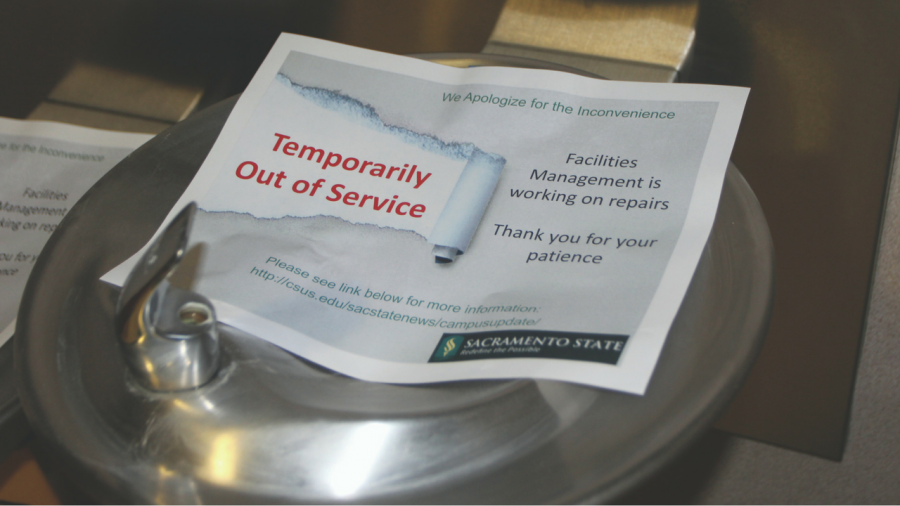 Testing of all of Sacramento State's drinking water sources for lead contamination is completely finished, and full release of the results will be available in a couple of weeks, according to Steve Leland, the director of environmental health and safety.

Currently, 46 sources that tested above the Environmental Protection Agency's standard of 15 parts per billion are shut off, along with all sources that were shut off in January for testing above the Food and Drug Administration's bottled water standard of 5 ppb.
After the results of the tests are finalized and ready for release, Sac State plumbers will turn back on those sources that were above 5 ppb but below 15 ppb.
Leland said that the university reconsidered its initial decision to turn off the sources above 5 ppb after getting more information from consultants such as CIH (California Industrial Hygiene) Services.
"When we first got the results back in January, we were trying to make a determination because there is no firm regulation in place," Leland said.
A limit of below 15 ppb of lead contamination in water is the recommended goal for K-12 schools, Leland said, and as children (and pregnant mothers) are the most susceptible to lead poisoning or other effects, that is the standard they have chosen to use.
Jeffery Foran, Sac State department chair and dean of environmental studies and the university's foremost expert on toxicology, has recommended since his January test that the university do what it can to follow the California Public Health Goal for lead contamination, which is currently .2 ppb.
"(Sac State) has focused solely on the 5 part per billion number, and at times on the 15 part per billion number, neither of which is designed to protect public health," Foran said in an earlier interview.
In the meantime, Sac State is working on replacing the fixtures of the 46 drinking water sources that were found to have lead levels above the EPA standard of 15 ppb.
Leland said that the new fixtures and parts have been ordered and will be installed soon. More testing will then be done to check if replacing the fixtures made a difference.
"The majority of these are sinks — conference room sinks, office room sinks," Leland said. "There are some that are fountains, but a good percentage of these are sinks that would not be accessible to students, but would be accessible to staff and faculty."
Leland said these sinks are mainly used for drinking water when filling coffee pots or water bottles. Rather than turn these and other fountains on in separate amounts, the university will turn them all back on at once.
"We wanted to communicate with the campus clearly that if a fountain was ready and available, it met the EPA standards for drinking water," Leland said.

The delay in finishing the testing as well as finalizing the results was due to the extensive amount of separate tests, retests and procedures, including the sitting period that each fountain needed before it could be tested under CIH Services' testing protocol.