Men's soccer team secures first-ever Big West Tournament victory 2-1
The Sacramento State men's soccer team secured its first-ever Big West Tournament victory Saturday after senior midfielder Ivan Ramirez's penalty kick lifted the Hornets 2-1 over UC Riverside.
Sac State (9-8-2) opened the program's first Big West Tournament game ever hosted on Hornet Field to a slow start but gained momentum after senior forward Alex Bettencourt found the back of the net early in the 10th minute for his seventh goal of the season.
"I thought we looked a little bit tight and a little bit nervous, which surprised me because in training this week our guys were really loose," Sacramento State head coach Michael Linenberger said. "Unfortunately, I thought the nerves came at the beginning."
While Sac State missed a few more scoring opportunities in the first half and outshot UC Riverside 6-4, Highlander senior midfielder Romario Lomeli evened the score in the 32nd minute after fielding a pass from junior midfielder Ricardo Ruiz on the left line of the post and sending the shot across.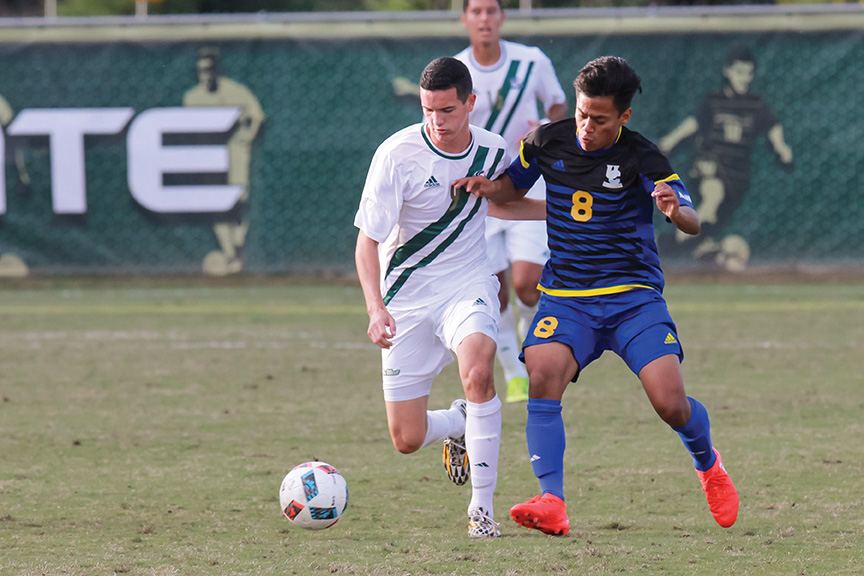 Both teams traded possessions in the second half, but the home crowd continued to buzz on every play.
"The crowd and the environment helped us today," Linenberger said. "I thought we started to get a little bit fatigued in the second half and thought the crowd kind of kept us going."
Sac State fended off a string of attacks from the Highlanders in the second half, as junior goalkeeper James Del Curto made four saves and the Hornet defense knocked more opportunities out of the box.
After Riverside was whistled for a handball, Ivan Ramirez was awarded a penalty kick and fired a shot past the diving junior goalkeeper Vincent Morales to give Sac State the lead.
"I wanted to take (the shot and) so did (Nate) Nugen, but he let me have it," Ramirez said. "I just saw the keeper cheat a little bit so I went the other way — luckily it went in."
Sac State midfielder Ivan Ramirez scores on a penalty kick in the 77'. The Hornets now lead 2-1. pic.twitter.com/SfzIE56puu

— State Hornet Sports (@SH_Sports) November 5, 2016
UC Riverside (9-10-1) saw its season come to an end after losing its sixth straight game despite starting the year 4-0-1 in conference play.
"I really just want to thank our guys because they've been unfortunately put in a place of adversity today," UC Riverside head coach Tim Cupello said. "I thought they worked really hard, they showed a lot of character and with our team that's something that we're constantly talking about, constantly preaching — I think our guys have been living it day-to-day so (I'm) very pleased with how our guys approached this game."
Saturday marked the first postseason appearance for Sac State since 2014, when the team lost 2-0 to UC Irvine in the first round. The Hornets will next advance to the Big West Tournament semifinal round — where they will play the No. 1 seed in the Big West South division, Cal State Northridge — on Nov. 9 at Matador Soccer Field in Northridge, California.
"We can't be happy just to be there, we want to have an impact," Linenberger said. "We want to make a dent in the tournament."