Firefighter saves pet parakeet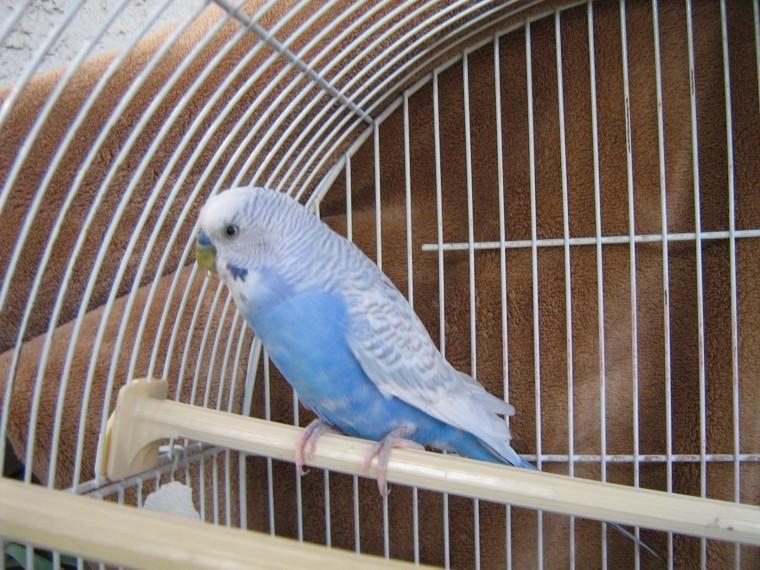 The commotion surrounding Thursday's fires at Sacramento State camouflaged the minor drama experienced by Carolann Forseth, instructional support assistant in the department of Family and Consumer Sciences.
For Forseth, being able to bring home Tracy, her pet parakeet of seven years, at the end of the day was the biggest triumph of all.
"It's always tough to count every small success when looking at the whole picture," Forseth said.
The bird was located inside Forseth's office in Mariposa Hall, Room 3000, when the fire began, which by chance was the first time she ever brought the bird with her to work.
Forseth said she believed bringing Tracy into a new environment might help stimulate him. The bird had not been eating since his mate of seven years, Hepburn, died a few days prior.
"The chair of Family and Consumer Sciences agreed to letting me bring Tracy in," Forseth said. "We thought it would definitely be a good thing for him."
When the fire alarms first started ringing Thursday afternoon, Forseth grabbed only her books in anticipation of it just being a drill.
"I really thought nothing of it until I saw the smoke, and at that point I started thinking my bird wouldn't be doing so well," Forseth said.
Forseth, however, was not able to notice the seriousness of the situation until she had exited Mariposa Hall along with everyone else.
"I was really fretting for his safety at that point," Forseth said. "I was even contemplating sneaking back in for awhile, until I saw the firefighters with full breathing apparatuses on."
Forseth said she remained hesitant of asking the firefighters for help initially, given they had to concentrate on controlling the flames.
"I eventually approached one of the firefighters exiting the building," Forseth said. "He was drenched in sweat and seemed to be panting for air, just looking completely exhausted. I told him, 'Help, there's a live bird in the building,' but he didn't reply."
At that time, Forseth backed away from the firefighters. She said she did not expect the firefighter to act on her small plea.
"All of a sudden, the same firefighter came over to me and asked what room the bird was in," Forseth said. "I was so surprised by it … It was an emotional moment for me."
Steven Begley, apparatus operator with the Sacramento City Fire Department, was the firefighter tasked with saving the fowl. He said the bird was trapped behind locked doors, for which an engineer had to find keys.
"Actually, it was in much better shape than I had expected," Begley said. "It was very smoky in the office the bird was in because the HVAC system in the building was recirculating smoke everywhere."
Once in the room, Begley was able to keep the bird from panicking during its escape by placing a cover over its cage.
Begley said saving pets from fires is common in the field, but he never before had to save a parakeet – mainly cats and dogs.
"It was surprising how nonchalant he was about it," Forseth said. "Those men are so humble, they really don't make a big deal out of it – it's all in a day's work to them."
Tracy was taken to Sac State Facilities Services' Central Plant, which provides air conditioning to most of the university's buildings. This environment allowed the bird to cool off and get fresh air.
Along the way, Forseth noticed Tracy was eating for the first time since his mate's death – a sure sign the parakeet remained in good health.
"It was really amazing – somehow he must have not gotten smoke into his lungs," Forseth said. "I would have felt guilty if he had been hurt."
Forseth said after everything calmed down she went over to thank the firefighters, who jokingly told a crowd of students: "We're sorry, you cannot get your belongings right now – unless it's alive."
Forseth mentioned how she was approached by a media agency covering the fires, which was looking for the "sensational" stories about the chaos of the day, and the fear felt by students and faculty.
"I told him, 'The real story is right here … they saved my bird,' and I pointed down at Tracy," Forseth said. "Well, he just sort of brushed me off. That wasn't what he was looking for."
As for Tracy's future on campus, Forseth said there could be a return visit by the fireproof, feathered creature.
"I will probably take him back into work sometime," Forseth said. "However, if that fire alarm goes off again – next time Tracy will be the first thing I grab."
Brett Johnson can be reached at [email protected]