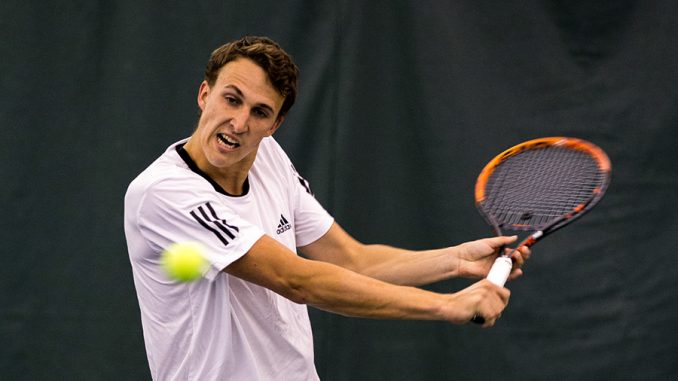 After a month on the road, the Sacramento State men's tennis team defeated Idaho State in a Big Sky Conference matchup Sunday at the Spare Time Indoor Tennis Center.
The Hornets (6-6, 4-2 Big Sky) snapped a streak of four straight losses and moved back up to a .500 winning percentage.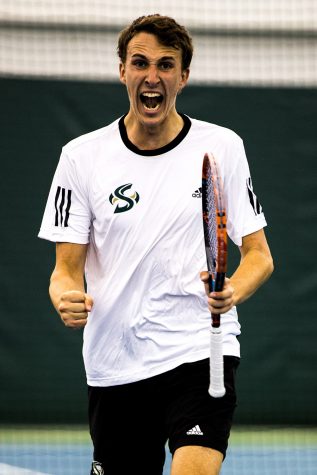 "We were happy to be back at home and we prepared really well all week," Sac State assistant coach Kevin Kurtz said. 
The Hornets had a week off due to the postponement of their game against Saint Mary's on March 3 due to rain. Sunday's match was scheduled for the outdoor court at the Rio Del Oro Raquet Club, but was rescheduled the morning of the match to the Spare Time Indoor Tennis Center in Gold River.
"We're a little bit more aggressive as far as getting to the net when we're indoors," Kurtz said. "Some guys can do that off their serve or off their ground strokes since they don't normally do that outdoors — but they can finish off the net if the opportunity is there."
Doubles play began as the No. 1 Sac State duo of junior Kasparas Zemaitelis and sophomore Mikus Losbergs defeated seniors Sebastian Edin and Josh Goodwin, 6-2. The Hornets' No. 2 team of junior Christopher Clayton and freshman Louis Chabut jumped out to a quick 3-0 lead and finished their doubles match with a 6-2 win over senior Bjorn Scheepbouwer and junior Keegan Sullivan. Sophomore's Donald Hall and Dom Miller took a 3-1 advantage over No. 3 seniors Haseeb Khan and Quentin Wacquez, but dropped the set 6-4.
The Hornets' initial success carried into the singles round as Zemaitelis got the first point for Sac State at No. 3 with a victory over Goodwin 6-3, 6-2. No. 2 Miller completed his singles match a few minutes later, defeating Wacquez 6-4, 6-2.
Idaho State attempted a comeback with a win from sophomore Francis Filipovich over Sac State's No. 4 Clayton 6-3, 6-3. Losbergs at No. 1 and Chabut at No. 5 both went into a third set matches, but grabbed 6-1 and 6-0 set victories, respectively.
The day came to an end when when Sac State's No. 6 freshman Hermont Legaspi finished his singles match over Idaho State's Khan, 6-2.
"I'm fired up," Kurtz said. "We're 4-2 in the Big Sky — looking good so far and we gotta rock and roll Friday against Northern Colorado."
The Hornets will host Northern Colorado in the first round of the Golden State Invite Friday at 2 p.m. at the Sac State Campus Tennis Courts.

The following two tabs change content below.

Alec Romero
Alec Romero is a fourth year student at Sacramento State where he is majoring in communication studies with intended minors in journalism and marketing. Alec joined the State Hornet spring 2017 but prior, he was a sports writer for his high school magazine Shark Attack at Santiago High School in Corona, California. You might have also heard Alec on KSSU, Sac State's student-run radio station where he does a weekly show every Tuesday called The Weekly Sports Report. Currently, Alec is an intern at ESPN Radio 1320. He wants to continue sports writing after college or move into internal professional sports operations such as radio producing, marketing or media relations.

Latest posts by Alec Romero (see all)