Tuesday night was a night the history books will remember for Sacramento State as they secured their first win of the season, defeating Pacific Union College 128-66.
The 128 points Sac State scored are the most in the Division I era and just three points shy of the Sac State all-time record of 131. Sac State also set program records in assists with 33, field goals made with 50.
The record continued as the Hornets' 18 3-pointers made was a new benchmark and their 62 point margin of victory was the highest ever recorded.
"It's not so much the points I am excited about, it's more about the assists," Sac State head coach David Patrick said. "When the score goes that way it's easy to become selfish and play out of whack and I feel like we did not do that and that is encouraging to see as a coach."
The night started with five quick points by senior guard Brandon Betson, after Betson's breakout start Sac State never surrendered the lead.
Getting out to a fast start has been an emphasis for Patrick.
"We have enough players that can share the ball and make threes," Patrick said. "We want to get out and run when we can."
Sac State came out firing on all cylinders, which is different from their first two games of the season against Stanford and Nevada.
PUC found their footing after a media timeout behind junior guard Jacob Ebert who scored 15 points in the first half, but Sac State had too much going in their favor.
Sac State won the rebound battle and shot the ball well from downtown. Sac State scored 30 points from downtown while PUC scored 29 as a team in the first half.
Sac State went into the half with a convincing lead up 64-29. Betson led the way in scoring with 17 points and Sac State led the rebounding battle 33-13.
"The best thing I can do is stand out with my rebounding ability," sophomore forward Duncan Powell said. "If my shots are not falling, I go in trying to snag every rebound I can and that's the best way I can help my team."
Powell didn't have to worry about his shots not falling as he didn't miss a shot all night leading Sac State scoring with 20 points.
The interior size of Sac State proved to be too much for PUC to handle. Offensive rebounds led to multiple opportunities for second chance points and defensive rebounding sparked the transition offense where the Hornets found a lot of easy buckets.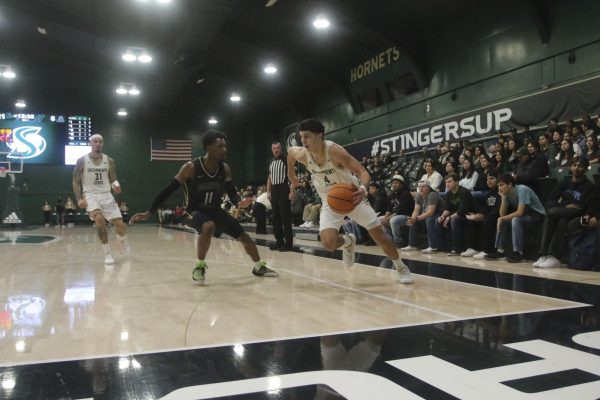 "I think rebounding is what we lay our hat on," Patrick said. "It's a measuring stick for our staff to determine if you are playing hard and I feel like we did that for 40 minutes tonight."
Sac State picked up right where they left off returning from the intermission. The offense did not miss a beat scoring 14 points in the first three minutes of the half to extend their lead to 40.
"This year you will probably see a more energetic, defensive, fast breaking type team that will be fun to watch," Patrick said before the season started.
With a lead that grew to as large as 65 points for Sac State, each player that touched the floor found a way to contribute. The Hornets' bench added 47 points to the scoring spree, led by junior guard Austin Patterson who ended the game with 17 and went 5-10 from beyond the arc.
"One of our offensive keys for the game were pace and space and sharing the ball and I think we stuck to that," Patterson said. "We stuck to that and it showed in the game."
Sac State had seven players, including all five of the starters score in double figures, while junior forward Jacob Holt and Powell ended the game with doubles-doubles while freshman guard Bailey Nunn led the team with 11 assists.