Sacramento State's volleyball team suffered a sweep 3-0 against Weber State in three close sets Thursday night at The Nest.
The Hornets were on a five match winning streak and were the only undefeated team left in the Big Sky. The Hornets last matchup was against the Wildcats on Sept. 23 where they took the win 3-2 in Ogden and broke Weber State's winning streak.
"I didn't think we played bad," Sac State head coach Ruben Volta said. "I thought we got off to a slow start, which I think maybe allowed them to get a little comfortable in our gym, but it's a really good team we played and they played well."
First Set: 23-25 Wildcats

Sac State knew Weber State was going to put up a fight after they broke their winning streak in the last matchup.
Senior outside hitter Caitlin Volkmann was all over the court as she responded to Weber State's offense with block assists and attacked them with back-to-back kills.
Weber State and Sac State both made very few, yet crucial service and attack errors, giving away some easy advantage points to each other early on in this set.
RELATED: 'It just felt right': Sac State volleyball starts Big Sky play off right
Second Set: 21-25 Wildcats
In the second set, the Hornets and Wildcats were having a long rally at the start of the set as the Hornets stepped up on defense and executed diving saves to keep the play alive.
Senior outside hitter Bridgette Smith was in full rotation all around the court helping dig for saves and attacking Weber State with her aggressive kills. Smith had a total of 11 digs and tied with Volkmann for a team high of 13 kills.
Both teams still struggled with making errors throughout the match. Sac State gave Weber State two easy points just from two back-to-back attack errors.
"It's very important. I mean you're giving up the whole play," Smith said. "It's just like recognizing smart errors versus bad errors."
Weber State sophomore outside hitter Ashley Gneiting executed their set point with a kill, giving them the win of the second set 25-21.
Third Set: 23-25 Wildcats

In the third and final set, Sac State knew their backs were up against the wall and wasn't going to go down easily. There were a total of five ties and three lead changes in this set.
Senior defensive specialist Caty Cordano was constantly digging for saves to help keep the momentum for the Hornets going as she had a team high of 17 digs this match.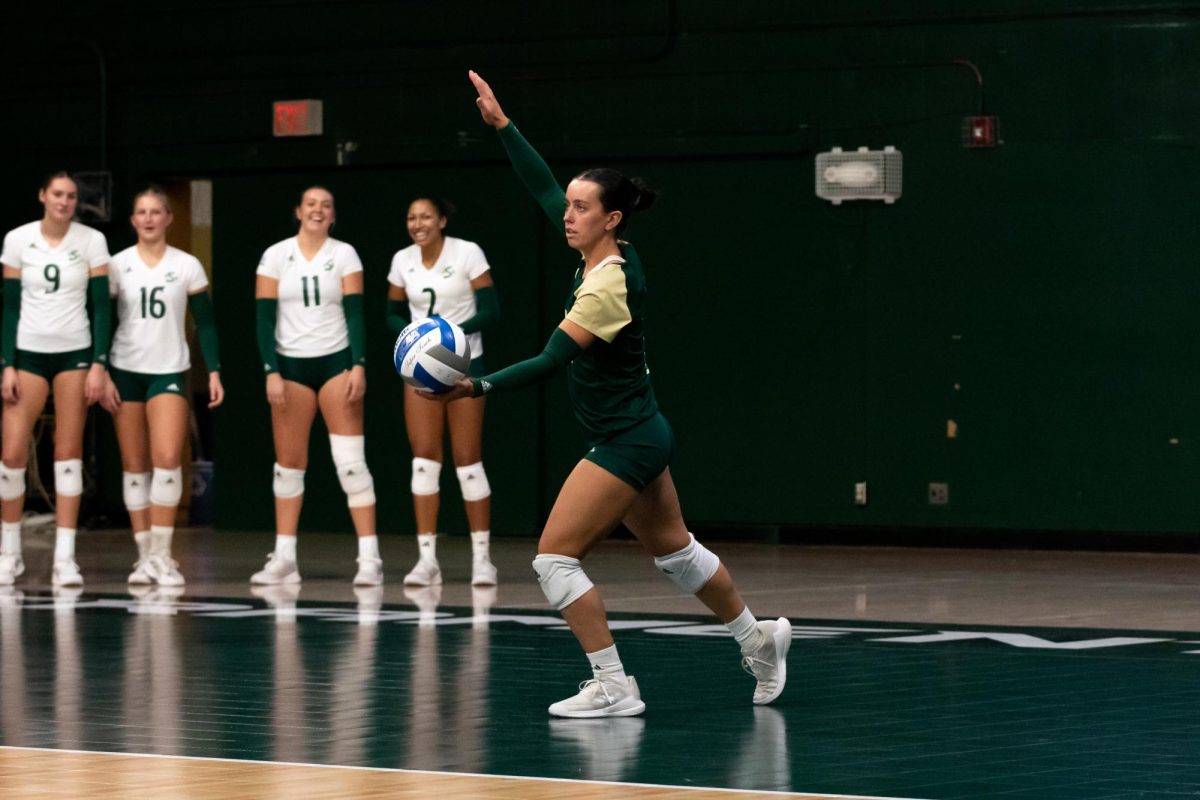 When it comes to games like this, every move you make is crucial, especially when it could make or break the match.
"Tough serving, tough defense, blocking, digging, taking care of their attacks and converting them to points," Cordano said about what is most crucial in games like this one against Weber State.
The Hornets and Wildcats had an intense ending to this set. The Hornets made an attack error, giving Weber State a chance for set point, where they broke the final tie. Weber State took advantage of their set point with a service ace and gave them the win 25-23.
"If you're not aggressive then you make the game easier for your opponents," Volta said. "You can't be thinking about errors. Obviously, you don't want to make too many."
The Hornets will be taking on Idaho State this Saturday at 7 p.m. at The Nest.