While his teammates practiced during the 2022 regular season, sophomore wide receiver Devin Gandy walked around the track helpless, as he watched from the sidelines.
Gandy was stuck rehabbing his knee after a partially torn ACL he suffered during his freshman year in a game against Idaho State in 2021.
"At first it was really hard, I've been playing football since I was 5. This was the first time the game of football had really been taken away from me," Gandy said. "The people in the receiving room, the team, they stuck by my side. Honestly, it made me feel really good."
Gandy said team doctors initially thought that he only suffered an internal bruise and allowed him to play out the rest of his freshman season. After the season, Gandy had an MRI that revealed his true injury.
Idaho State was only the fourth game on the Hornets' schedule, meaning Gandy played eight games with a partially torn ACL. He even took a kickoff 94 yards to the house against Portland State with the injury.
"I didn't really know what it was," Gandy said. "It did hurt, but I love the game and I did everything I could to keep playing."
Junior wide receiver Jared Gipson, who has suffered a torn ACL himself, said he was there for Gandy during his rehab process, drawing on his own experience to help his friend.
RELATED: State Hornet Spotlight: Jared Gipson's breakout season and TikTok success

Gipson and Gandy have been best friends for the past three years, they're inseparable on the sidelines. Their friendship began over a game of NBA 2K, one of Gandy's favorite hobbies outside of football.
"I never talked to Devin in my life, but we started texting on social media because we were both committed and he was like 'Hey you wanna play 2K?'" Gipson said. "I was playing terrible and never talked to Devin until I got here. Then we became super close because he always makes fun of me for it."
Although he wasn't playing, Gandy wasn't letting this opportunity slip by. The injury turned a page in his football career, Gipson said.
When the team was on the road Gandy would return to his hometown of Victorville, California to watch his brother, Sac State freshman wide receiver Darren Gandy, play in his high school games. An opportunity only made possible by Gandy's injury.
"He was still trying to live in the moment," Darren Gandy said. "Although it was a tragic thing that happened, it was a blessing because he got to watch some of my high school games even though I thought he'd never be able to watch any of them."
Two weeks before the Hornets' first FCS playoff game, Gandy was finally cleared to return to practice. Thanks to a bye week, Gandy was on the field against Richmond.
As the rain came down against the Spiders, Gandy was playing the game he loved for the first time in over a year. On his first target, former quarterback Jake Dunniway connected with him for a 39-yard gain.
"I was happy as hell, I was so happy," Gipson said. "When he caught the big post, one of his first plays back, I was like 'Damn, my boy is back!.'"
While the 2022 season would end in heartbreaking fashion for the Hornets against Incarnate Word, it was just the beginning of Gandy's comeback and there would be a familiar face joining the team for what would be Gandy's sophomore season.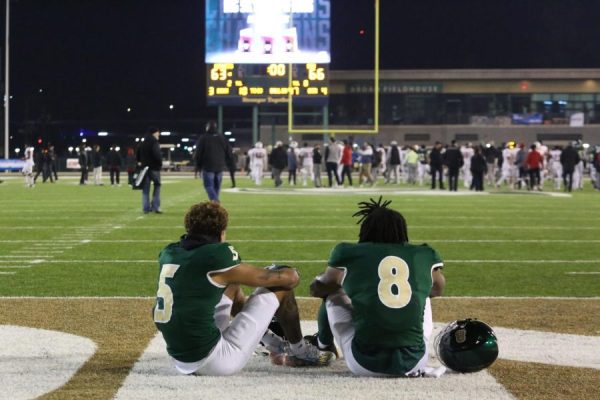 Darren Gandy followed in his brother's footsteps and committed to Sac State. Now the two share an apartment together as Gandy acts as a mentor for his younger brother.
Right before Darren Gandy's interview for this story, his brother and Gipson were right alongside him hyping him up and cracking jokes before his collegiate interview.
"It's cool, we've lived together our whole life," Darren Gandy said. "He tries to act like my mom, that's the only bad thing."
Gandy is well on his way to a breakout season in 2023. The sophomore boasts the second most receptions on the team, including five against Stanford. In just five games, he is 39 yards away from a career high in receiving yards.
In just his second full time season, Gandy is on track for 33 grabs and 541 yards. In a wide receiver room by committee on a run-first team, this is no easy feat. He has established himself as a reliable target over the middle and in the intermediate passing game.
Since Gandy's return last season, he has yet to play a game where he has not caught a pass. This season, he is only one of two players out of the 15 who have caught a pass, to record at least one grab in every game.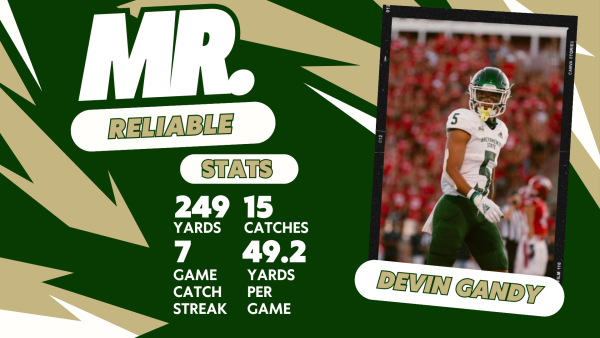 He is still chasing his first glimpse of pay dirt for the first time since his injury. Gandy came close against Northern Arizona catching a clutch 17-yard pass to set up the game winning score.
Before this season, Gandy and Gipson were never able to share the field because they were buried behind more experienced wideouts in years prior. Now, the two have that opportunity, one that Gipson isn't taking for granted.
"It's crazy because that's all we used to talk about," Gipson said. "From day one, we would say 'One day we're gonna be making plays together.' Now it's finally here and we gotta make the most of it."
For months Gandy walked the track, watched, cheered and rehabbed. Now he's getting a full season to unleash his skills beside his best friend and brother.
"All them months of walking the track and rooting from the sidelines, getting my chance, it felt good," Gandy said.