'Keep going': Sac State students graduate at spring 2023 commencement
During Friday's commencement ceremony, Sacramento State English major Elyza Rudolfo called her four years at Sac State a struggle due to COVID-19 leading her to drop and make up classes. 
Golden 1 Center will receive spring 2023 graduates like Rudolfo May 19-21 to walk the stage and receive their diplomas.
"Keep going," Rudolfo said. "Keep working. If you feel like you're on the block in the road go around it because that is what I did when I started off. I didn't know what to do, but I kept pushing forward with the support of my friends and family."
Friday marked the first commencement ceremony held at the stadium, however, it will be followed by ceremonies listed at the times below: 
Saturday, May 20:
Health and Human Services (A):

8-10:30 a.m.

Health and Human Services (B) and Social Sciences & Interdisciplinary Studies (A):

1:30-4 p.m.

Social Sciences & Interdisciplinary Studies (B):

7:00-9:30 p.m.
Sunday, May 21:
Engineering & Computer Science and Natural Sciences & Mathematics:

8:30-11 a.m.
Story continues below photo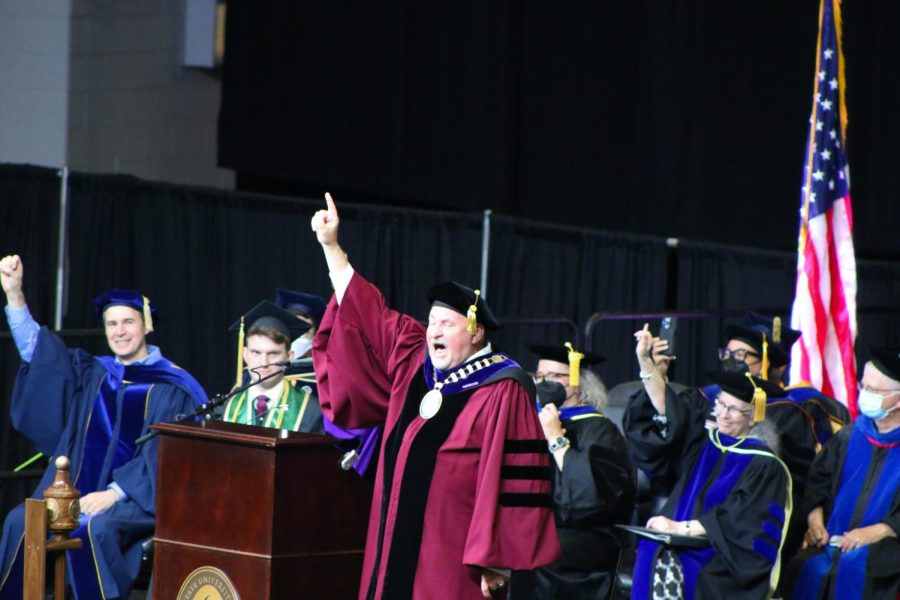 Family members like Harpreet Shoker, whose sister majored in communication studies at Sac State, reflected on the significance of his sister walking the stage for his family. 
"For us, it is a big thing because my dad was the last one to get a degree in college," Shoker said. "That was back in India, so she is the first one here to get a degree."
Marceline Alford is one of many graduates to be the first person in their family to go to college and the first to graduate. 
"I am really happy that I get to do it," Alford said. "It was a long road for me, school is not the easiest thing for me. So just the fact that I did it and have a degree now is really awesome. It is a really good feeling."
Communication studies major Dominic Robert is the second person in his family to graduate. During his time at Sac State, he said it was nice to see the evolution of the campus, students and himself.
"It's definitely a different experience to exit as opposed to entering," Robert said. "I think once you enter campus, you come in scared and unknown of what's going to happen but leaving is super cool because you're just ready for the next step."
Alford's recommendation to Sac State students is to ask for help. 
"If you're struggling with anything it is okay to have people to rely on and to have a support system is the biggest thing in your life," Alford said.