Sac State music alumnus returns home to perform in FeNAM
The group DuoXylo performed their eclectic set in Capistrano Hall
On an adventure of sound, an audience member could forget that there were only two musicians in front of them as the duo filled the entire concert hall with their polyrhythmic melodies.
"We are very excited about this performance, very much a FeNAM style concert," Tim Stanley, co-director of the festival said to the audience before the show.
The DuoXylo duo is composed of Sacramento State alumnus Dorian Antipa, playing bassoon, and Mckenzie Langefeld playing various percussion instruments. The band was a guest performer in Capistrano Hall Tuesday night as a part of the 45th annual Festival of New American Music (FeNAM).
FeNAM is a yearly event put on by the music department that features performances by various musicians playing music recently written by American composers.
"I thought it was wonderful… that the school of music has a festival of new American music and we get to hear pieces that aren't just historical pieces but new music composed by living composers," said Alejandro Lara-Agraz, a senior jazz studies major with a focus in music education.
DuoXylo's performance began with "KaiKro," a piece that experimented with time and tempo. The performance consisted of three separate metronomes all playing at the same time at different tempos, which established a polyrhythmic foundation.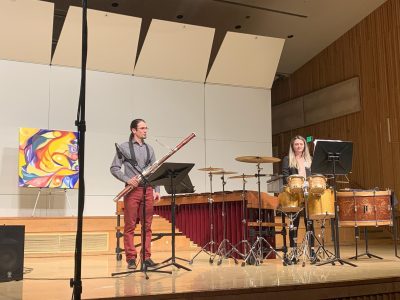 The performers kept a steady pulse despite the textural background metronomes.
After the piece was through, the duo spoke to the audience and asked how the metronomes made them feel, proceeding to play the piece once more.
Antipa would take up a bassoon solo that was split into four movements for the next piece, with complete silence between movements. Once the piece finished, there was roaring applause.
From there a third member, Ben Prima, joined the duo. Prima is an alumnus from Sac State who played percussion alongside Langefeld during their performance of "Responsorio in memoriam," by Mario Latvista. The three of them portrayed dark funeral imagery through bells, bass drums and a bassoon.
The final piece was a nod to the multicultural aspect of the festival. "Desisidirium" by Frank Piland, a Native American composer, was commissioned by DuoXylo. The piece consists of three movements, each drawing on a different culture for inspiration, according to the band.
"That was the most interesting thing I've seen so far this year," Justin Trujillo, a freshman jazz studies major, said.
DuoXylo began as a group in January when Antipa reached out to Langefeld with interest in starting a group. However, the two only met in person last week.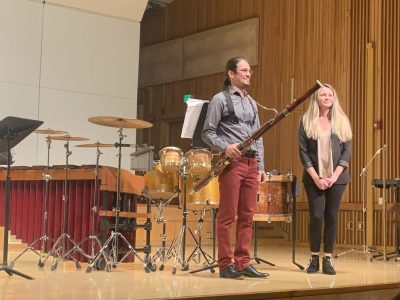 "We got the music, rehearsed it by ourselves and then when he got into town last week we had a few rehearsals with plans of maybe doing more of this in the future," Langefeld said.
Antipa received his bachelor's in music performance from Sac State. He currently lives in Michigan and has studied all over the country.
"Coming back is special; it's cool. I get to see it with a new light, new eyes," Antipa said.
The concert wrapped up with a standing ovation as Langefeld and Antipa took a bow.