REVIEW: Black Panther: Wakanda Forever
'The Black Panther lives!'
Disclosure: This is a spoiler-free review. Some details may be vague for this reason. Only what was shown in the trailers and teasers will be directly discussed. Hyperlinks may contain spoilers.
The highly anticipated sequel "Black Panther: Wakanda Forever" arrived in theaters Friday, Nov. 11. Directed and co-written by Sac State alumni Ryan Coogler, "Wakanda Forever" is the official conclusion to Phase Four of the Marvel Cinematic Universe. 
The film uses underrepresented cultures, emotional themes and outstanding acting to create a powerful story that provides more than your typical superhero movie. 
From the moment the first teaser trailer dropped, it was clear that this film would have a serious and emotional tone, a complete change of pace from the comedy-forward film, "Thor: Love and Thunder." 
"Wakanda Forever" is everything it needed to be and so much more. The central theme of the film is grief and how it affects people. 
This theme taps into the real-life tragic passing of lead actor Chadwick Boseman in late August of 2020. The result is a beautiful film that serves as a tribute to Boseman and builds on a great legacy he left behind. 
I initially had low expectations for the film after many delays but when the first teaser released for the film, all of that doubt was wiped away. Leading up to the release, I predicted that the film would be at least a nine out of ten. Somehow this movie was able to exceed my already high expectations.
Shuri, played by Letitia Wright, serves as the main protagonist of the film who navigates through her grief from the loss of her older brother and her wavering faith in the spiritual traditions of her people. 
This causes a disconnect between herself and some of her closest family, which helps drive the plot forward.  
Throughout the movie, we see Shuri go on a journey to become the worthy protector and leader of Wakanda. A journey that parallels what her brother faced in "Civil War" and the first "Black Panther."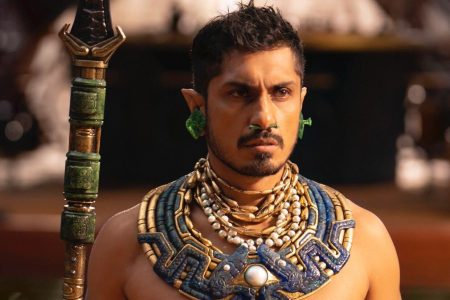 On the other hand, Tenoch Huerta's Namor is a fierce leader. His presence rivals Killmonger from the first film with intense dialogue of a complex Marvel villain. 
When Namor speaks, you listen. Coogler had no issue showing how strong this character can be. Even though I'm team Wakanda all the way, I couldn't help but be thrilled by the full display of Namor's abilities. 
The acting performances of Letitia Wright (Shuri), Angela Bassett (Queen Ramonda), Danai Gurira (Okoye) and Winston Duke (M'Baku) all deserve praise because they put their heart into their portrayals. Newcomer Riri Williams, played by Dominique Thorne, brings an energy necessary in a movie like this. Her character is very intelligent, funny and energetic. 
When I mention that the film is beautiful, I mean visually as well. Recent Marvel movies have received heavy criticism for poor CGI.
"Wakanda Forever" once again puts a halt to another bad trend in the MCU. The cinematography in this film was extraordinary. 
It really shines when we get a tour of the newly introduced Talokan, an underwater city where Namor and his people reside. You can see every ounce of influence from the blend of Mesoamerican cultures and mythology used to create Talokan. 
When we first see the nation of Wakanda, they are participating in a funeral ceremony for T'Challa/Black Panther, one of many sequences in the film that pays respects to Boseman.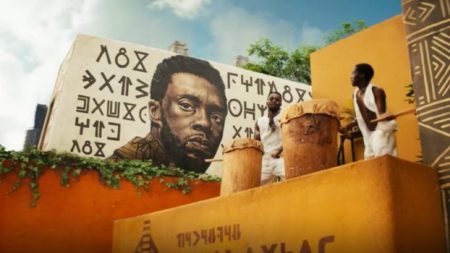 The scene has another importance as it gives the audience a chance to experience how another culture holds a funeral. Everyone in attendance is dressed in all white, upbeat music is played while they dance. It's a celebration of life instead of the traditional mourning. One of the many things that make the "Black Panther" franchise such a vital piece of Marvel. 
The tributes will make you smile, tear up or nod your head in respect when you catch them. For the sake of spoilers, I can't say much, but the end of the movie and the mid-credits scene are the perfect goodbye to Boseman's T'Challa and a glimpse into a hopeful future.