Sac State students remain on housing waitlists longer than anticipated
Higher enrollment has led to residence halls exceeding housing capacities.
The desire for on campus housing has risen due to an increase in enrollment for the Fall semester, especially for first-year students. This change to the enrollment numbers has made students still on the housing waitlists anxious over their accommodations. 
"The pandemic had two years of under-occupancy for housing even when Hornet Commons opened in 2021," Executive Director for the University Housing Services (UHS) Samuel Jones said. "Now we're back to where we were back pre-pandemic."
This demand for on campus housing has led to some students remaining on these waitlists for much longer than they anticipated. According to Jones, there is no way to expedite the process.  
Some residence halls have repurposed study lounges where waitlisted students can stay while waiting for a dorm. Aside from being a larger space, these lounges contain the same amenities as a normal room according to Jones. 
Students who are not in lounges live off campus while receiving updates on their position via weekly emails. 
Despite these updates, some students feel that the communication leading up to entering their dorms is not as efficient as it could be. Third-year journalism major Jourdan Jackson is one of these students. 
"I feel like a lot of the information they were sending out was kind of late and I was asking these questions before spring semester even ended," Jackson said. "It would make the transition much more seamless if they got that information out a lot earlier."
Sixth-year audiology major Paige Furnary found housing communications to be more difficult than it should be.  
"It can be a little unorganized for me," Furnary said. "Room assignments for the summer – they told me very short notice and that was a little frustrating."
Third-year photography major Cait Nelson experienced an issue when she attempted to move from Hornet Commons to American River Courtyard. 
"I don't know if I was technically waitlisted but they couldn't confirm a space for me and I had to wait. But they eventually emailed me, 'we have a spot for you," Nelson said. 
However, first-year students like psychology major Stephanie Rahmon say that they have had a better experience obtaining dorms and smooth communication with housing services. 
"They were quick to tell me I had on campus housing, which was good, but as far as what hall I was staying in that took awhile," Rahmon said. "As far as getting back to me I was able to live on campus. It was really fast." 
No student on the waitlist is homeless according to Jones. 
Emergency housing is provided through Crisis Assistance & Resource Education Support if a student is homeless. 
While UHS wants to get students off the waitlist, it makes it transparent that housing is not guaranteed. Jones says it helps when students applying for housing are patient and have a plan for the fall semester.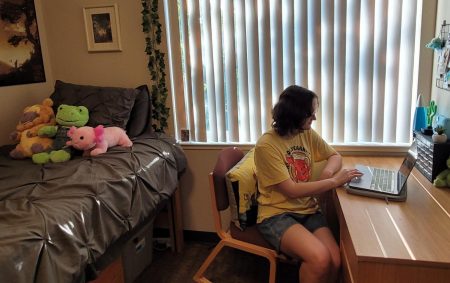 Second-year journalism student Gabriel Ramirez-Quinones was one such student who applied only to be waitlisted. He applied for housing in mid-May. 
"I wasn't given my official waitlist position until the end of June," Ramirez-Quinones said. "All summer long I had my fingers crossed that I'd get housing, but my backup plan was to adjust my schedule if necessary and commute to school."
Ramirez-Quinones was eventually contacted to accept housing for Riverview only days before the semester started. However, he decided to cancel his housing due to his personal preference for single dorms. 
There is no estimate of how long a student could remain on a waitlist, according to Jones. Depending on when a dorm becomes available, they may even have to wait until the spring semester.
There were over 400 students at the height of the waitlist for both first-year and upper-division students. According to Jones, as of Sept. 7, 63 upper-division students and 45 first-years were on the list. 
Right now, it is unclear how long students will have to wait to obtain a dorm. UHS will continue to update the waiting students on their housing status, but depending on when space becomes available waitlisted students may have to wait even well into the spring semester.