Elección de Gobernador de California: Como Los Candidatos Mantuvieran Inmigracion
Debido a la elección en el 14 de septiembre, hay una posibilidad de que haya un nuevo gobernador en el estado de California que pone al Gobernador actual, Gavin Newsom  en riesgo de perder su puesto. 
De todos los candidatos para reemplazar al gobernador actual en este momento, tiene más posibilidades de ganar el anfitrión conservador de radio, Larry Elder. De atrás de Elder están los candidatos John Cox, Kevin Faulconer, Caitlyn Jenner, y Kevin Paffrath. 
Nosotros en El State Hornet reconocemos que la población Latino en los Estados Unidos está llena de inmigrantes, por eso queremos informarlos de los impactos que habrán en la comunidad si quedamos con el gobernador actual, o con un nuevo gobernador. 
Gavin Newsom (D); Gobernador Actual de California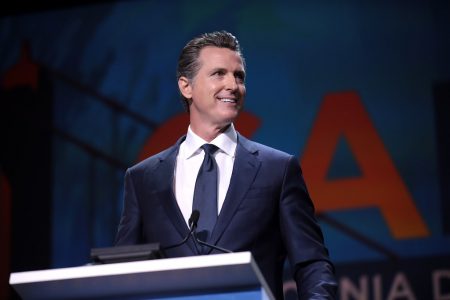 Newsom ha apoyado a la población Latino desde que él Presidente anterior de los Estados Unidos, Donald Trump, estaba en oficina. Newsom ha firmado varias leyes apoyando la gente indocumentada, buscando como ayudar a los Dreamers(una póliza legal que deja más de 1 millon de recipientes que cruzaron la frontera ilegalmente cuando eran joven tener estatus legal en este país),   y asistir familias en la frontera. 
El 20 de Mayo 2021, Newsom quiso que la legislatura del estado usará $105 millones en ayuda en la frontera y un $100 millones adicionales a los nuevos inmigrantes entrando dentro del país. Newsom también firmó un expansión del programa Medi-Cal para todos que tienen 50 años o más, incluyendo tambien a los quien son indocumentado, por la ley del asamblea 133. 
Larry Elder (R); Anfitrion Conservador de Radio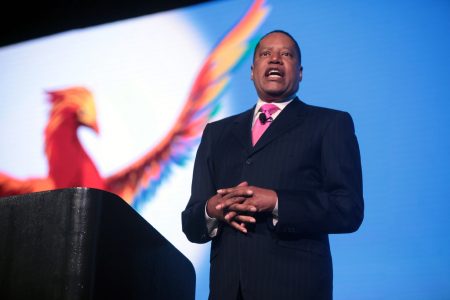 Según el LA Times, Elder ha dicho que no está en favor de continuar a apoyar a los que están debajo del programa de DACA. El artículo también menciona que Elder no está de acuerdo en varios derechos existentes en favor de los indocumentados, incluyendo matrícula estatal, cobertura de salud para los que son mayor de edad, licencias de manejo y ciudadanía por nacimiento. 
Elder dijo en un cuestionario para el San Diego Union Tribune que, "Inmigracion ilegal afecta las oportunidades de empleo y los saldos de Americanos, especialmente Americanos Afro-Americanos y morenos urbanos." 
John Cox (R); Empresario Estadounidense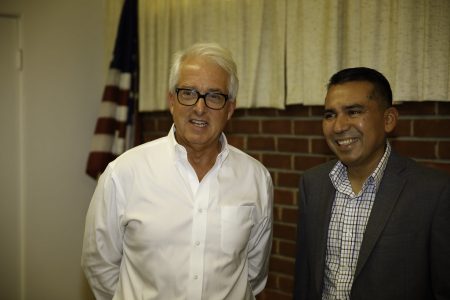 Cox originalmente tuvo una campaña contra Newsom para la posición de gobernador del estado en 2018. Durante los debates gobernantes de 2018, Cox mencionó que el país tiene "problemas de seguridad en la frontera" y que él apoya la construcción del muro que fue introducido por la administración de Trump. 
Cox habló con El Fresno Bee en Abril y dijo que los inmigrantes no deben de esperar una docena de años para hacerse ciudadano de este país porque California fue construido por inmigrantes Portugueses, Italianos y Indios. 
Kevin Faulconer (R); Ex-Alcalde de San Diego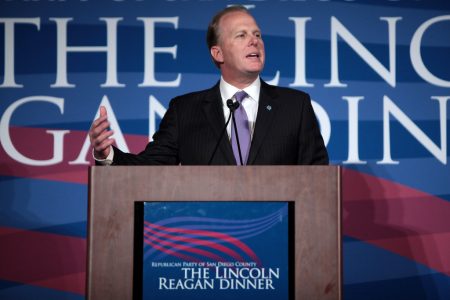 A diferencia de sus compañeros republicanos, Faulconer  ha estado en favor de los inmigrantes del estado. En un tweet del año pasado, él dijo que los inmigrantes son esenciales para el esfuerzo laboral y la economía. 
Tweet traducido: San Diego tiene inmigrantes de todo el globo que definen nuestra ciudad. Un nuevo reporte de @UCSanDiego [Universidad del Estado; San Diego] Centro de Poliza Migratoria refuerza que los inmigrantes son esenciales en nuestro esfuerzo laboral, economía y identidad compartida. 
San Diego has immigrants from around the globe that define our city. A new report from @UCSanDiego's Immigration Policy Center reinforces that immigrants are essential to our workforce, our economy and our shared identity. https://t.co/FM9sg45C30 https://t.co/I94uEbG5Cr

— Kevin Faulconer (@Kevin_Faulconer) June 30, 2020
Una página republicano está dedicada en todos los aspectos que Faulconer ha fallado como un miembro republicano. En un articulo de NBC7 San Diego, menciona que Faulconer no estaba en favor del muro de Trump, nunca apoyó al ex presidente Trump, y creó un plan en 2019 sobre un "centro de bienvenida" para los inmigrantes. 
Faulconer  apoya los Dreamers del estado. En un video por el Emerson Collective, Faulconer le pidió al público que le digan al congreso que arreglaran una solución para los Dreamers porque "ellos son vecinos, dueños de negocios chiquitos, estudiantes y veteranos." 
Caitlyn Jenner (R); Ex-Olimpica Estadounidense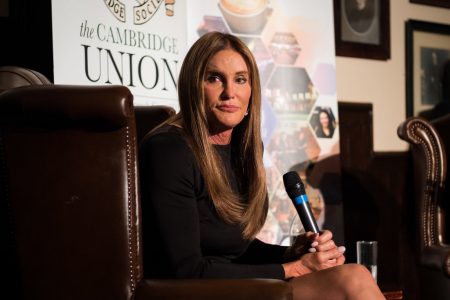 Jenner mencionó en una entrevista con CBS que tenía mucho que aprender sobre los votantes y comunidades Latinos. Jenner mencionó en la entrevista que daría protección legal a los que ya están dentro del estado. 
"Lo que yo no quiero es una frontera abierta donde tienes jefe de drogas, terroristas, gente mala, MS-13. Nosotros tenemos que tener eso afuera," dijo Jenner en la entrevista. "No quiero criminales en este país. Quiero gente buena. Saben que hay mucha gente buena, varios de mis amigos lo son." 
El 13 de agosto, Jenner publicó un tweet diciendo que terminaría la construcción del muro de la frontera cuando fuera elegida gobernadora del estado. 
Tweet traducido: ¡En la frontera ahorita y gente está entrando ilegalmente! ¡Como gobernadora yo continuaré el muro con fondos del estado! @GavinNewsom nos ha fallado en permitiendo inmigración ilegal continuar desenfrenado en nuestro estado.
At border now and people illegally entering! As governor I will finish the wall with state funds! @GavinNewsom has failed us allowing illegal immigration to run rampant in our state pic.twitter.com/SPd2gYhruj

— Caitlyn Jenner (@Caitlyn_Jenner) August 13, 2021
Kevin Paffrath (D); YouTuber y Analista Financiero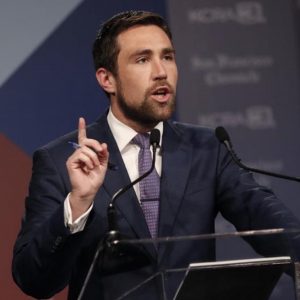 Paffrath ha mencionado en varias entrevistas que el sistema actual de inmigracion "es basura" y que está roto. Paffrath dijo en un artículo del San Diego Union Tribune que, "Yo haría que California fuera el primero estado de trabajar con el gobierno federal y re-imaginar una nueva, sistema de inmigracion legal que es mas rapida y motiva a los trabajadores calificados a venir a California."  
En la página de la campana de Paffrath, dijo que por intercambio de trabajar con el gobierno crear un plan más fácil para los inmigrantes, quiere que el gobierno federal apoye al estado financieramente con nuestro plan de crear doble la cantidad de agua del Río de Colorado.