Sac State professor writes book about late author, journalist Randy Shilts
Andrew Stoner is set to release his book in late May, early June
Sacramento State public relations professor Andrew Stoner cites Randy Shilts, AIDS activist, author and journalist in his upcoming book, "The Journalist of Castro Street: The Life of Randy Shilts" as one of his heroes.
Stoner began writing his doctoral dissertation at Colorado State University in 2010 on Shilts and it blossomed into a book about the gay rights advocate. The book is set to release late May early June from University of Illinois Press.
Shilts was a journalist for the San Francisco Chronicle and was the author of "And The Band Played On," a book that told the story of the AIDS epidemic. Shilts was the first openly gay journalist for a major newspaper.
The State Hornet spoke with Stoner about his upcoming book and the connections that lead him to choose Shilts as the subject.
Question: Why did you choose to write this book?
Answer: Randy Shilts has been a hero of mine for a long time. He was one of the very first openly gay journalists at a major daily newspaper, The San Francisco Chronicle, in the United States. It seems insignificant now to be openly gay in the workforce, but in the time Shilts was pursuing his career as an openly gay man, it was quite revolutionary. Being the first of anything is always difficult, so being the first openly gay journalist at a major daily newspaper is something worth knowing more about. He opened doors for many LGBTQ journalists who wanted to do more work than the gay press.
Q: How long did it take you to write this book and what was the process like?
A: It was a lengthy process of not only finding a publisher for the work but also moving it from an academic piece of writing into one that was more commercial and would be of interest to as broad an audience as possible.
Q: How old were you when you first read 'And the Band Played On' and what was that experience like?
A: I read "Band" when it first came out, in 1987, when I was 23 years old. I had just graduated college and was just started on my career as a newspaper reporter at The South Bend Tribune in Indiana. I only remained in newspaper journalism for two or three years until moving on to public relations, but I remained an admirer of Shilts throughout. I heard of his death in 1994 when I was in graduate school getting my master's degree at age 30. I was floored to think that the man who had told the story of AIDS was also now one of its victims. I did not know it at the time, but four of my closest friends would also succumb to HIV/AIDS in the intervening years and so the issue remained important to me personally and professionally.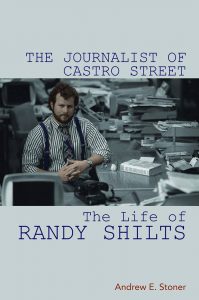 Q: Why is 'Band' so important to the literary world and how did it contribute to and represent the gay community?
A: At the time it was published, "Band" was the first and only text to take a comprehensive look at the advent of the AIDS pandemic sweeping the United States in the 1980s. It came at a time when a great deal of confusion and concern remained about what HIV/AIDS was, how it was transmitted from person to person, and how it could be controlled or eradicated as a deadly public health threat. Shilt's book takes on the failures of the government, scientists, the media, and the gay community in their response to this pandemic and suggests how those responses may have hindered the effort to keep people from becoming HIV positive, or having AIDS. But, because Shilts did not spare the gay community from criticism in the midst of this crisis, the book was and remains controversial among some in the LGBTQ community. Escalating the criticism was his take on the idea of a "Patient Zero" who brought HIV/AIDS to America. Shilts' ideas about "Patient Zero" have been thoroughly debunked since Shilts' death in 1994 and represent the biggest shortfall of his work amidst volumes of other valuable aspects to "Band."
Q: At the time "Band" was written the world was scared of HIV/AIDS mostly because of ignorance. How did "Band" change that?
A: I'm not sure the book changed the fear surrounding HIV/AIDS as much as it caused us to begin confronting that fear and how it was impacting how we responded to the crisis. Shilts effectively exposed the dangers of reacting out of fear to true public health crisis. Because the initial groups impacted by HIV/AIDS were gay men, Haitian immigrants, female and male sex workers, and people with hemophilia, there was a rather slow reaction to dealing with that crisis. The groups most impacted by HIV/AIDS at first were not politically powerful or favorable in the notably conservative Reagan revolution of the 1980s.
Q: Shilts died at a young age, what else do you think he could have accomplished if he hadn't died in his forties? What event or movement do you think Shilts would have loved to see the most?
A: His death in 1994 at the age of 42 is one of the reasons I felt compelled to pursue his work. His story is incomplete. His surely would have revisited the issue of "Patient Zero" for example, and cleaned up and corrected the problems with that posit. His last book "Conduct Unbecoming" in 1993, dealt with the efforts of LGBTQ people to serve openly in the U.S. military. It was a key factor in driving the issue of inclusion for all people in the military ranks and was extremely timely.
Interestingly, at the time of his death he was considering taking up the issue of child sexual abuse within the Catholic Church in America. Reflective of his ability to tap into salient issues, the issue of child sexual abuse became dominant public issue throughout the decades that followed and is still being dealt with today.
Q: Did you have any fears or doubts when writing the book?
A: One of my biggest fears is that there are not enough people who will remember Randy Shilts. There is no question that he is one of the most important journalists of the 20th century. My hope is that I have done something to preserve his position in the realm, and have opened up a valuable discussion of reporter function, journalistic objectivity, and even the role of LGBTQ people in American society.
Q: What is your favorite part of the book?
A: I think the battles over whether gay bathhouses in San Francisco should stay open or be closed in the midst of the AIDS crisis. It is here that we can best see the distinction between Shilts as journalist, and Shilts as advocate. He vehemently believed he was a journalist and not an advocate or activist, but his approach to this story reveals his reporting came with an agenda regardless. I am not sure Shilts ever acknowledged any bias in this regard, but he may have done so after time for more reflection, if he had he lived longer. I think this part is most helpful to understanding more fully journalistic roles in reporting news.