Sac State gymnast recalls her freshman year's challenges and successes
Jordyn Brent trains hard after first-year injury in hopes to compete in all four events
The time finally came for Sacramento State gymnast Jordyn Brent as she stepped up to the mat at Maples Pavillion on the campus of Stanford University Jan. 8.
Brent was preparing for her second semester of school and was making her collegiate debut on the uneven bars.
She executed her routine to near perfection, recording a 9.775 — the second best on the team and 13th best in a five-team meet that featured two Olympians — and she did it in front of her parents.
The transition to college was one that Brent said she was prepared for.
Brent took gymnastic classes starting at 4 years old and began competing at 9 years old. As a sophomore in high school, Brent moved up to be a level 10 gymnastic competitor, the highest level in the USA Gymnastics Junior Olympics Program. Brent became accustomed to recruiters coming to watch her compete and eventually decided to become a Hornet and attend Sac State.
Brent chose Sac State because it was close to home — only a six-hour drive.
There are 12 meets during the season and Brent said she had a lot of support from her parents.
"My mom made it to pretty much all of them and my dad went to as many as he could," Brent said.
Brent said that one of her toughest challenges during her freshman semester was being without her mom's presence.
"She did everything for me," Brent said. "I ate out a lot more than I did when I was at home, because my mom cooked when I was at home and stuff.
RELATED: Competition, expectations high as gymnastics team prepares for Flip Fest
Nicole Meiller, a Sac State assistant and the team's uneven bars coach, thought that Brent transitioned very well into college.
"I think she still struggles with waking up early, and she's from Los Angeles, so the first cold climate we went to was the first time she saw snow," Meiller said.
Brent said transitioning to a new city wasn't difficult because it was easy to make friends being on a team. She said teamwork became a more important aspect of the sport in college compared to the more independent nature of her former gymnastics club in high school.
Balancing her school work and gymnastics was a little more of a struggle, Brent said. She said that when she isn't doing gymnastics, she is normally studying for school.
As a freshman, Brent competed on vault, bars and beam. On Feb. 9 at University of California, Davis, she set career highs on two events with a 9.750 on vault and a 9.850 on the uneven bars.
Tonight at 7 p.m. at The Nest @SacStGymnastics takes on No. 15 Washington coached by Elise Ray-Statz. Ray-Statz won a bronze medal at the 2000 summer olympics.
Here is Hornet freshman Jordyn Brent's vault from the NorCal Classic on Monday @SH_Sports pic.twitter.com/Q1jCS8Z1kw

— Thomas Frey (@ThomasFreyRP) January 12, 2018
"For Jordyn to set her career highs, it's good for her because she realizes she can do that, she belongs here, she belongs on the team, she belongs in college gymnastics," said Caitlin Soliwoda, a senior on last year's team. "It's a very mental sport, and it's easy to have negative thoughts. She is helping the team the way we [wanted] as a freshman."
Soliwoda had qualified for the NCAA Regionals the year before as a junior and was on pace to do it again as a senior. Brent was in line to join her and qualify on bars for the NCAA Regional after week 9.
However, in the week 9 meet against Boise State, Brent injured her ankle. The injury kept her off of vault and beam for the remainder of the season. Despite being injured, Brent was still in line to qualify for the postseason, but her 9.750 in the final meet of the season wasn't enough, and she didn't qualify for regionals.
"Jordyn's ability to continue competing on bars, despite being injured, was impressive," Meiller said. "She knew that we had very little depth to our bar line, and losing her would be detrimental. She is confident on bars. To find a gymnast that enjoys the event — that is very special. She has the potential to be one of the best bar workers our team has ever seen."
RELATED: Washington, Iowa, Denver highlight Sac State 2019 gymnastics schedule
Brent said she has made it a personal goal to make it to regionals for the upcoming season.
"I really want to make it to regionals as a team, not just myself, as a team would be great," Brent said.
According to Meiller, Brent's consistency alone is enough to set her up for qualifying for regionals.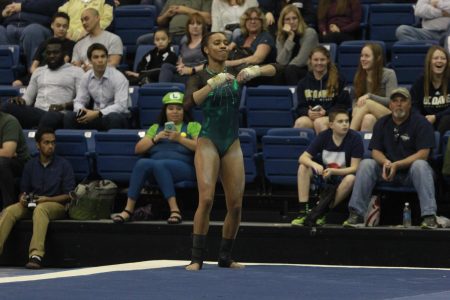 "She makes every skill she does look effortless," Meiller said. "On top of that is very consistent in the gym and in competition. She could handle anything."
Brent said she has the potential to be an all-arounder next season, meaning she can compete in all four events: vault, bars, balance beam, and floor exercise. "I've been training and I have all of my skills to do every event," Brent said.
Annie Juarez, a senior on last year's team who qualified for the NCAA Regional last season is confident in Brent's ability to compete in all four events.
"Jordyn is going to be an all-arounder," Juarez said.