First-year homesickness: How do students manage?
3 freshmen explain how to transition to campus life
Moving away to college can be a rough series of adjustments, be it from across the country or just from across the state. Alongside learning to live on their own for the first time, first year students are confronted with needing to make whole new social circles while at college. This is a look at how some Sacramento State students managed their first year on their own.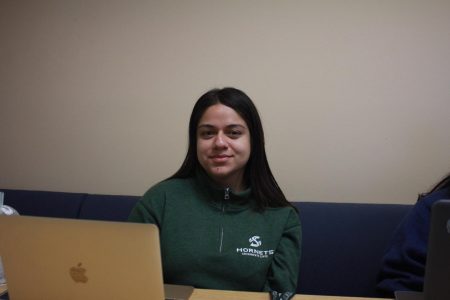 Carolina Regalado, forensic chemistry
Carolina Regalado, a freshman studying forensic chemistry at Sac State, moved from Oakland and said it's taken her a moment to get acclimated to life in Sacramento.
"Oakland to Sac was a lot to take in at once," Regalado said. "You're not only new to the college experience but at the same time, trying to live on your own without the help from anyone."
Regalado said she wants to be a blood spatter analyst or a DNA analyst, but is currently only taking general education classes.
Regalado says she's living in off-campus student housing, where she has an apartment to herself. To her, this is a major shift from living in a house in west Oakland with her full family, so she's developed in her words "some homesickness."
"It was hard to adapt," Regalado said. "I haven't been away from home for such a long period of time. Being at home, at my apartment doesn't help at all, because it gives me more time to think about that, so I like being on campus. It makes me feel [more]."
Regalado says the thing she misses from her home in Oakland are her siblings and her parents.
"I miss just being able to see them, even if we didn't get to talk as much because everybody has their own responsibilities," Regalado said.
But most importantly to Regalado, she says she misses her dogs.
"I was really attached to my dogs," Regalado said. "I went from seeing them every day to not being able to see them. Like when I was stressed or something, I would be with them and it would help me be distracted. Coming up here, pets aren't allowed."
Being around people and making friends on campus is how she has coped, Regalado said. She said many of them she made during orientation, but some others have come from her classes.
"We sometimes just go out to eat to spend time together, or just go over to their apartments and just hang out," Regalado said. "We've done the peak adventures here before."
A group of her new friends even got together to go trick-or-treating in the neighborhoods around the school recently.
"We didn't get much candy," Regalado said. "We did show up a little later, but some people didn't even open up their doors."
Regalado also has been going back home to help manage the homesickness. She said at the start of the semester, she went back home several times, where she even kept her summer job at Oakland City Parks and Recreation. Her job, Regalado says, lets her feel like she has some normality when she's back visiting her hometown.
"I enjoy it," Regalado said. "Mostly thanks to the relationship I have with my supervisor, he's very understanding and flexible. I don't feel obligated, I look forward to going over there."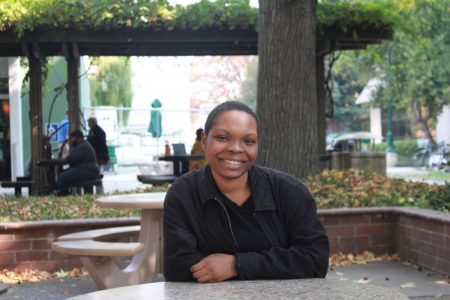 Shani Francis, political science
Shani Francis is a junior at Sac State from Manhattan, who recently moved to Sacramento to major in political science.
"It's been a move," Francis said. "It's interesting, you can see how people are different from where you come from, east coast from west coast. The way they speak, they act, the way they carry themselves, is very different."
Francis likes to look at the little details between how people in her new home speak and act as opposed to back in Manhattan.
"You have different slang from New Yorkers," Francis said. "We have 'that's mad annoying' and you're like 'that's hella annoying, like OMG.' "
As a political science major, Francis pays attention to how people express their politics and she says people go about it differently; she said New York is couched in "my point of view" statements.
"You can have your own point of view, and you don't need to know mine," Francis said.
Californians, Francis said, like to have their voices heard more. It's more personal, from her point of view.
"You [Californians] are really more emotional when it comes to voicing your opinions on politics and stuff," Francis said.
Notably, Francis said there is a big difference between the people in New York and California.
"People here are much more nice and stuff, and it really smooths my rough-around-the-soul edges," Francis said.
Francis said she misses how many things there are to do in Manhattan.
"I miss going outside, and there's things to do," Francis said "It doesn't have to just be parties or something like that. Like, going outside around this time and the skating rink is open. Literally, we have a 24 hour McDonalds you can sit there and have fun with your friends and it's chill."
Things are paced differently here, according to Francis, in ways she finds frustrating.
"Everything here closes so early, like at 9 p.m.," Francis said. "I'm like, 'What are we supposed to do, just go home and watch Netflix?' "
Francis said what she misses most is her friends and family.
"It's like starting over, it's hard, but it has to be done, so the loneliness can leave, and go away," Francis said.
Francis also said there is some fear of missing out on what her old friends in New York are doing.
"Everyone goes and moves on with different places in life, because you're doing your own thing and I miss, having people that 'know know me.' "
To handle that feeling, Francis said she did something she didn't expect to do.
"I joined a sorority," Francis said.
This was a move she didn't expect herself to be doing, because of the reputation they have from movies, TV shows and that her mom was against it. Francis said she joined the sorority mostly to help grow her leaderships skills, but it's grown past that and helped her make friends at Sac State.
"With the sorority, we're doing stuff every weekend with other people's philanthropies," Francis said. "We're making sisterhood events and getting to know each other."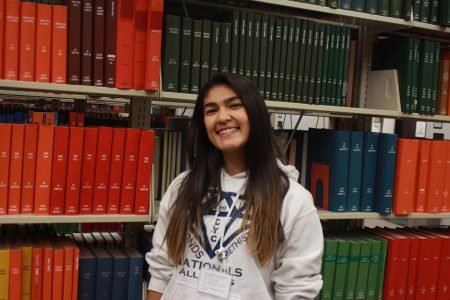 Jovi Justo, criminal justice
Jovi Justo, a sophomore criminal justice major from Pittsburg, Calif., said train rides home got her through her first year here at Sac State.
"I'm very family oriented," Justo said. "So, I would go home almost every weekend when I can."
Despite only being an hour and half away Justo said she felt the separation between Pittsburg and Sacramento was like two different worlds.
"The train was actually really nice," Justo said. "It was like, in a way, like leaving my new life and coming back to my old life. It's kinda like a moment just to myself to transition [from] who I am in Sacramento to who I am back at home.
"Here I'm just like a smaller person, where at home I'm like, 'You're at Sac, and you're doing big for us. It's like a transitioning, like a Hannah Montana-like moment."
Justo said what she misses about home is her family, but what she misses about Pittsburg is the restaurants.
"They're all like local businesses that are like parents and friends of parents and they all have like family recipes," Justo said. "There's this Mexican spot called Dulces Antojitos, and they sell literally everything. They sell tacos, they have these little fruit cups that are amazing. They just have all the snacks you could ever want, and they have really good burritos too."
Justo said she hasn't found anything like Dulces Antojitos in Sacramento yet, but she's heard Chando's Tacos is close.
Justo said she picked Sac State because of the ways it's similar to Pittsburg; both places are very diverse, but Sacramento is larger, which means there's less community to Justo's point of view.
"We're basically friends with everybody, and I feel like here [in Sacramento,] there's so many people and you see new faces like every day, so I just miss being in a tight close relationship with everyone," Justo said.
Justo said she spent her first year in the dorms, which did bring some of that community she was missing.
"It was really fun, I really enjoyed it," Justo said. "I do recommend all first years [live in the dorms] just because it's really great to be in an environment where they're going through what I'm going through, and like, all your best friends are your neighbors."