Panel discusses updates on DACA from both city and state
On-campus policy briefing provides students an overview of state and federal proposals for DACA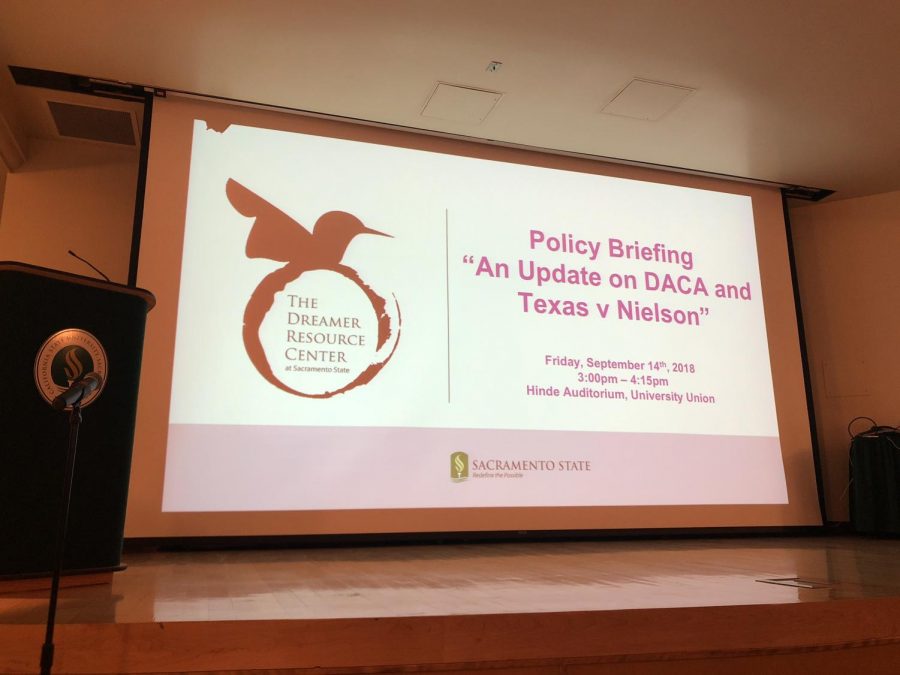 Sacramento State's Dreamer Resource Center hosted a panel on Friday to discuss current state and city policy updates regarding DACA recipients.
The panel featured deputy director of federal policy for FWD.us Andrew Moriarty, civic engagement liaison and officer of mayor Darrell Steinberg Mariela Medina and Kishwer Vikaas, an immigration attorney from University of the Pacific, McGeorge School of Law.
Moriarty gave updates on the state and the efforts in proposing legislation that provide more pathways to citizenship such as the Uniting and Securing America (USA) Act.
Moriarty also said the bill, sponsored by U.S. Reps. Pete Aguilar of California and Will Hurd of Texas, would strengthen border security and increase the number of immigration court judges and Board of Immigration Appeals attorneys.  
"These bipartisan reform efforts, which are supported by 83 percent of Americans, these policies have the potential for support to become law, but they haven't gotten votes," Moriarty said. "That's really what a lot of the stalemate that you've seen over the last year has been about."
Panelist Medina discussed Mayor Steinberg's efforts to create a plan for Sacramento to help the immigrant and refugee population.
"In May of last year, the city set aside $300,000 to help specifically fund these programs or help attorneys provide these services at a lower or free cost to our immigrant community," Medina said.
Medina discussed the agencies and organizations that constantly contribute to helping DACA recipients know their rights and navigate legal processes.
Vikaas provided information on and discussed practical procedures of the services for DACA recipients offered by the McGeorge School of Law.
"We offer free immigration consultations to any of the students or staff who would like to get them," Vikaas said.
Yarikcy Moreno, a first year Sac State student and DACA recipient, said that she felt the panel was informational and appreciates all the resources offered for students.
"Most of the time you're really scared of the political climate right now, so with that just being said it was really helpful," Moreno said.
Moreno, who is majoring in interior architecture, said that as a DACA student, the panel exposed her to the real bias people have on the issue of immigration.
"It also gives you an idea of how safe you are in your environment, just knowing that Sacramento is a safe haven for us, that is really helpful to be assured again," Moreno said.