Hornets stomp on St. Francis with head coach suspended
Even with head coach Jody Sears suspended, Sac State was prepared to open season
Without Sacramento State head coach Jody Sears, the Hornets still rolled their way to a 55-7 win over St. Francis (IL.) to open the season Saturday at Hornet Stadium.
Assistant head coach Paul Wulff took Sears' place as interim head coach due to a one-game suspension Sears sustained from the NCAA after an ineligible player took the field during a kickoff for one play in 2016.
"We found out last week, he addressed us as a team," said senior defensive back Dre Terrell. "The good thing about Coach Sears is that he got us ready and all the coaches ready and no matter what person it is, this train is going to keep on going. That is a testament to his leadership. We had a great game plan and came out here and got the 'W.'"
Wulff was the head coach at Washington State University from 2008 to 2011, where he also played with Sears nearly 30 years ago. Wulff's coaching pedigree also includes a stint with the San Francisco 49ers as an offensive assistant when the team played in Super Bowl XLVII.
"In this game, sometimes things like this happen," Wulff said. "We are just happy we got this handled for him and that we can move on."
The offense clicked from the beginning. Sophomore running back Elijah Dotson took off for a 73-yard touchdown run on the third play from scrimmage for the first of four Sac State first-half touchdowns.
"We felt like we could throw the football pretty well coming into the game," Wulff said. "We were able to hit some big plays."
Senior quarterback Kevin Thomson, who only played in the first half, went 11-12 passing for 224 yards and two touchdowns.
"There is nothing perfect but Kevin is the closest thing that comes to perfect when it comes to a quarterback," senior wide receiver Andre Lindsey said. "I loved his poise, his focus and his ability to read any coverage."
Lindsey finished the game with four receptions for 108 receiving yards and a 35-yard touchdown with less than a minute to play in the first half.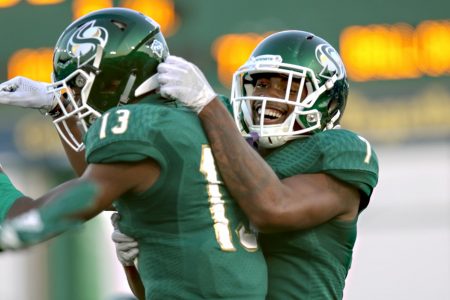 Thomson also hit senior receiver Jaelin Ratliff four times including a 63-yard bomb that set up Sac State to score midway through the first quarter.
The Hornets kept St. Francis off the scoreboard until midway through the third quarter and then didn't allow them to find the endzone again.
For most of the second half, Sac State subbed in their offensive backups and scoring continued. The starters put up 31 points in the first half and the backups nearly matched that with 24 of their own in the second half.
Junior Ja'Narrick James who is listed as fourth on the running back depth chart ran the ball 10 times and hit the endzone twice in his first action in a Sac State uniform.
Freshman running back Darnay Smith, who isn't on the top four of the depth chart, also found the endzone with just over five minutes left in the game.
"We just felt like they needed to play and they earned the right to," Wulff said. "We need them to grow and develop and any kind of game experience they can get is only going to help."
The Hornets will go on the road next week and take on San Diego State, a team that has similar defensive schemes to St. Francis, according to Wulff.
"We just need to prepare physically and mentally all week," said senior defensive back Mister Harriel. "We aren't going to be able to just show up on Saturday and win. We're taking Monday through Friday to prepare right."