Sac State volleyball finishes second in Hornet Invitational
Hornets defeat Utah State and take a set against Arizona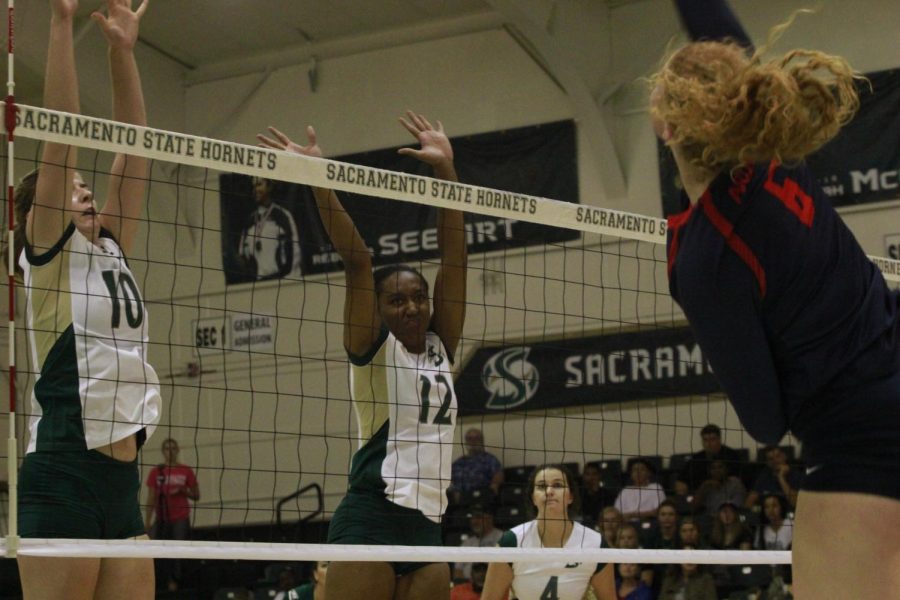 The Sacramento State volleyball team finished second in the Hornet Invitational on Friday and Saturday at Colberg Court to open its season.
The Hornets won their opener against Utah State in four sets before losing to Cal State Northridge in a match that went to the fifth set that same night.
Sac State finished the tournament on Saturday by falling to the University of Arizona in four sets.
"I liked how we got better as matches went on this weekend," Sac State head coach Ruben Volta said. "I think we started slow sometimes, but I thought it got better each match as they got along and sort of got better."
The Hornets had Ashtin Olin and Paige Swinney in the starting lineup for the first time.
Mikaela Nocetti says the two fit into the veteran lineup with Lana Brown, Sarah Davis, Brie Gathright and herself as if they had been playing together for years.
"They are both doing great," Nocetti said. "It is hard to come in and set your first collegiate matches but she did a really good job."
Olin averaged 39.7 assists per game in the tournament to open her career. A season ago, Kennedy Kurtz averaged 44.8 assists per game on her way to winning Big Sky Conference Most Valuable Player.
In the first game, Olin helped Nocetti get 20 kills by putting the ball in perfect places for Nocetti to score.
In the second game, Brown recorded eight kills and five blocks and in the third game, Nocetti recorded a double-double with 14 kills and 11 assists.
Brown and Swinney were each named to the all-tournament team. Swinney had 80 digs over the three game tournament.
"We have a lot to learn from playing in these matches," Brown said. "We played a tough team, Arizona, and we can definitely learn from that experience and figure out how to play a tough team with a fast offense which will be helpful for conference this year."