Black Women's March calls for unity
Sacramento Senator and other advocates among speakers
Black Women United led a group of almost all black women from Crocker Park to the west steps of the State Capitol Saturday June 9 in support of black women.
The theme of the march "Can I Live?" aimed to shed the light away from the stereotype that black women are "magical superwomen who don't hurt, don't cry, don't feel pain, and don't have the opportunity to just, live" according to a press release made by Black Women United.
"Can we live? Well, can we?," Sonia Lewis said. "I'd answer that question by saying we have and we always will despite everything that is against us. We have managed to make black women magic look so easy."
Lewis, leader of the Black Lives Matter Sacramento Chapter said that she is sick and tired of being sick and tired and said has the right to be tired.
She was joined by a number of speakers following the short march from Crocker Park to the Capitol building.
The first speaker was California State Senator Holly Mitchell who told a story of how she motivates herself everyday to work and make changes because of President Donald Trump.
"It's crazy political times because 45 is crazy as a loon," Mitchell said. "We need to commit to one another between today and next year's meeting. If (black women) don't support each other, guess what? Nobody else will."
Flojaune Griffin Cofer, the Director of State Policy and Research at Public Health Advocates echoed those sentiments of previous speakers and wanted the attendees to envision a better future for themselves.
Cofer said that people are starting to recognize that black women are America's back brace.
"We are not crazy," Cofer said. "We are victims."
Black Women United's goals for the march included demilitarizing the police, for the United States to research explicitly black maternal and infant mortality, more affordable living and to ensure equal education opportunities for every student.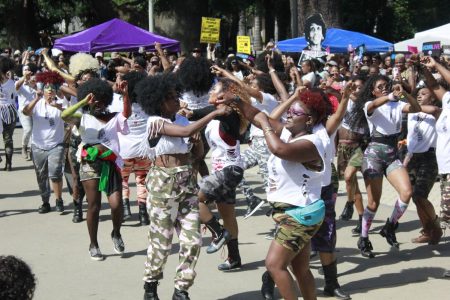 Additional reporting by Jordyn Dollarhide