Police pursuit of stolen vehicle ends with collison at Parking Structure I
Two cars hit inside parking garage
A woman was arrested and transported to the hospital after she led Sacramento Police on a pursuit that ended at Parking Structure I on Sacramento State's campus.
Police were alerted that a stolen vehicle was in the area after its license plate was scanned at a nearby intersection, according to a police sergeant at the scene.
Police say they found the stolen Toyota Sienna minivan at the Home Depot on Folsom Boulevard, and the driver led officers on a short pursuit.
Sacramento Police notified University police that officers were continuing the chase on Sac State's campus, according to Sacramento State Police Sgt. John Linke.
The driver crashed into two parked cars, and then tried to hide underneath a car, according to Sacramento Police. Students told officers where she was hiding, and she was arrested, police said.
According to police, there were no serious injuries, but the driver of the stolen minivan was taken to the hospital.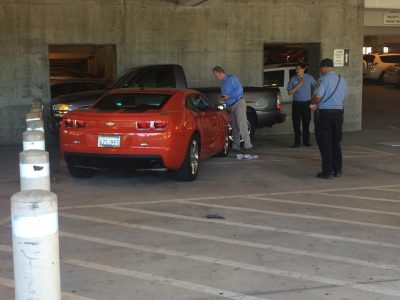 The woman's name has not yet been released.
Police also said they are waiting to hear back from the driver of another car that was hit during the pursuit.
One of the parked cars that was damaged belongs to a facilities management employee, Mike Mene.
He said he just bought the pickup from one of his coworkers at the beginning of the month.
"I was getting ready to take a bite of my Togo's sandwich, then Sac Police called," Mene said.
He figured the damaged door would probably cost at least $3,500 to repair. He laughed about the situation, joking that the car is "not as aerodynamic as it used to be."  
The owner of the other parked car, Mike Grover, an advancement visual communications specialist for University Advancement at Sac State, said he received a call from campus police to come to his vehicle.
His car, a Chevy Camaro, which was parked next to the truck, was moved out of the parking spot, into the other car.
"I just paid it off last week so it was not a good feeling," Grover said. "I feel sick to my stomach. I am meticulous about my cars so the concept of having to get this thing repaired instead of replaced is a concern. I don't want to report this to someone down the line when I decide to sell, that this was involved in a heavy collison."
Additional Reporting by Alex Daniels and Thomas Frey