Women's track and field dominate, men fall in Causeway Classic Dual
During an event filled with personal records, the Sacramento State women's track and field team defeated UC Davis while the men fell against the Aggies in the annual Causeway Classic Duel on Friday at Hornet Stadium.
The women dominated with a 38-point victory, while the men's team lost by one point for Sac State.
"At the end of the day, we are a team (and) no matter how great the individual highlights are, when you lose by one point, it's heartbreaking," said Sac State Director of Track and Field Jeff Magley.
These individual highlights included junior Kyle Peterson's performances in the hammer throw, discus and shot -put events. Peterson — who established a personal best in the discus event (180-00) which is second best in program history and currently first in the Big Sky Conference — not only took first place in all three events, but he also earned male most valuable player in the dual.
Senior Darius Armstead won the triple jump and became the Big Sky's leader with his season-best leap of 52-04.75.
The men's 4×100 team also earned a season-best time of 41.19 seconds despite losing to UC Davis's squad.
After receiving the baton in second place during the 4×400 team race, sophomore anchor Alec Foster pulled ahead to secure the win for the Hornets after running an unofficial split of 46.9 seconds in his leg of the race.
Fellow sophomore Jah Strange also stood out with a 10.79 in the men's 100-meter race for second place, a personal best (24-11.75) for first place in the long jump and a 51-03.75 leap in the triple jump for second place.
"Obviously I'm excited about the personal PR's and the things I was able to do, but there is a bit of a frustration when your team can't pull it out," Strange said. "All that is running through my mind right now is 'what could I have done more?' You think about everything you could have done to get that win."
The women's team showcased dominating performances in the running and field events as well.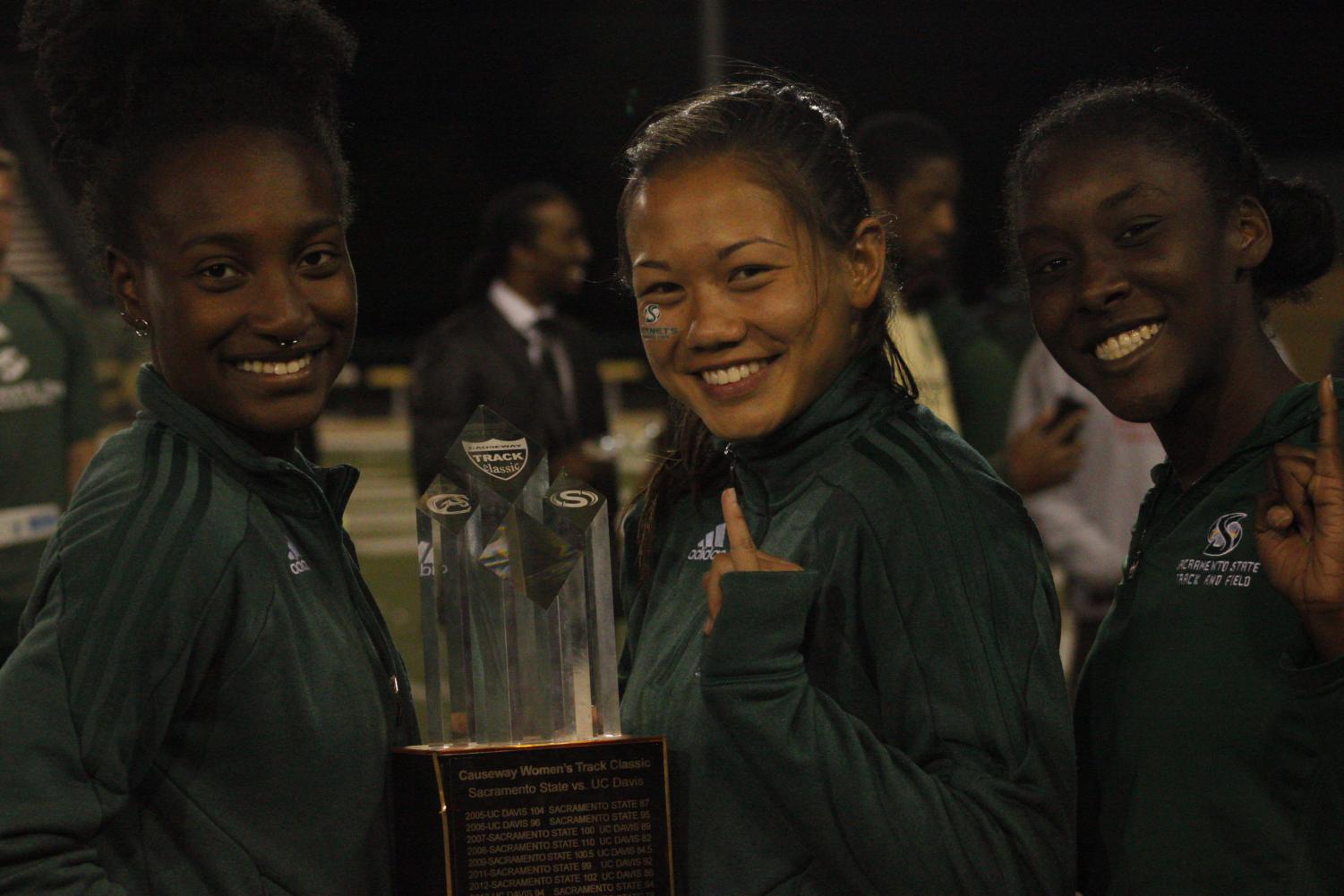 Freshman sprinter Shilah Bedingfield finished first in the 200 meter and 400 meter races, earning a personal best in the 400 with a 54.24.
"To beat our rival is the best feeling ever, and I'm really excited," Bedingfield said. "I'm proud of all of us, we all came through today."
Senior distance runner Gracie Albano won the 3K race, earning a personal record of 10:00.97.
Sac State, which won the 4×400 race, also ran a season-best time of 45.96 seconds en route to securing a win in the 4×100 event against the Aggies.
"This is my favorite meet of the year," Magley said. "I love the Big Sky Championships, but there is something about a head-to-head duel meet competition, which we don't get to do a lot in track and field."