Men's tennis team powers through Portland State 5-2
The Sacramento State men's tennis team defeated the Portland State Vikings on Saturday to bring its Big Sky Conference record to 4-3.
The Hornets (5-11, 4-3 Big Sky) first began the day by winning two out of three doubles matches to start with a 1-0 team lead at the Sacramento State Courts.
Junior Mikus Losbergs and senior Kasparas Zemaitelis won the No. 1 doubles match 6-2. Sophomores Louis Chabut and Hermont Legaspi won the No. 3 match 6-3.
The No. 2 match went to Portland State after juniors Bernardo Moraes and Dom Miller lost to the Vikings 6-2.
The Hornets then took four of the six singles matches to secure Sac State a 5-2 victory for the day.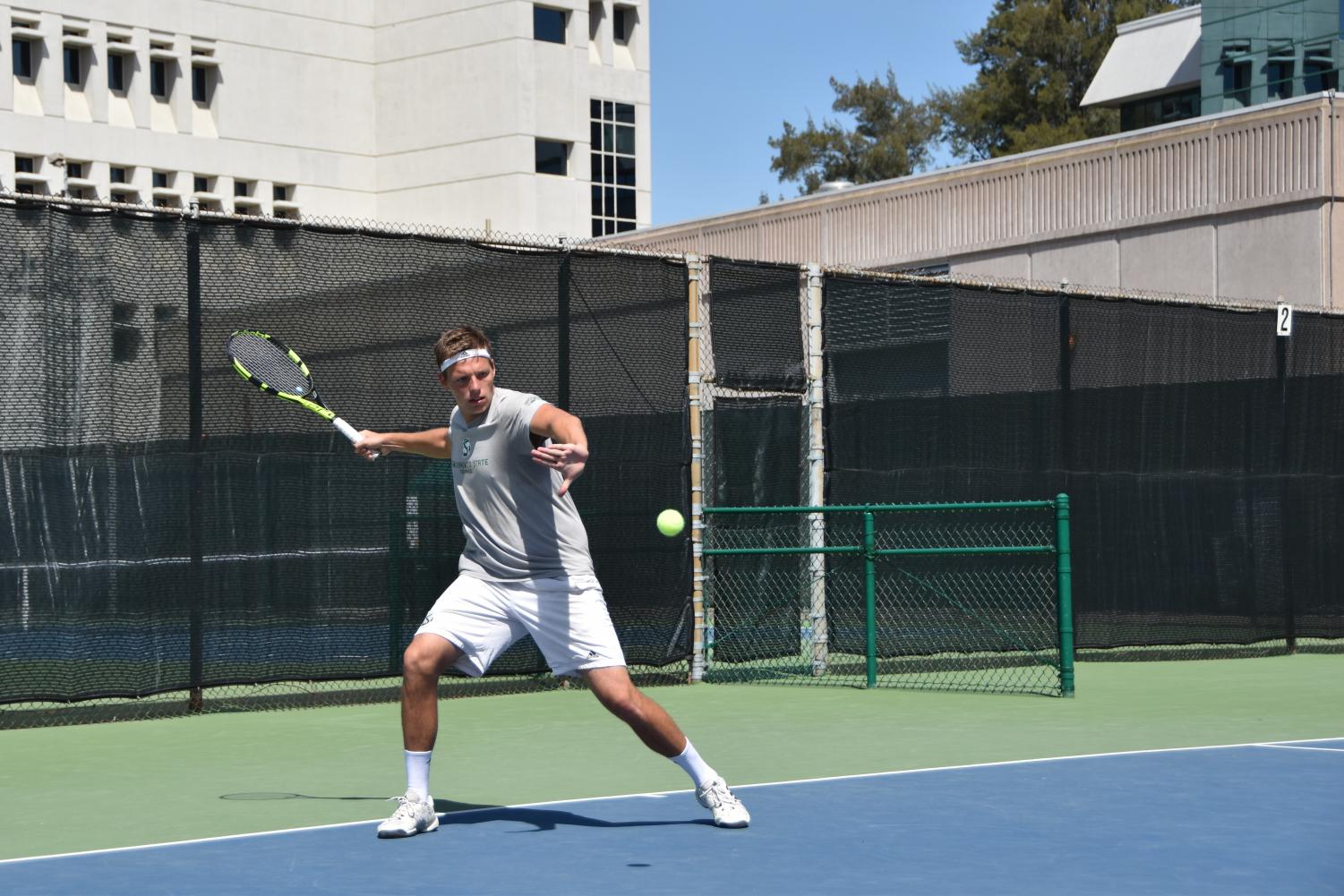 Losbergs won the No. 1 singles match with scores of 6-1, 4-6 and 6-3. Zemaitelis won the No. 2 match with scores of 6-3, 3-6 and 7-6. Legaspi won the No. 4 match 6-4 and 7-6, while Chabut won the No. 5 match 6-3 and 6-2.
"I was pretty confident because I won the last two matches in singles and the last three in doubles," Chabut said. "I'm pretty happy because I remained focused all of the match."
Legaspi, whose grueling singles match was the last to finish, said that he was exhausted after the victory.
"I'm just glad I got the win, and I'm really proud of myself just sticking in there, no matter the occasion, no matter the score, just keep fighting point for point," Legaspi said. "(Portland State) played really well."
The Vikings showed their strength with a No. 3 singles win against Miller (7-5, 1-6 and 6-3) and a No. 6 victory against junior Donald Hall (6-4, 7-5).
Sac State coach Kevin Kurtz said that he has seen improvement in Portland State since last year and he was glad to see his players defeat them. Kurtz also said a stiff challenge is on the way with the team playing the undefeated Idaho Vandals (6-6, 6-0 Big Sky) on Friday.
"It's a little bit higher altitude there, so we're going to have to play as good as we played today to win," Kurtz said. "We're going to work on some things this week to get ready for some of that high altitude tennis and hopefully try to get two victories."