Baseball team takes 2 out of 3 games against Northern Colorado
The Sacramento State baseball team continued its early success in Western Athletic Conference play after taking two out of three games against Northern Colorado over the weekend at John Smith Field.
The Hornets (18-16, 7-2 WAC) began the series against the Bears (20-16, 4-8 WAC) with a 5-0 victory in game one on Friday.
Sophomore pitcher Parker Brahms, who started game one for the Hornets, set a new Division I program record for Sac State in strikeouts after striking out 14 batters in seven shutout innings pitched while giving up only two hits.
Brahms' record performance broke former Sac State pitcher Justin Dillon's previous single-game record of 13 strikeouts in his no-hitter last season.
"I worked on adjusting to a new curveball grip in the dugout, and it worked really well in the game," Brahms said. "I would say changeup is my best secondary pitch, but it just wasn't moving the way I wanted to. I miss up and in on a lot of batters. Later in the game, I just trusted my curveball and it worked well."
Sophomore pitcher Austin Roberts and senior pitcher Ty Fox then combined to pitch two shutout innings with only one hit allowed.
Senior second baseman PJ Floyd hit a solo home run in the third inning to give the Hornets a 1-0 lead. Sophomore outfielder Matt Smith then hit a two-RBI double in the fifth inning and senior first baseman Vinny Esposito hit a two-run home run in the seventh inning.
RELATED: Baseball program turns season around as WAC play is in full swing
In game two of the three-game series, the Hornets were edged 5-2 against Northern Colorado following a back-and-forth contest on Saturday.
Sac State senior pitcher Austin Root — who struck out six batters in six innings of work while giving up two earned runs on five hits — entered the seventh inning and gave up a three-RBI double to Bears senior first baseman Brett Minnick.
Senior pitcher Austin Ragsdale and sophomore pitcher Alex Dentoni combined to throw two perfect innings following Root's exit in the seventh inning.
Sophomore pitcher Tanner Dalton and freshman pitchers Brady Rodriguez and Travis Martizia each threw a third of an inning in the ninth inning.
Rodriguez and Martizia each didn't allow a runner during their appearances. However, Dalton allowed an earned run on two hits in his ninth inning appearance.
The lone RBI for the Hornets came from an RBI single from Esposito in the eighth inning. Floyd was the lone Sac State player with multiple hits following his 2-for-4 performance.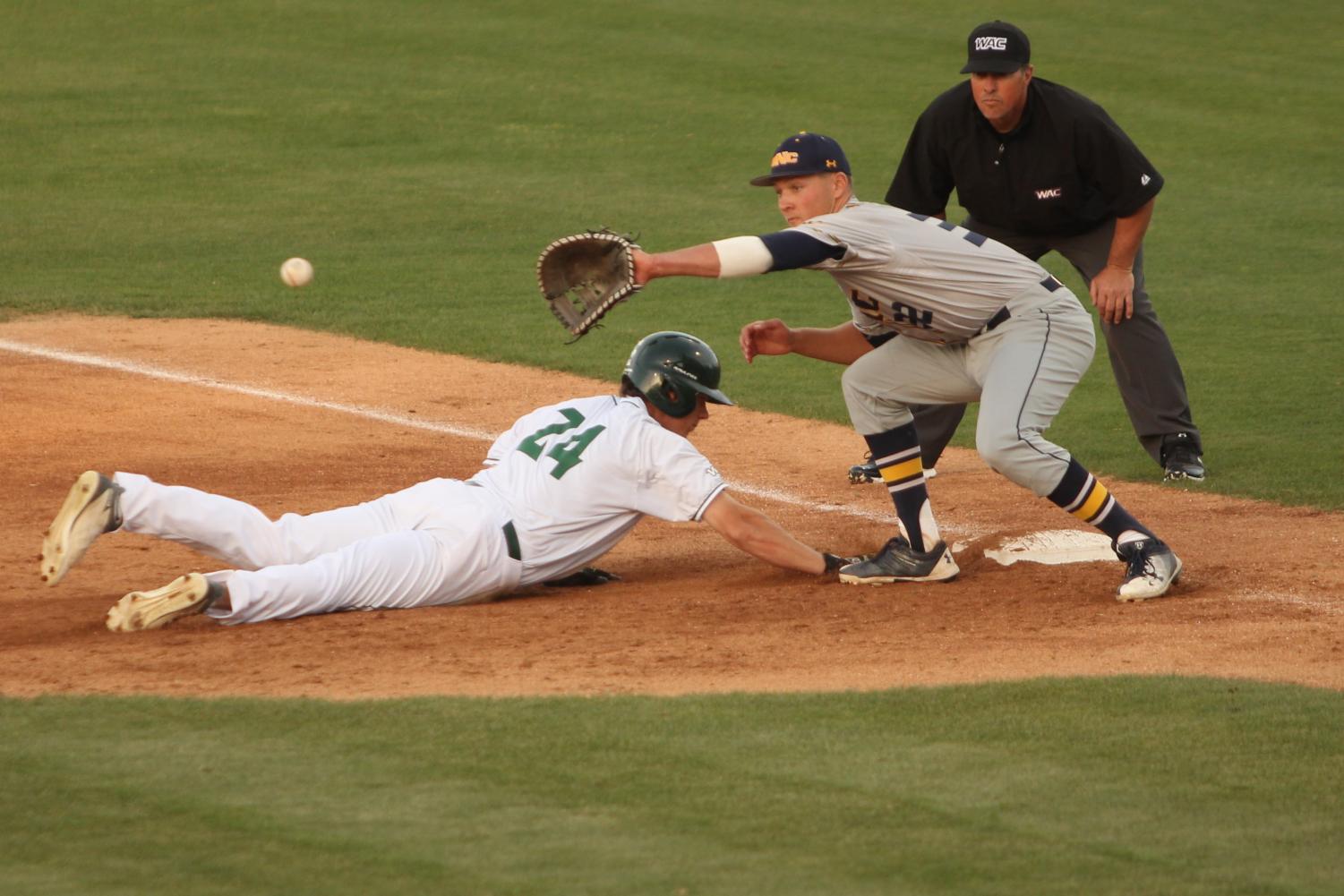 The Hornets completed the series victory over the Bears following a 5-0 win in game three.
Sac State freshman pitcher Scott Randall threw four shutout innings while giving up five hits and striking out six batters.
Roberts, who earned the win, threw five shutout innings while giving up one hit and striking out seven batters in relief for Randall.
"I just felt on time (and had) a lot of first pitch strikes, which definitely made me really effective out there," Roberts said. "I was throwing my breaking ball for first pitch strikes almost every single time."
Sac State coach Reggie Christiansen said the plan was originally to give Roberts only two or three innings, but Christiansen felt that Roberts was pitching too well to be taken out.
"It's probably as good as he has pitched in a uniform here," Christiansen said. "I thought it was a big step forward for him today and certainly something we are going to need down the stretch."
The Hornets, which scored all five of their runs in the first inning, only had two hits. Both of the hits came from Moretto during his 2-for-4 performance. Moretto, along with Esposito and junior outfielder James Outman, each had an RBI in the first inning.
Sac State will take on UC Davis in the Causeway Classic at 2:30 p.m. on Tuesday at Dobbins Baseball Stadium in Davis.