Some call for Sac State to cancel banquet honoring Sacramento Chief of Police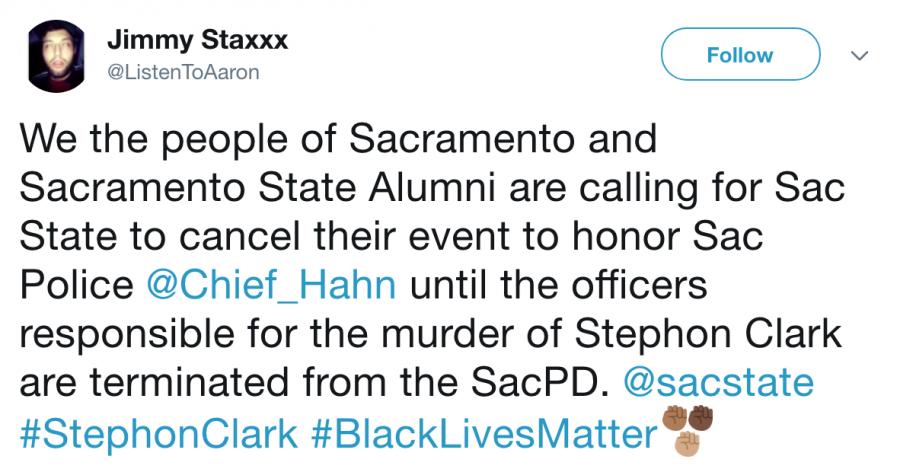 Some call for Sac State to cancel banquet honoring Sacramento Chief of Police
Hang on for a minute...we're trying to find some more stories you might like.
Some social media users are calling for an upcoming awards banquet honoring Sacramento Chief of Police Daniel Hahn to be canceled until the officers responsible for the shooting death of 22-year-old Stephon Clark are terminated.
Oscar Martinez, who graduated from Sac State in 2015, wrote a tweet and said that he wants the event to be cancelled not just until the officers are terminated, but until mandatory training takes place.
"We the people of Sacramento and also Sacramento State alumni are calling for Sac State to cancel their event to honor Sacramento Police Chief Daniel Hahn until the officers responsible for the murder of Stephon Clark are terminated.
"The Sacramento Police Department (needs to implement) mandatory training courses for all of its officers and other personnel on the impact of race in our society over the course of history, the role law enforcement has played in enforcing race based policy, and the relations between people that are black and law enforcement as a result."
The Sacramento Police Department has been under fire since Clark's death on March 18, as protesters took to the streets of downtown Sacramento Thursday and Friday, at times shutting down Interstate 5 and blocking access to the Golden 1 Center.
The Sac State College of Business Administration is planning to honor Hahn as its "Alumnus of the Year" at a banquet on May 9 in the University Union Ballroom.
The State Hornet will update this story as more information becomes available.
We the people of Sacramento and Sacramento State Alumni are calling for Sac State to cancel their event to honor Sac Police @Chief_Hahn until the officers responsible for the murder of Stephon Clark are terminated from the SacPD. @sacstate #StephonClark #BlackLivesMatter pic.twitter.com/mMUdIPvPVS

— Q U E E N M ♕ (@ShesTOOmuuch) March 25, 2018
You really should cancel the event ,you just shot one . Unless there's award for "who shot the last black man award "?

— Erin Williams (@erin_williams31) March 22, 2018
We the people of Sacramento and Sacramento State Alumni are calling for Sac State to cancel their event to honor Sac Police @Chief_Hahn until the officers responsible for the murder of Stephon Clark are terminated from the SacPD. @sacstate #StephonClark #BlackLivesMatter pic.twitter.com/CSQSLJy1CU

— Jimmy Staxxx (@ListenToAaron) March 24, 2018