Sac State student-boxer punches his way to Team USA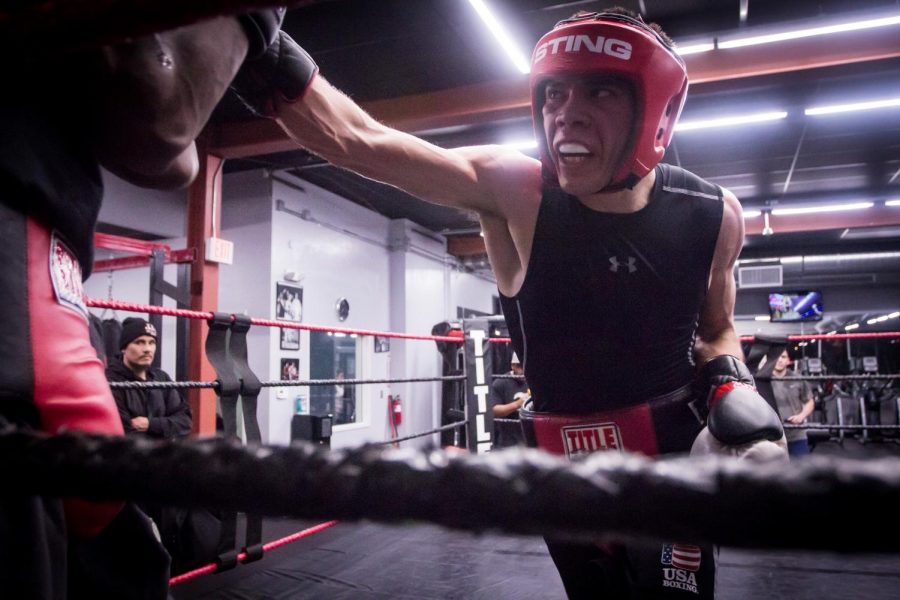 Five months ago, Kevin Montano couldn't afford to compete in a boxing tournament on the other side of the country — now he's cashed his ticket to fight for Team USA in countries around the world.
Montano, who is a junior kinesiology major at Sacramento State, will make his international debut representing the United States as an amateur boxer in the 132-pound weight class from March 11-17 in Warsaw, Poland with expenses paid by USA Boxing.
However, this wouldn't have been possible if he hadn't fundraised more than half of the $3,000 needed within a few days to help pay for his trip to the 2017 Eastern Elite Qualifier and Regional Open Championships from Oct. 16-21 in Chattanooga, Tennessee.
This emergency fundraiser — which garnered $1,850 in three days through a crowdfunding website called YouCaring — was frantically made after Montano's Community Youth Center back home in Concord withdrew its financial support after a change in management.
   RELATED: Paralyzed former MMA fighter Devin Johnson launches app helping the disabled to find trainers
After securing half the money needed, he bought a one-way ticket to Tennessee with no cash to return home if the fundraising goal wasn't fully met.
"I had five fights, and I won four out of five, so I took second place at the qualifier, but you only need to finish first or second to qualify for the U.S. Nationals," Montano said. "By the time I was in the finals, we finally got enough money to go back home, and by the time we had enough money, I had already qualified, so I did what I had to do."
Story continues below
Montano, 20, took second place to two-time Junior Olympics champion Keyshawn Davis with a split decision in the qualifier and then again to him in the 2017 USA Boxing Elite and Youth National Championships and Junior Open from Dec. 5-9 in Salt Lake City. This silver finish in the USA Nationals, which featured the top eight boxers in the country at his weight class, secured him one of the two spots on Team USA.
"He just wears guys down and in the amateurs that's hard to do, because you've only got three rounds to do it," said Community Youth Center coach Gary Sullenger. "In the pros, if you're fighting 10-12 round fights, you've got a lot of time to wear guys down and conditioning really plays a huge part. When you're getting it done in three rounds, you're wearing guys down, there's something to be said for that."
However, Montano — who started boxing at the age of 8 and competing as an amateur at 9 years old — didn't always do so well on the national stage.
"A lot of the national tournaments are week-long tournaments, so you can fight like five or six times back to back," Montano said. "There were many times where I would lose the first day and that was single elimination, so once you lose, you're out of the tournament.
"That would suck because I spent all this time, all this money, other people's money just to lose on the first day and it was just because I would be nervous."
   RELATED: (VIDEO) Business student Devin Johnson, a former MMA fighter, helps the disabled find trainers
The nerves were there when he was 8 years old when Sullenger, who has over 30 years of experience in amateur and professional boxing, said he first met Montano as a shy kid who didn't show a lot of potential at the time.
"He didn't come into this sport as one of those guys with just a ton of natural ability," Sullenger said. "He really had very little ability when he started, but even back when he was a kid, he just always had a desire to learn and get better at it and as he's gotten old, that desire has really translated into a great work ethic."
Montano, who holds a 90-20 overall record as an amateur boxer, earned a win in his first fight at 9 years old and said he fell in love with the feeling of having his arm raised at the end of the match. This love for boxing and success, which his older brother Erick Montano also shares, kept him competing in the sport even after he began his time as an 18-year-old student at Sac State.
"When he came to Sac State, it was hard for him because he didn't have his coach," Erick Montano said. "He brought it upon himself to bring himself to this level. He basically coached himself for a while; he trained at random gyms and stayed in shape and didn't give up the sport.
"He signed himself up for tournaments (and) basically these past few years, it's been Kevin on his own."
Challenges have also arisen due to Montano juggling a part-time job, schoolwork and training during his time at Sac State. He has missed a few weeks of school — along with weddings, baptisms and birthdays — to compete in various tournaments, but said he's still been able to maintain a 3.5 GPA.
"There was one time where I had an assignment due at like 10 a.m., and it was a long chemistry assignment that I tried to finish earlier, but I couldn't," Montano said. "I had weigh-ins at 7 a.m., so I woke up early, took my laptop to the weigh-ins (and) I'm in there sitting on the bleachers doing my homework, waiting for my name to get called, trying to do chemistry. Everyone else is just on their phones like, 'What are you doing?' "
Montano — who said a normal day for him consists of going to school, working with children at an after-school program in Rocklin, six rounds of sparring practice at the gym and conditioning at The WELL — has asked himself this question as well.
He's come to the conclusion that he plans on graduating in 2019 and becoming a professional boxer after the Tokyo Summer Olympics in 2020.
Montano, who will compete in Poland, New Zealand and the United Kingdom as a member of Team USA, said he's made this decision due to his love for the sport of boxing and his desire to never have to worry about money again.
"I want (the boxing promotional) companies to know my name before I go pro, (and) if I even get a bronze medal in the Olympics, everyone is going to be rushing to sign me and not for free either," Montano said. "They're going to be offering like $500,000 bonuses, maybe even a $1 million bonus, so it's better if I wait and compete in the Olympics so everyone knows about me."